We often get requests to provide a scaffolding for brickwork. We provide scaffolds for many different trades that have different requirements, be it scaffolding for painters, chimney scaffolding, roof scaffolding and everything else in between.
Light Weight Aluminium Scaffolds
For instance, jobs such as painting, small render repair, hedge trimming, light fitting installation, gutter and eaves repair, lift shaft maintenance, glazing, etc only need light-duty scaffolds. We normally use our lightweight aluminium modular scaffolding system for this type of work.
Heavy Duty Steel Scaffold
Jobs that are a little bigger such as re-cladding, small roof repairs, full render, balcony edge restoration, etc require a medium-duty scaffold. For these types of jobs, we use our three board steel modular system. Heavy-duty jobs such as brickwork, formwork, full re-roofs, demolition, etc require a heavy-duty scaffold. For these types of jobs, we use our five board steel modular scaffolding system.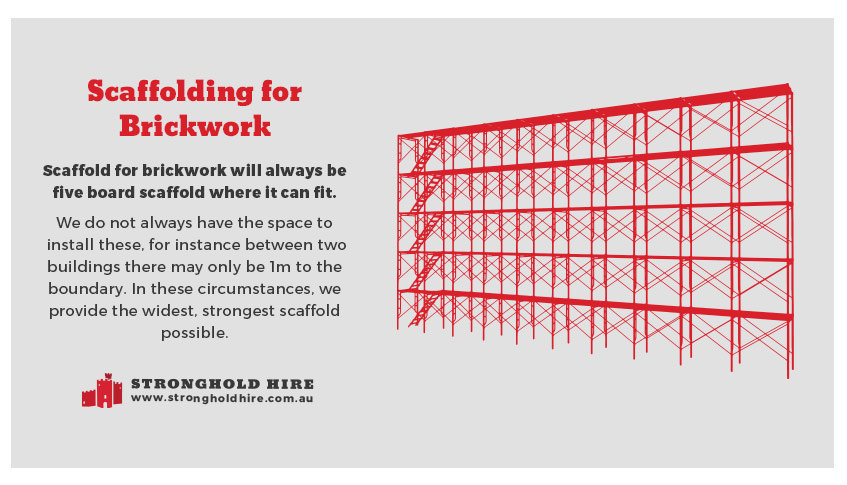 Scaffolding for Brickwork
Scaffold for brickwork will always be five board scaffold where it can fit. We do not always have the space to install these, for instance between two buildings there may only be 1m to the boundary. In these circumstances, we provide the widest, strongest scaffold possible. Bricklayers also like us to install 2 board hop-ups. These are interchangeable platforms, 0.5m wide that can easily be changed without interrupting or altering the main decks (which often have fire retardant mesh installed and are set to suit the stair or ladder access).
The two board hop-ups can be moved in 0.5m vertical increments as the walls increase in height. Bricklayers expect decks and hop-ups to be set no less than 0.5m from the height of the wall. The bricklayers usually get the wall to a height of around 1.5m to 2.5m using their platforms before we come in to install the first run of scaffolding. The scaffold usually gets installed in stages, one or two working decks at a time as we need to anchor/secure or 'tie' the scaffold as we increase in height and as the brickwork height increases. Fire retardant mesh is always installed to prevent any bricks or debris from falling off the scaffold. Brick guards are also acceptable in some circumstances.
Scaffolds often end up very messy when used for brickwork. This is not a problem as the dried cement can be cleared off the components and boards with the knock of a hammer. We always ask the bricklayers to wash down the scaffold daily, but this often falls on deaf ears, unfortunately.
Residential Brickwork Scaffolds
Many of our clients that require brickwork scaffolds are either residential builders or bricklaying contractors direct. We also often provide loading bays that are connected to the scaffolds, these are extremely heavy-duty landing platforms that can store pallets of bricks and equipment.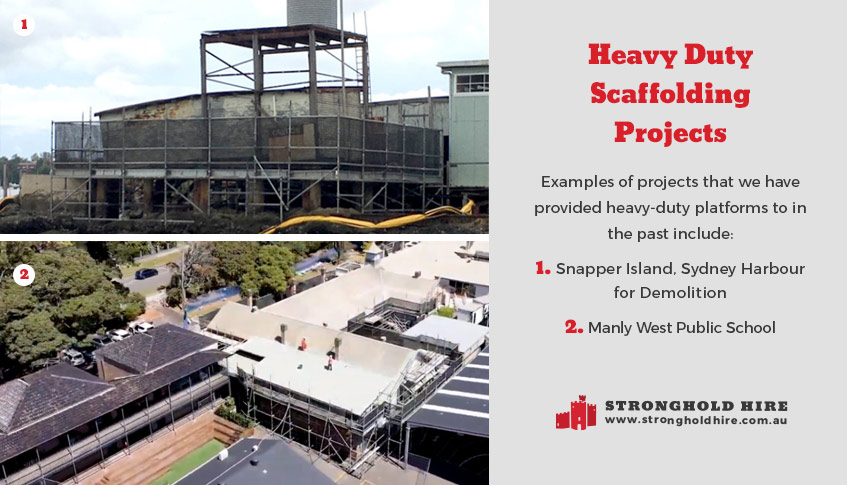 Heavy Duty Scaffolding Projects
Example of projects that we have provided heavy-duty platforms to in the past include:
Manly West Public School

Brickwork Scaffolding for Hire

If you need brickwork scaffolding or believe that you could benefit from scaffolding hire like those outlined above then feel free to contact us for a no obligation quote. Give us a call now on 02 8985 2020 or contact us online for more info.