SCAFFOLDING ENCAPSULATION SHRINK WRAP
Looking to fully contain your workplace and ensure your area is encapsulated to the highest standard? Whether it's for shot blasting, spray painting, dust suppression or as a temporary shelter our new 'shrink wrap' service can be adapted for almost any situation.
We have the expertise to make your next project affordable, secure & stress free.
Shrink wrap is quickly becoming the new face of protection in a number of different industries. It's not surprising that scaffolding and containment is quickly rising on the list of industries that reaps the benefits of shrink wrap protection.
What Is Scaffold Wrap?
Often times shrink wrap sheeting is used as an alternative to conventional sheeting to encapsulate scaffold to provide temporary protection from the weather or other construction works.
But, what exactly is shrink wrap and how is shrink wrap different to 'traditional' scaffold sheeting?
Shrink wrap is a strong and durable LDPE plastic cladding that when shrunk down will seal to any type of scaffolding and an form a tight, drum like protective skin over the scaffold.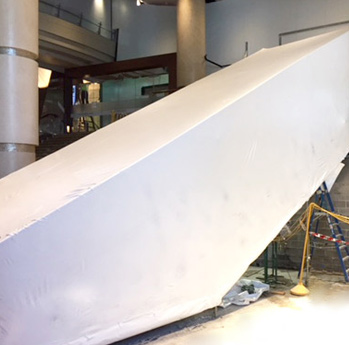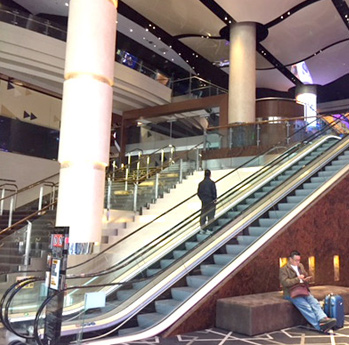 ADVANTAGE OF SCAFFOLD WRAP
There are features of scaffold wrap for construction that give it the performance advantage over other types of scaffold sheeting

Firstly, when the shrink wrap sheets are exposed to heat the sheeting begins a 'biaxial' shrink process, (which means it shrinks in every direction) which
results in a very tight seal capable of surviving the worst of weather conditions.
Secondly, because sheets of scaffold shrink wrap are joined by heat welding them together, a 'continuously bonded skin' can be created that will be able
to cover over the largest or awkward shaped scaffolds without any holes are gaps that are associated with traditional scaffold sheeting.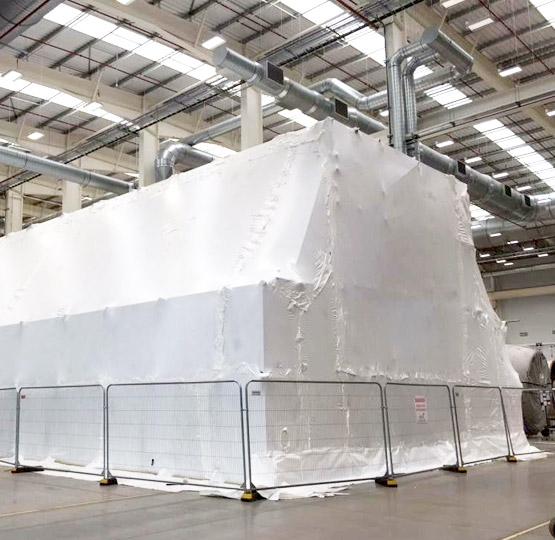 BENEFITS OF SCAFFOLD WRAP FOR CONSTRUCTION
The 'drum tight' results that shrink wrapping produces creates a very robust cladding that doesn't flap in the wind or fall prone to 'self destruction' in high winds. The benefit of this is less requirements for repair work and happier clients.
The 'shrink to fit' and 'heat sealed joints' characteristics of shrink wrap cladding make it useful for scaffolding projects where full encapsulation is required or where the detachment of scaffold sheets could have serious consequences.
UV inhibitors ethylene-vinyl acetate (EVA) are used in the manufacture of scaffold shrink wrap which prevents it from becoming brittle at low temperatures and after long term use.
The versatility of shrink wrapping for scaffolding can't be overlooked. As all the individual sheets are heat welded to create the joints between the sheets this allows shrink wrapping to be adapted to awkward shapes whilst providing a highly effective environment containment system or weather protection. Furthermore, shrink wrapping can be done in situ allowing for more versatility.
If it's a case that access is required through the sheeting, be it for craneage or similar, the scaffold sheeting can be cut and then resealed to maintain the 100% containment. For easier access through the shrink wrapping zipped access doors can be installed though the sheeting.
Once the project is complete the scaffold shrink wrap is easy to remove from the scaffolding. As it's produced with virgin resins this allows it to be 100% recyclable and something that recycling companies value.
WHY USE SHRINK WRAP?

Scaffold shrink-wrap is versatile and low cost solution that can protect a site and workforce from adverse weather as well as protecting the environment from dust and debris created during a project.
Lots of scaffold sites can have issues with loose sheeting which reduces the security of the project and isn't aesthetically pleasing but with shrink wrap and the drum tight finish these problems are overcome.

Environmental Control
Create the environment you need to
maximise work processes.

Increase Safety
Falling objects and other
construction related debris.

Hot Works
Flame retardant sheets are great
for indoor and outdoor projects.

Clean Presentation
Complete your project without
allowing the public see.

Work Site Segregation
Segregated work areas can be created to
isolate work duties from each other to
prevent contamination.

Advertising
The shrink wrap forms the perfect canvas
for a high visibility/ impact advertising space
for you and your client.
SHRINK WRAP IS FIRE RETARDANT
As you are probably aware there has been a lot of talk about the recent fires in Sydney CBD with some encapsulation products being banned from work sites.
We have had a large number of enquiries regarding our new shrink wrap service and if the material we use is also fire retardant.
Check our short video that we made at our yard in Botany to re-assure you of our product or download the Scaffolding Shrink Wrap Specification Sheet.
If you have any projects that you believe would benefit from this scaffold shrink wrap service then contact us now!