Scaffolding Systems
We can supply labour, material and transport for scaffolding projects throughout the Sydney Metropolitan Area.
We have experience within a range of industries from Residential and Commercial construction projects to Civil and Infrastructure including providing labour for the Harbour Bridge maintenance contract.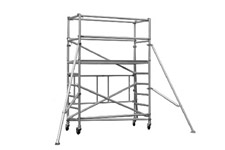 Aluminium Mobile Towers
We provide a range of aluminium mobile tower scaffolds ranging from 1m to 6m in height. These are rated for light duty work (225kg) and come in a range of sizes depending on your access needs. These are generally used on projects where there is level ground and the works are minor. Transport of these scaffolds is usually done just with utility vehicles and can be very cost effective.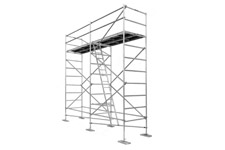 Aluminium Fixed Scaffold
The aluminium fixed scaffold we provide is rated medium duty (450kg) and is generally used on projects that require a short length of hire (painting, gutter replacement, small render repairs, etc.) or in areas where access is very difficult. We always use the aluminium system for any internal work where protecting finishes is of the utmost importance. Clients may use this type of scaffold where aluminium mobile towers are deemed unsuitable.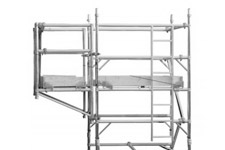 Cantilevered Scaffold
We can design and erect cantilevered scaffolds where access to the ground is either restricted or is particularly high. By using counterweights, back propping or anchors we are able to overcome all of your access issues. We have engineers on board who can design and certify these more complex type of scaffolds.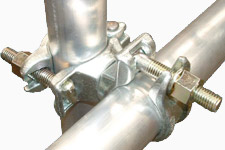 Tube And Coupler Scaffold
We have a large contingency of United Kingdom employees who only use this type of system in their country who, are therefore considered experts. This system is generally used for very complex scaffolds in places such as industrial plants, on bridges and sometimes on residential jobs for chimney repair work or very tight access between adjoining properties. The scaffolds can be built heavy duty (675kg) if required and can accommodate all types of trades.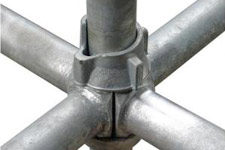 Galvanised Cup-Lock System
This system is the strongest system we provide. Can be used for scaffolding or formwork and is galvanised so perfect for any projects near the coastline. It is rated heavy duty (675kg) and is used mostly on our industrial projects.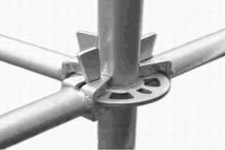 Kwik Stage Steel Scaffold
This is the most common system that we provide, this is rated heavy duty (675kg) and can be used on all types of projects for all trades in residential, commercial and industrial sectors. This system is the least expensive to hire and is used on all long term projects.