Edge Protection Sydney
Are you carrying out roof repairs or installing solar panels? Maybe you are installing new balcony screens, or you are a commercial builder? Or are you working on a church roof and the parapet is too short to act as a handrail?
If you need roof fall protection or slab edge protection but do not have the budget (or need) for a full scaffold, then we may recommend one of our edge protection systems to you. We have several systems to suit different applications.
We cover residential houses (both new and existing) and provide installs to the commercial sector.
Residential Bracket Edge Protection
This is perfect for residential single and double-storey buildings.
The system is completely non-invasive requiring no patch up of holes, etc. The system also allows the tradesmen to have a clear run at the job at hand. It does not use sacrificial brackets or require some parts of the roof to remain incomplete, unlike some of the more inferior systems being used in Sydney.
The design of the EBR bracket allows most of the install to be done from the ground, limiting the amount of time on the roof and in turn the risk to our installers.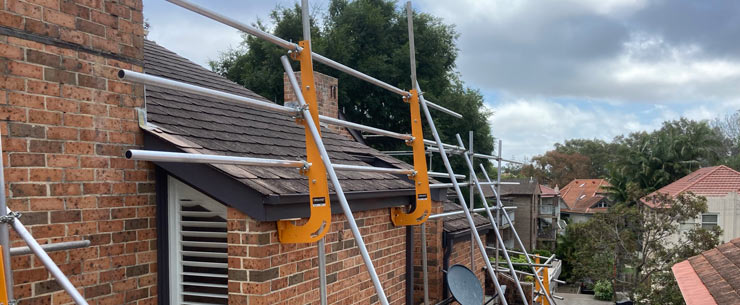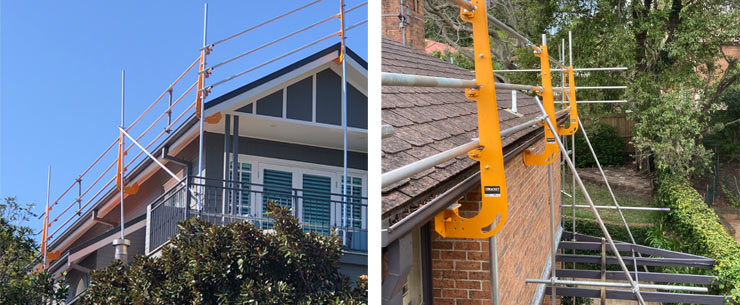 Commercial Bracket Edge Projection
Although the bracket is called commercial, we can often use these on residential buildings also. The install is different in the way that it is anchored onto the structure. We can use the bracket on brick walls, timber, or steel purlins.
Our interchangeable components mean that we can overcome protruding edges like large box gutters or eaves.
Advantages of Using Edge Protection
1. More cost-effective than full perimeter scaffolding.
2. Quick to install and remove.
3. Installed and certified by qualified scaffolders and reputable suppliers.
4. Can be integrated with access stairs or ladder access towers supplied by us.
5. Full free range of the roof, no sacrificial components left in roof space or areas that need to be completed with fall arrest equipment.
You can put your mind at ease with our 20million dollar public liability insurance, 25 years of scaffold experience and certification to current Australian standards of each and every edge protection provided, regardless of how big or small.
Rest assured, our workers are not only vetted on their skills and experience but also on their manners and presentation, we pride ourselves on our workers attitude and workmanship.
Stronghold Hire has been a member of the Master Builders Association for over 5 years.

With ownership of our own material, transport and direct employees we can ensure a trustworthy, reliable and professional service for your next residential or commercial project.