Industrial Scaffolding Supply & Labour Hire
A small percentage of our works covers industrial scaffold supply and labour hire.
Every year Stronghold Hire provide labour for shut down work in Tumut and Musswellbrook.
We usually supply around 15-20 scaffolders for periods ranging from 3 days to 6 weeks (includes pre-shut and post-shut work).
We accommodate the scaffolders and pay the relevant allowances for working away from home plus travel time to and from Sydney. Our scaffolders also understand that it is shift work and working hours and shift times often alter throughout the period depending on how the program is going.
Stronghold Hire have also recently supplied industrial type scaffolds around Sydney including the Caltex Terminal in Port Botany and Warragamba Dam.
You can check out some of scaffolding projects here
Sydney Harbour Bridge Industrial Scaffolding
One of the major industrial projects that we were involved with was the Sydney Harbour Bridge Maintenance project which took place from 2015 through to 2017.
We supplied the labour for this working directly with Brand Energy and Infrastructure (BEIS). The work involved using the HAKI aluminium modular system which has excellent strength to weight ratio and required minimum tools to install. Details of this project can be found on our scaffolding projects page.
EXPERT INDUSTRIAL SCAFFOLDERS
Most of the scaffolders at Stronghold Hire learned their trade in the UK where they use the tube and clip system. This system is the hardest system to master and takes many years of training. The advantages of our scaffolders being experts in this system is that it is very versatile for areas that are difficult to access.
Industrial type scaffolds often have many obstacles such as pipework, ducting, valves and flanges that foul with the modular type scaffolds mostly used in Sydney. In these areas, Stronghold Hire would often suggest a tube and clip type scaffold.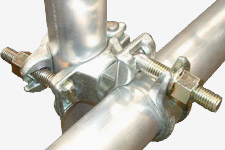 With ownership of our own material, transport and direct employees we can ensure a trustworthy, reliable and professional service for your next commercial project.
Contact us today for a no obligation quote for all of your industrial scaffold hire needs!