In modern-day Sydney, chimney's may be thought of as a thing of the past, but this is certainly not the case. Although very few are in action nowadays, a chimney is rarely demolished unless there is no way that it can be restored, especially on heritage-listed properties and in areas that have a rich history. An interesting fact about chimneys is that chimneys were first introduced in northern Europe during the 12th century, however, they didn't become common in homes until the 16th and 17th centuries (source).
Scaffold Hire for Chimney Restoration and Repair
Stronghold Hire has provided scaffolds for many different chimney restoration projects. We have covered chimneys on schools, government buildings, universities, hospitals, country manor houses and small residential properties. Designed with safety in mind Stronghold Hire provides the ultimate protection for your workforce and the public alike. Fully compliant and meeting all the required chimney scaffolding regulations. Offering fast, effective and safe construction. The perfect scaffold solution for chimney restoration.
Chimney Restoration Projects
In recent times we have completed a few chimney restorations. They are shown below:
Gladesville Hospital (2019)
Residential in Maroubra (2020)
Residential in Queens Park (2020)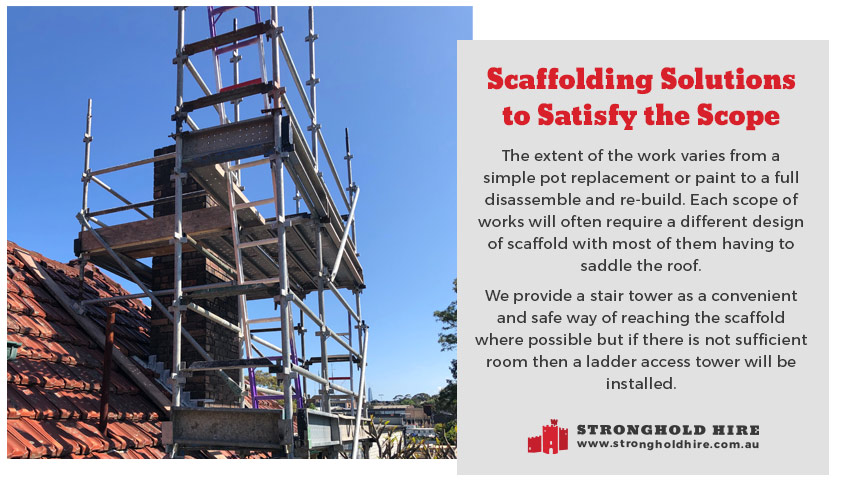 Scaffolding Solutions to Satisfy the Scope
The extent of the work varies from a simple pot replacement or paint to a full disassemble and re-build. Each scope of works will often require a different design of scaffold with most of them having to saddle the roof. We provide a stair tower as a convenient and safe way of reaching the scaffold where possible but if there is not sufficient room then a ladder access tower will be installed.
Often the roofs will be slate with which we always try to install lightweight aluminum modular scaffold if the weight is being fully taken through the roof. We will use ladder beams to minimise this weight between the stair tower and the pitch of the roof (strongest point). Sometimes, we only need to get to one or two sides of the chimney which allows us to just cantilever straight off the access tower, putting no weight or stress onto the roof.
Preparing for Chimney Scaffolding Projects
With all roof works, we always work with the client to ensure that we are prepared for any accidentally broken tiles, ensuring that we have a couple of matching spare ones on hand in case this happens. It does happen rarely but cracked tiles do not usually occur during the scaffold installation, but more often it occurs when the scaffold is handed over and being used by the tradesmen. A pre and post-inspection of the roof every time the scaffold is used is always strongly advised by us. Also, with roof works we have to take into consideration special PPE such as non-slip lightweight footwear and fall arrest equipment. Only our more experienced scaffolders undertake these types of works.
The heights of the chimneys can also be very deceiving from street level and many get caught out by only accounting for one deck, whereby lots will require 2 and sometimes even 3 decks of boards, spaced 2m apart.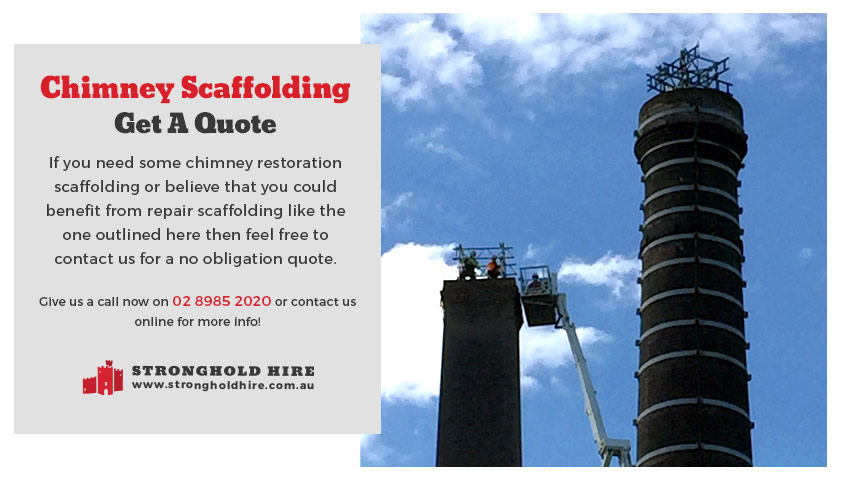 Chimney Scaffolding – Get A Quote
If you need some chimney restoration scaffolding or believe that you could benefit from repair scaffolding like the one outlined here then feel free to contact us for a no obligation quote. Give us a call now on 02 89852020 or contact us online for more info.