We recently spoke about some specialised scaffolding for schools that we provide but it is also the case that we are expert providers of scaffolding for painters. Stronghold Hire have considerably grown our stock of aluminium scaffold over the past few years which is the ideal scaffolding system to use on paint jobs.
Perfect Scaffolding for Painters
This aluminium scaffold system enables us to cut costs on transport and labour and is perfect for painting tasks. It's very easy to transport, often carried on small trucks which enables us to deal with tight streets and laneways, especially in the inner city suburbs of Sydney.
Scaffolding In A Tight Spot
The system is extremely light which also enables us to erect and dismantle the scaffold much quicker than with steel. This lightweight design also enables us to scaffold areas that are difficult to access. These areas may involve us carrying the material through buildings, in lifts, through car parks or in lifts for instance. The speed of erecting and dismantling this system, along with its lower safe working load of medium duty (450kg/bay) makes it ideal for painters use.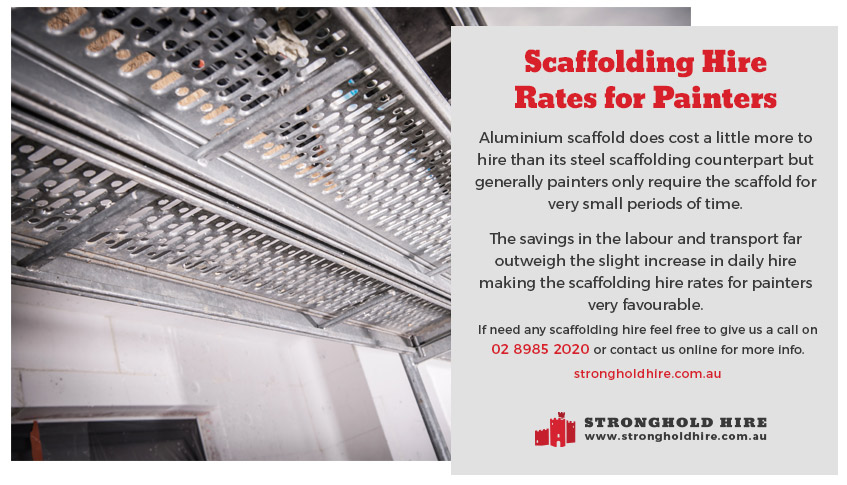 Scaffolding Hire Rates for Painters
It does cost a little more to hire than its steel scaffolding counterpart but generally painters only require the scaffold for very small periods of time. The savings in the labour and transport far outweigh the slight increase in daily hire making the scaffolding hire rates for painters very favourable.
Economic Scaffolding Solutions
Whether you are painting a residential home or an entire block of units, Stronghold Hire can come up with the most economic scaffolding solution. Sometimes we carry out the work in stages, recycling the material around the building to save transport costs and disruption to the residents, reducing the loading and unloading of delivery trucks. The scaffolds come in several width sizes ranging from as small as 0.5m wide (narrow passages) to 3.2m wide (perfect for stair voids) with a choice of stair or ladder access.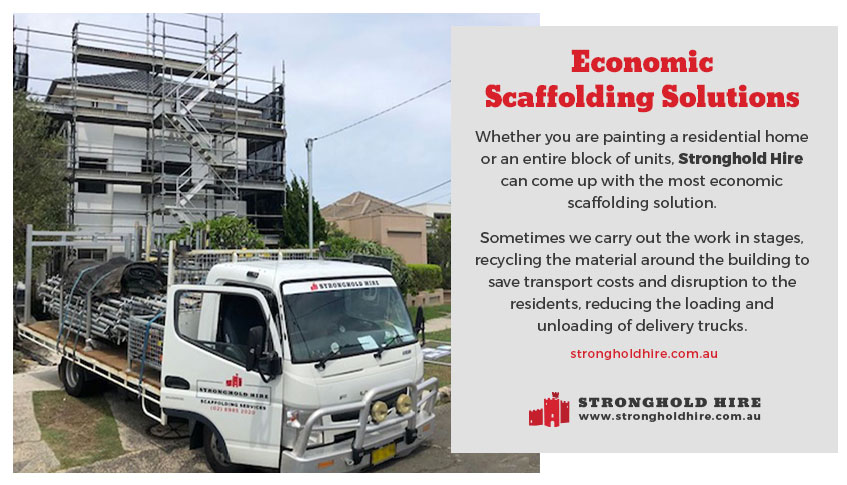 Scaffolding When You Need It
Our scaffolders also work night shifts or weekends when required, understanding that some painting jobs may be in shopping centres, office blocks or schools and need to be carried out in unsociable hours with very strict deadlines.
Scaffolding for Indoor and Outdoor Work
Our scaffolds are suitable for indoor and outdoor work and each component is inspected and cleaned prior to delivery so that any dust or debris is kept to a minimum for those internal jobs (unlike steel which often tends to be covered in render, causing mess throughout the building). We can supply fixed or mobile scaffolds and will make the best recommendation for your job with one of our obligation free quotes.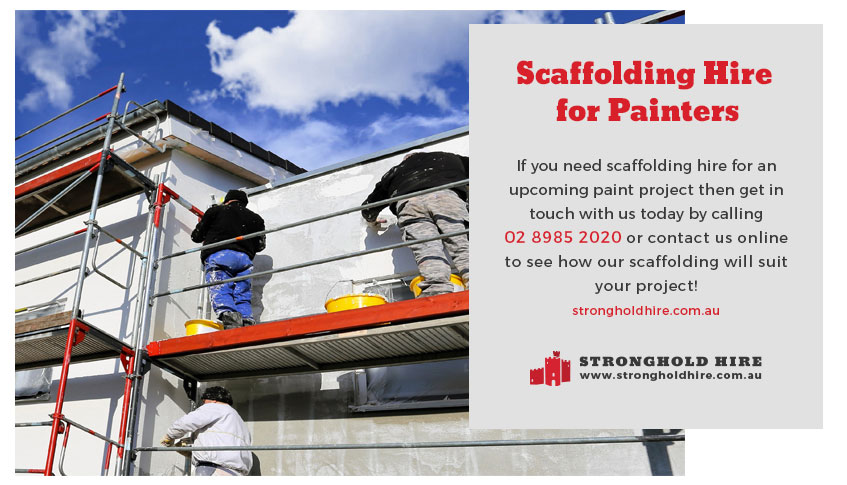 Scaffolding Hire for Painters
If you need scaffolding hire for an upcoming paint project then get in touch with us today by calling 02 89852020 or contact us online to see how our scaffolding will suit your project!