When it comes to aluminium scaffolding we like to think we know a thing or two about it. With over 20 years experience in providing scaffolding hire in Sydney we've learned what there is to know about aluminium scaffolding and in this guide will give you the A-Z on one of our favourite scaffolding systems – aluminium scaffolding.
Aluminium Scaffolding Sydney – The Complete A-Z Guide

A is for Access – to the hard to reach places you can access with aluminum scaffolding in a safe and efficient manner.
B is for Best price – Stronghold Hire are one of the most competitive aluminium scaffolding hire providers in Sydney.
C is for Corrosion resistant – Aluminium scaffold This is primarily because aluminium spontaneously forms a thin but effective oxide layer that prevents further oxidation
D is for Deck – a deck is the access platform that the worker will stand on. They are 600mm wide and vary from 0.6m to 3.2m in length.
E is for Easy – Aluminium frame scaffolding is largely regarded as the easiest scaffold system to erect and dismantle.
F is for Frame aluminium scaffolding – Stronghold Hire supplies frame scaffolding where basically the standards and transoms are joined together resulting in less components needed. Frame scaffold is better suited to erecting mobile or fixed scaffold towers.
G is for Ground – uneven or sloping grounds are not a problem for us to install aluminium scaffolds.
H is for Hatch deck – these are the access platforms that the ladders will protrude through.
I is for Independent scaffold – our scaffolds can be joined in situ or as independent scaffold towers.
J is for the JSA's (and SWMS) – we provide when installing a aluminum scaffold on construction sites.
K is for Kwik-stage aluminium scaffold – this is a modular type of scaffold very similar to its steel counterpart. Stronghold Hire provides this system in varying bay sizes from 0.6m to 3.2m in length.
L is for Lightweight – the comparison between aluminim and steel is incredible with aluminium scaffold being approximately 2.5 times less dense than it's steel counterpart.
M is for Money – the money you will save by getting the job done right the first time with a reputable company.
N is for Nightshift – Stronghold Hire carry out almost 30% of their aluminium projects on weekend or night shifts giving us a 24 hour, 7 day a week service on request.
O is for Obstacle – Stronghold Hire overcome obstacles everyday whereby we look for solutions and not problems.
P is for Platform – also known as deck, the platform is the surface that we provide you to stand and work from to carry out the job safely.
Q is for Quick Installation & Removal – the lightweight components make this type of scaffolding extremely fast to work with.
R is for Rated – All aluminium scaffolds provided by Stronghold Hire are certified to a specific rating depending on the task in hand and design.
S is for Safe Working Load (SWL) – the aluminium scaffolds that Stronghold Hire provide are rated from 225kg to 450kg.
T is for Tube & Fitting – Stronghold Hire also provide aluminium tube and fitting type scaffolds making us incredibly versatile to solve all types of safe access issues
U is for Under The Radar – Stronghold Hire seem to fly under the radar amongst some of the other major aluminium scaffold providers in Sydney, we prefer it this way!
V is for Versatile – As Stronghold Hire provide aluminium tube and fitting, frame and kwik-stage modular aluminium scaffold we can provide many solutions to access problems.
W is for Wheels – wheels are what make an aluminum scaffold mobile.
X is for eXcellent Service – Just one of the terms used by Stronghold Hire's clients on recent aluminium scaffold projects that we have provided the scaffolding hire for.
Y is for Yellow – the colour of most aluminum frame systems and is also the same colour of the ledgers which are used to connect the scaffold horizontally and for handrail.
Z is for Zzzzz's – the sleep that you will get at night knowing that Stronghold Hire has provided you with a safe, stress free scaffold and service yet again! And, also what our scaffolding labour hire get after a hard shift!
Aluminium Scaffolding Projects
As if the A-Z guide on aluminium scaffolding wasn't enough for you if you want to find out more about our aluminium scaffolding services you can check out some of our recent projects like: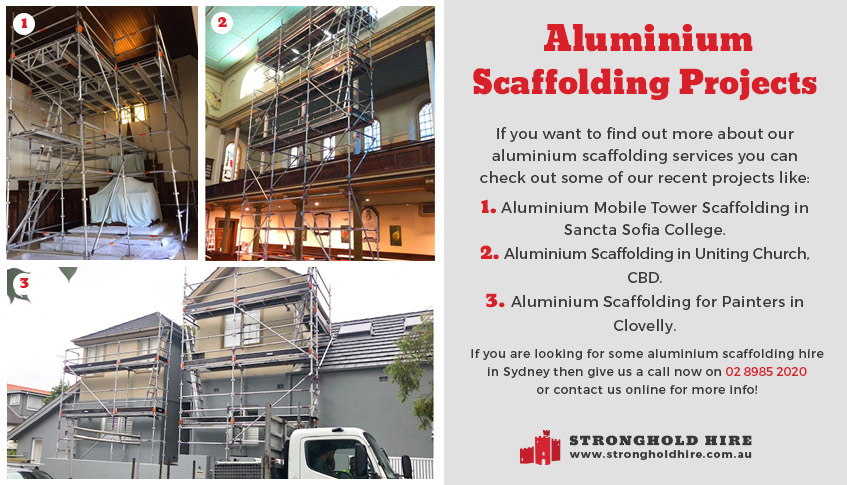 Aluminium Scaffolding Hire Sydney
If you are looking for aluminium scaffolding hire in Sydney make sure you give us a call now on 02 89852020 or contact us online for more info. With a 24 hour turnaround on projects, 20+ years experience and competitive pricing we can help you with any scaffolding need you have!