Are you ready for the 3rd installment of our scaffolding A-Z guides? We've already gone over the A-Zs for aluminimum scaffolding and cuplok scaffolding and now it's time that Steel Kwikstage Scaffolding got the same treatment. With over 20 years experience in providing scaffolding hire to Sydney we think we know a thing or two about scaffolding, even enough for an A-Z guide – read on!
Steel Kwikstage Scaffolding – A to Z Guide

A is for Access – our steel kwikstage scaffolds provide a safe working access for all jobs.
B is for Beam – we use aluminium ladder beams to suspend or cantilever our kwikstage steel scaffolds
C is for Castors – at Stronghold Hire we own heavy duty castors (rated 700kg) that can be used to create mobile steel scaffolds.
D is for Diameter – the external tube diameter of the kwikstage steel scaffold is 48mm.
E is for Edge Protection – we have many different types including the installation of steel Kwikstage scaffold.
F is for Fall – from height which is what can happen if a Kwikstage steel scaffold is not built correctly.
G is for Galvanized – The Kwikstage scaffold system also comes galvanized.
H is for Height – any kwikstage steel scaffolds that are a height of 3.8m or more need to be erected by a licenced scaffolder and certified.
I is for Insurance – Stronghold Hire are fully insured to the sum of $20 million for supply of steel kwikstage scaffolds
J is for Joiner – external joiners (sleeves) or internal joiners (pins) are used to join steel scaffold tubes.
K is for Kilonewton (KN) – a 90 degree coupler can take the force of 6.25 KN.
L is for Lap Plates – at Stronghold Hire we use steel lap plates to cover any gaps between adjoining bays.
M is for Misspelt – we have seen lots of different misspellings of this system in the past and the most common are quick stage, quickstage, quik stage, quikstage and kwick stage!
N is for Node Point – The scaffold "node point" is where the ledgers and transoms connect to the vertical posts. It is a fundamental principle of supported scaffolding that all stabilizing components (vertical bracing, horizontal bracing, ties, etc.) are also connected as close as possible to the scaffold node points
O is for Oregon sole boards – Sole boards are used to protect the ground on scaffolding projects. Sole boards can also be used when the ground is a little soft/unstable, these sole boards add additional support to the load.
P is for Pointing – Kwikstage steel scaffolding is ideal for brick pointing as well as painting, render, brickwork, roof restoration and new builds.
Q is for Quicker – Kwikstage scaffolding is quicker than most other scaffold systems such as tube and fitting.
R is for Raker Bay – when you are unable to tie Kwikstage steel scaffolding into the building with wall anchors you may need to use raker or buttress bays
S is for Stretcher Stair – we use steel kwikstage scaffold to erect stretcher stair towers.
T is for Toe Board Clip – the toe board is secured by means of a toe board clip which is a stirrup shaped steel locating bracket complete with a captive wedge for fixing around a standard.
U is for Universal – kwikstage scaffold is used all across the world and the system has been proven time and again.
V is for Vertical Handrail Post – these are anchored to the floor and connected with steel kwikstage ledgers to create handrails/edge protection.
W is for Wall Thickness – the wall thickness of our galvanized kwikstage is 4mm
X is for eXtreme Risk – the use of Kwikstage steel scaffold can be used to minimize the extreme risks associated with working at height.
Y is for Yellow – the exclusion zones that we set up when we erect and dismantle steel Kwikstage scaffold use yellow and black warning tape with barriers.
Z is for Zebra – this has nothing to do with steel Kwikstage scaffold but we are just trying to find out if anyone has actually read this far. If so, please comment below so we know who you are!!!
Steel Kwikstage Scaffolding Projects
You can get a feel for some of the projects we've engaged in which used steel kwikstage scaffolding by checking out the two projects below.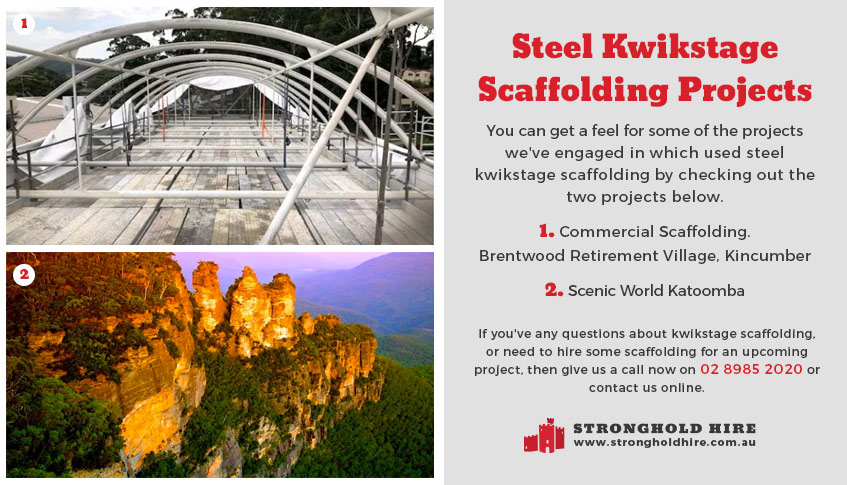 Steel Kwikstage Scaffolding Hire Sydney
We hope the A-Z guide on steel kwikstage scaffolding is of help for you but if you've any questions about it, or need to hire some scaffolding for an upcoming project, then give us a call now on 02 89852020 or contact us online.