In a recent post we gave you the A-Z guide on aluminium scaffolding and so in this post we are going to give you the downlow on what you need to know about cuplok scaffolding. We've over 20 years experience in providing scaffolding hire and have used cuplok scaffolding on more projects than we can remember and so here is our A-Z guide on cuplok scaffolding for Syndey!
Cuplock Scaffolding – A-Z Guide

A is for Adjustable Base – The Adjustable Base is a generic AF&S product which is used with all scaffold systems and some AF&S formwork systems. It has a solid stem of 36mm nominal diameter which has a nut restraint to ensure the stem always has a minimum engagement of 150mm into the Standard.
B is for Board – sometimes called battens, CUPLOK Galvanised Steel Battens are 57mm thick and 238mm wide. They incorporate a non-skid perforated surface for slip resistance in poor.
C is for Corner Platforms – Corner Platforms are designed to fill the gap left where two runs of Platform Brackets intersect on an internal corner of the building. The Platforms attach to the corner Standard and are connected to adjacent Platform Bracket by Tie Bars.
D is for Diagonal Braces – Diagonal Braces are made from 48.3mm diameter tube with a swivel blade at each end. Their function is to provide transverse and longitudinal bracing to scaffold structures.
E is for Easy to Erect – No wedges, just a simple locking cup at each node point on the Standards enables connection of the ends of up to four members in one locking action. With all four members attaching at the same level the system is ideal for birdcage construction as well as conventional face scaffolding.
F is for False Work – Our cuplok system can be used to support buildings during construction.
G is for Galvanised – All components are galvanised so that they do no corrode.
H is for High Strutting – The cuplok system can be used to support formwork in difficult to reach areas.
I is for Intermediate Transoms – Intermediate Transoms provide mid-bay support for 38mm scaffold boards by spanning between the inner and outer ledgers. The jaw section at each end is turned downwards to prevent dislocation. One end is provided with an integral locking device to prevent any movement along the ledgers during use.
J is for Jack – The Universal Jack has an adjustment of approximately 0.5m and is used for both access and support structures to accommodate variations in ground and soffit levels. It can be secured to the Base and Head Plate, Forkhead or Adaptor by using a standard nut and bolt if required.
K is for Kilonewton (KN) – Safe Working Loads on platforms will vary between 0.75kN and 3kN per square metre depending on the configuration of the scaffold.
L is for Ledgers – The Ledgers are manufactured from 48.3 mm O.D. tube with forged steel blade ends which locate into bottom cups of the Standards and are locked in place by the the corresponding top cups. Ledgers are available in various lengths to provide the desired grid dimension for scaffolding or formwork.
M is for Mesh Guards – Mesh Panels are hung from the guardrail to provide a full protection screen 1 metre high along the length of the platform. The unit incorporates a built in kick plate and typically a midrail is not used when mesh guards are in place. Available in the nominal bay lengths.
N is for Neat – CUPLOK scaffold is rust free and quick to setup and remove making it a neat scaffolding solution when aesthetics and speed are a factor.
O is for Open Ended Standard – CUPLOK open ended Standards are principally used in falsework or formwork support applications in conjunction with Spigotted Standards or as a single height unit. The open-ended design allows the insertion of an Adjustable Base or Adjustable U-Head to provide the final support to the soffit formwork.
P is for Proven Design – The CUPLOK system has a proven performance history on an extensive number of sites, meeting the requirements of the various statutory bodies.
Q is for Quick Set Up – CUPLOK's key feature is its unique circular node point which allows up to 4 horizontals to be connected to a vertical in a single fastening action – making it probably the fastest and safest system available.
R is for Return Toeboards – CUPLOK Return Toeboards are typically used at the end of a bay or return and installed parallel to the Transom. They are held captive between Standards by means of a set screw at one end and U-bracket arrangement at the other end.
S is for Spigotted Standards – CUPLOK spigotted Standards are principally used in access scaffolding applications and also as a base structure for formwork support applications. They have cup joints at 500mm intervals.
T is for Transoms – Transoms are fabricated from twin structural angles fixed back to back with a drop forged blade attached to each end. Available in various lengths to suit scaffolding and formwork applications.
U is for U-Head Jack – The Adjustable U-Head is a generic AF&S product which is used with scaffold systems and some AF&S formwork systems. It has a solid stem of 36mm nominal diameter which has a nut restraint to ensure the stem always has a minimum engagement of 150mm. The U-Head is capable of accepting twin 100mm wide bearers.
V is for Versatile – It is suitable for access or formwork support with an extensive range of special applications. The horizontal members can be angled to suit many different applications. The system has been used in triangular, trapesium and is ideal for curved surfaces.
W is for Weather Proof – The galvanized components make this system perfect for coastal areas resulting in no rust marks after dismantling.
X is for eXtreme Loads – Cuploks ability to withstand extreme loads is the reason that it is often used for falsework as well as access platforms.
Y is for Year of invention – David Palmer-Jones invented the "Universal Coupler" in 1919 – this soon became the industry standard coupling and has remained so to this day.
Z is for Zimbabwe – From Australia to Zimbabwe, Cuplok scaffold is used worldwide as it proves itself over and over again!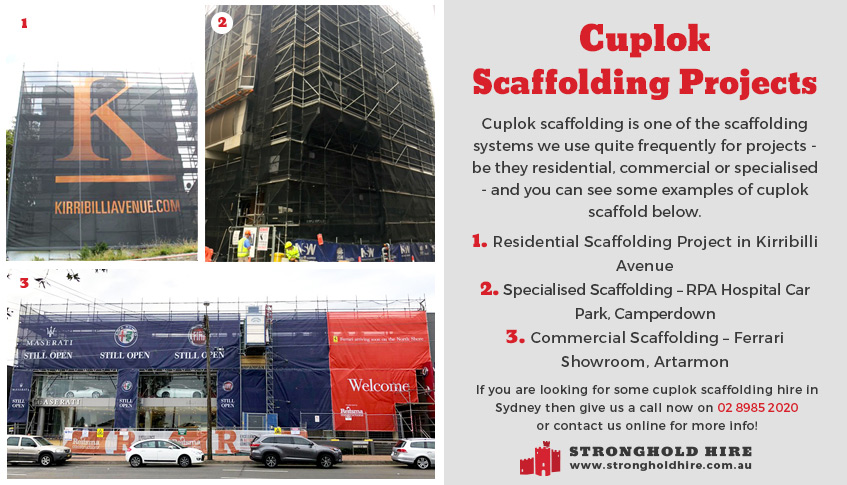 Cuplok Scaffolding Projects
Cuplok scaffolding is one of the scaffolding systems we use quite frequently for projects – be they residential, commercial or specialised – and you can see some examples of cuplok scaffold below.
Cuplok Scaffolding Hire Sydney
We hope this guide has helped give you some info that you may need about cuplok scaffolding but if you've any questions or need to hire cuplok scaffolding for an upcoming project then give us a call now on 02 89852020 or contact us online!