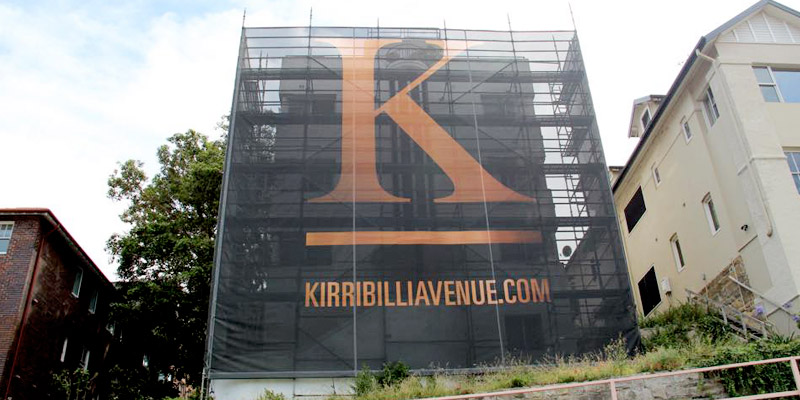 PROJECT DETAILS
Project:
Kirribilli Avenue
Scaffolding System:
Residential Scaffolding

Client:
Agia Projects

Period:
Sept 15 – Jun 2016
Residential Scaffolding at Kirribilli Avenue
A new client approached us to see if we could help them be part of their campaign to promote a new project in the prestigious suburb of Kirribilli.
Scaffolding For Advertising
They had taken ownership of a property in this suburb which they would be demolishing and then building a small block of luxury apartments in its place.
The demolition date was around 5 months away, so they wanted us to help with advertising the upcoming project in the meantime. The existing buildings location had some great exposure and was visible from many places around the harbour.
It was because of this location that they wished to create something similar to a billboard. They gave us a set of dimensions and asked us if we could make it work.
Galvanised Super Cuplock Scaffolding System
The artwork was placed on mesh only, so the scaffold system was to have no sharp edges protruding that could potentially damage the advertisement. It was because of this reason that we decided it was best to use our galvanized super cuplock system. This has very smooth contours so would be perfect for this project. We usually use this system for larger commercial projects or in the use of high strutting/shoring.
Budgets Met & A Successful Project
The scaffold was very easy to erect and dismantle, deadlines and budgets were met, and although access was limited due to the street being very narrow, the project was a success. We sincerely hope that our clients benefited financially from our services.