Tradesmen that carry our roof repairs will always be exposed to a risk of falling from a height. When providing roof scaffolding we are particularly aware that any works that could potentially result in a fall of over 2m is deemed as a high-risk work activity with which a high-risk Safe Work Method Statement (SWMS) needs to be completed before starting. In this post about roof scaffolding we'll discuss the the WHS Regulations regarding high-risk work activities, outline the type of roof scaffolding hire that we provide and give you some info about handrail hire that is vital for safe roof work. Read on!
Roof Scaffolding – WHS Regulations
The fall from 2m is just one of 19 high-risk work activities listed on Safe Work Australia that you should be aware of. More importantly, to manage risk under the WHS Regulations, a duty holder must:
identify reasonably foreseeable hazards that could give rise to the risk
eliminate the risk so far as is reasonably practicable
if it is not reasonably practicable to eliminate the risk – minimise the risk so far as is reasonably practicable by implementing control measures in accordance with the hierarchy of control
maintain the implemented control measure so that it remains effective
review, and if necessary revise, risk control measures to maintain, so far as is reasonably practicable, a work environment that is without risks to health and safety.
The Hierachy of Control
When dealing with roof scaffolding (or any high risk activities) the hierarchy of control should be used to guide you.
Handrail Hire & Edge Protection
Stronghold Hire can provide fully decked scaffolds or handrail/edge protection using beams/tubes to provide fall protection for roof work. We recently did a project where for roofing and gutter maintenance on the fully decked roof scaffold back in 2019 that gives you an idea of what is possible for edge protection. An example of one of these fully decked perimeter scaffolds can also be found here in this roof gutter replacement project.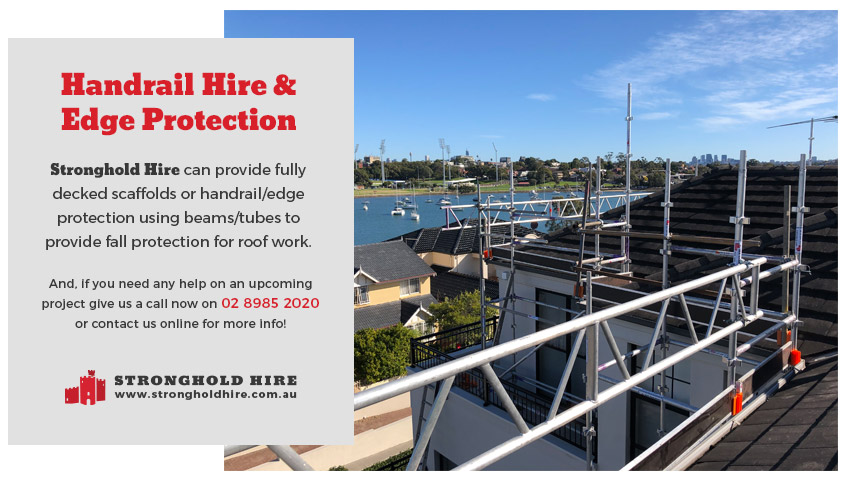 Cost Effective Roof Repair Edge Protection
Recently Stronghold Hire has been asked to provide a more cost-effective solution for roof repair edge protection. The client didn't need to have major roof works carried out, it was mainly just small repairs that were required and not a the entire roof area. As the roof repairs were relatively minor it wasn't possible to justify the use of a fully decked perimeter scaffold but the need for fall and edge protection was still required. The solution we offered was to use a combination of scaffold towers and tubes/beams to create a handrail and toe board. There were roof safety guardrail systems available that can have been installed on the roof structure but the client felt that our solution was safer and less intrusive.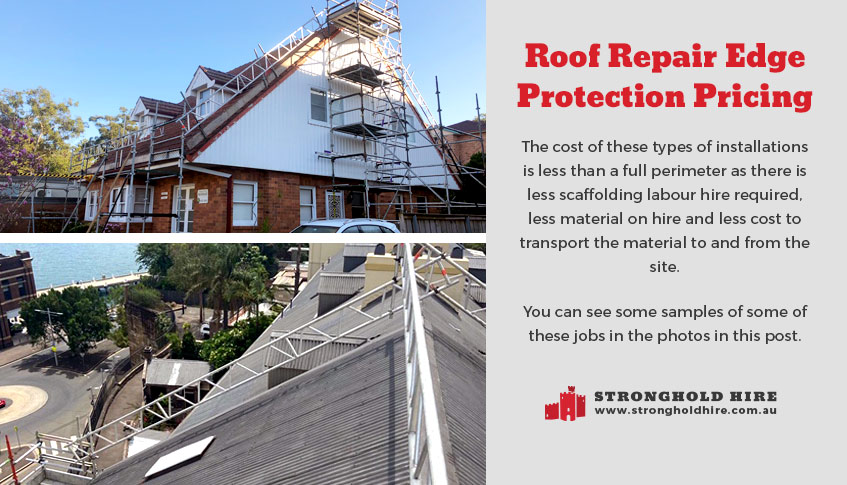 Roof Repair Edge Protection Pricing
The cost of these types of installations is less than a full perimeter as there is less scaffolding labour hire required, less material on hire and less cost to transport the material to and from the site. You can see some samples of some of these jobs in the photos in this post.
Roof Scaffolding and Handrail Hire Sydney
If you need some roof scaffolding and handrail hire, or believe that you could benefit from an edge protection sysetm like the one outlined here then feel free to contact us for a no obligation quote. Give us a call now on 02 89852020 or contact us online for more info.