Are you a roofing contractor? Or maybe a homeowner that just needs to clean your gutters? Here at Stronghold Hire we provide scaffolds for all roof works from a simple tile replacement to a full re-roof.
Scaffolds for Roofing
We supply scaffolds to a large number of roofing contractors and builders to enable roof maintenance or renewal to be carried out in a safe and efficient manner. We understand the differences between the various works that roofing contractors carry out and choose the most cost-efficient way for them to remain competitive. We supply steel scaffolding hire for major works like roof renewals which include basic or stretcher type stairs. We also supply heavy duty loading bays rated at over 2 ton to load up tiles and materials where possible.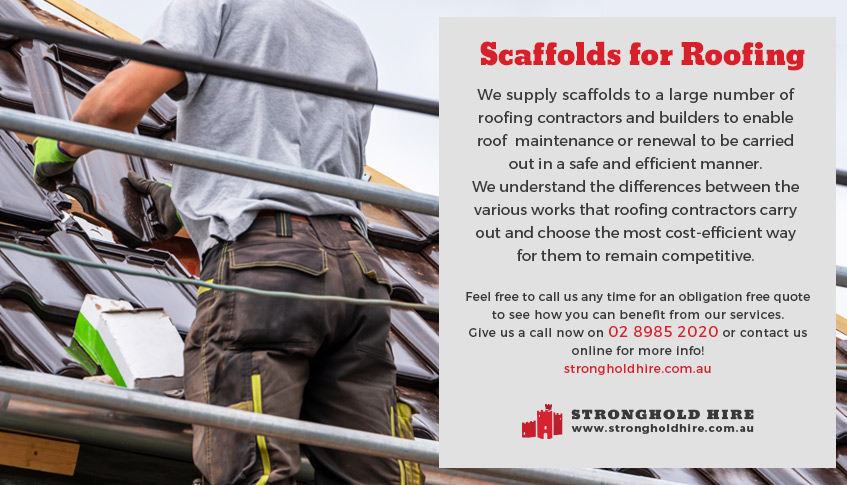 Aluminium Scaffold Systems For Small Projects

For smaller works such as re-pointing, tile replacement, changing flashings, gutter cleaning or repair (including new down pipes) we use one of our aluminium scaffold systems. Although aluminium scaffold is more expensive to hire than steel scaffold these work out more cost efficient as the hire periods are very small so savings can be made on the labour and transport.
Roof Handrails vs Scaffolding
Some of our roofing contractors have switched from using roof handrails to scaffolding after seeing the benefits. Some of the benefits of scaffolding vs roof handrails are outlined below.
Scaffolds provide a much easier and safer access to the roof through scaffold stairs or ladder bays.
Scaffolds are a much stronger fall protection system.
Scaffolds also act as a catch area for any items such as tools or tiles that could accidentally slip down the roof during works.
Scaffolds can be designed and set to a height which allows roof access, edge protection and ability to work on fascia and gutters all in on go, without adjustment.
Scaffolds can provide an area to load up materials saving on labour hire.
Stronghold Hire are able to turn around quotes to install within 24 hours for emergency roof repair jobs.
Safer installation of the fall protection system, no harnesses or rope access required.
The roof or building does not need to be altered in order to install the scaffold, eliminating any chance of water egress or damage.
Roofing & Gutter Scaffold Project
We were recently hired to provide the scaffolding for a roofing and gutter replacement project for the prestigious Domremy School in Sydney. This was a challenging project given the tight deadlines but is another scaffolding success story now! Read more about the roof and gutter replacement scaffold for Domremy here.
Mobile Scaffold Hire for Commercial Roofing Contractors
We also supply large mobile commercial scaffolding for some of our more commercial type roofing contractors for jobs such as new warehouse roof installations. They often report that they are easier to work on than boom lifts and elevated work platforms.
Roofing & Gutter Maintenance Scaffolding for Hire
If you are a roofing contractor and need some scaffolding for an upcoming project feel free to call us any time for an obligation free quote to see how you can benefit from our services. Give us a call now on 02 89852020 or contact us online for more info!