How do we go about reducing or eliminating the risks sometimes associated with scaffolding and preventing scaffolding collapses? Many of the common problems associated with scaffolding can be avoided right at the start by really doing your homework on the scaffolding contractors before you award the work. In this post we'll go over some key things that you should look out for to ensure that your project is as safe as scaffolded houses!
Research The Scaffolding Company
Don't always go for the cheapest quote, sure we all want to save money where possible but the old adage of you get what you pay for rings true here and getting a contractor with the required experience for your project, regardless of the price, should be the objective. Ask yourselves is this project suited to the contractor? Does the contractor normally carry out this type of work? Different companies use different scaffold systems and so you should make sure their system suitable for your project. Also consider the type of scaffold being used, is it steel kwikstage, cuplok or aluminium scaffolding for example? Find out how long they have been in business, their past scaffolding projects, website and social media presence. Can they supply references on similar past work? A reputable company will know it's limitations.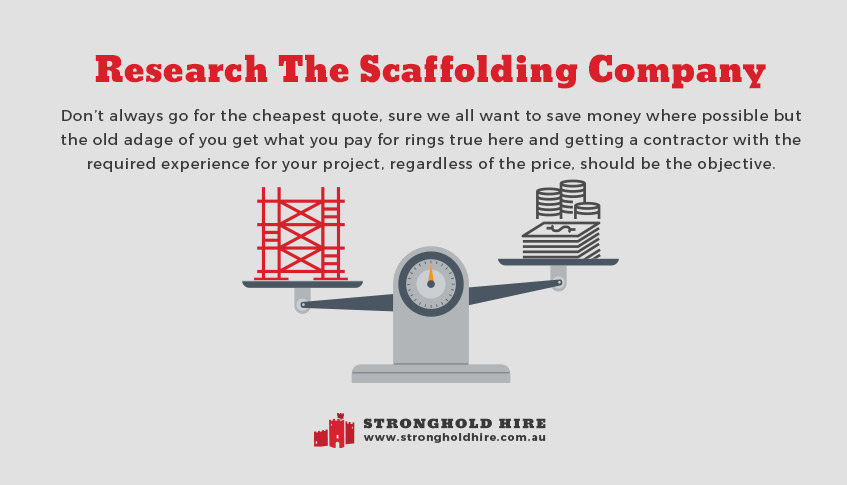 Scaffolding Methodology – What Goes Up Must Come Down Safely
The next thing we need to look at is the methodology of how we are going to install the scaffold and more importantly, how we are going to dismantle it? How is the site going to look by the time we dismantle, can we use the same materials movement as we did for erection? The scaffolding methodology of the comapany should be looked and consider all minutia. One example is the placing of the ties. Are the ties going to interfere with cladding, window fit or render? If so, then how are we going to overcome this obstacle? The simplest way is to allow for the movement of these ties to another suitable point but this may not be possible? Do we install buttress bays, raker tubes, extra bracing or even counterweights? If none of this is possible then you need to look at the way that the project is going to be completed and come up with a game plan with the scaffolder before you start. You would be amazed to know that even now in this day and age, how many times we have come to dismantle a job and most of the ties have been removed or altered.
You Should "Worry Too Much"
Maybe it's an indication of how seriously we take scaffolding safety here at Stronghold but I have even arrived on some sites and been told that I am,
"worrying too much, what's the problem, we have tied it over the parapet, it can't go anywhere!"
and I wear my badge of scaffolding safety with pride. Safety is a key focus of Stronghold and always will be. In relation to the above example, here is why
Firstly, when my scaffolders come to dismantle the scaffold, those parapet ties at 10m high are the first things that need to come out, what happens then?
Secondly, the scaffold system is designed to be tied in a certain pattern. It is generally thought that scaffolds only fall away from a building, but in fact, most of the time they buckle, twist and collapse inwards on themselves!
Often times people involved don't intentionally act in a way that is unsafe but, be it due limited experience or lack of training, they can inadvertently put the safety of themselves or their crew in jeopardy. At all times preventing scaffolding from collapsing should be a key focus – safety first, everything else comes after.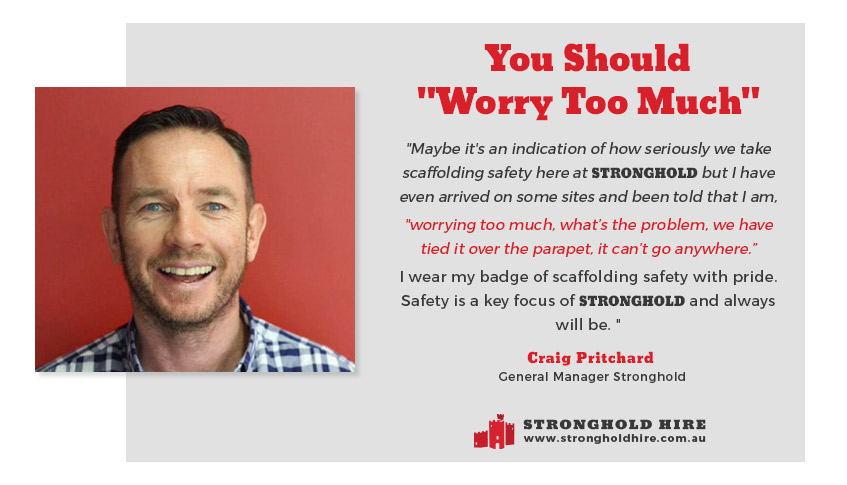 Scaffolding Safety – Factors To Consider
Then we need to look at what other hazards are on site that we need to take into consideration for the pricing and install. Does it need an engineer's certificate? How stable is the ground, has it been recently back filled, is it a suspended slab? Are there any electrical wires that run within 4m of the scaffold? We all know that if the scaffold is within 4m then we need to make suitable arrangements such as tiger tail insulation and installation of plywood hoarding to the face of the scaffold.
A Shocking Scaffolding Story
We know the story of a young lad that was on a scaffold and the wires were around 3m away, with no insulation and no plywood. Many would think that 3m is a safe enough distance not to be harmed but this worker was pulling up long 6m lengths of steel rod up and over the handrail of the scaffold, as he pushed the rod horizontal to slide it along it caught the wires. Luckily he survived the incident but couldn't use his hands again. This story highlights the dangers that exist inherently with scaffolding projects and why safety should always be a key focus.
Scaffold Access – Don't Forget About It!
Something we also need to think of is the scaffold access. What If there is an injury on the scaffold, how are we going to get that person off safely? A stretcher stair is the easiest solution but it's not always possible. These things need to be discussed at the tender stage as planning for the worst often results in safer outcomes and a better project for all involved. It's not only tradesmen that are at risk of falling from height, scaffolders are too! We need to check the SWMS and check the method of install and removal of the components, are they using erection ladders or incorporating the 1m rule? If this isn't possible and say, harness work is required then what is the rescue plan? Is the fall arrest equipment tested and tagged?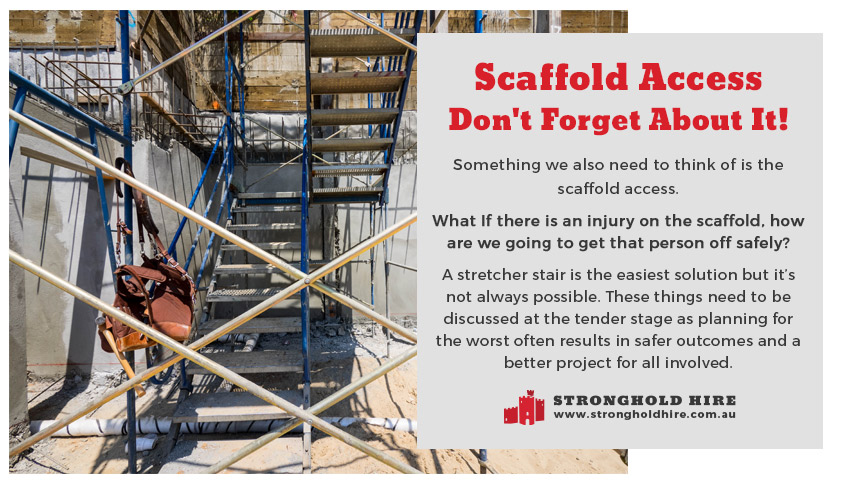 Experience Trumps A Scaffolding Licence in NSW
Once the scaffold arrives to site we need to check that everyone is not only qualified, but they have an experienced supervisor or leading hand. Unfortunately, in NSW it is possible to obtain an advanced scaffolders licence in just 4 weeks, so in theory, someone who has never set foot on a site before in their life is qualified to erect a hung scaffold off the harbour bridge, crazy huh? This is why we need to check on the experience, it's far too easy to get a High Risk work licence for scaffolding nowadays!
Preventing Scaffolding Collapse On Site
If you pay heed to all of the above during the tendering phase you will have significantly helped prevent any scaffolding collapse on site but being safety focused doesn't stop there. Once the scaffold is complete and on hire then just please be vigilant, walk through it daily to ensure nothing has come loose or has been moved. Although the scaffold is inspected every 30 days we need an extra pair of eyes on site as well with safety in mind. It's also vital to check the rating for the scaffolding and never overload it – it's just not worth the risk!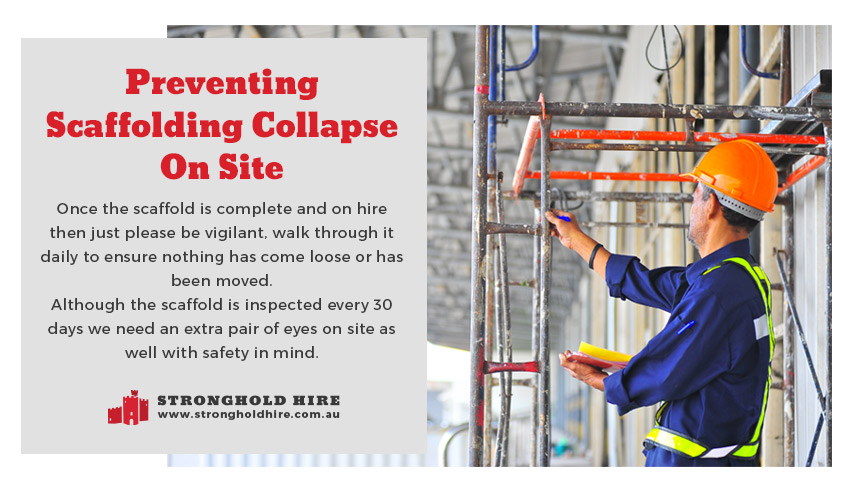 Reducing Scaffolding Injuries and Collapses
We hope the above will have given you some food for thought when it comes to scaffolding safety and how you can do your bit to prevent scaffolding collapsing but we think additional steps should be taken to safeguard the industry and those that work in it. What we would like to see in the future are:
More Inspectors: It's frustrating and alarming, especially in the residential market, to drive past small projects that are not compliant, where short cuts have been taken like leaving out bracing, ties, kick boards or unsuitable access or using inferior mesh products that are not flame retardant. It's a classic case of putting people's lives at risk to save a few dollars.
Licencing: We also want to see it get much harder for people to get the HRW licences. There should be longer training and even apprenticeships required for scaffolders to be recognized as tradesmen and not as skilled labourers. The only way to do this is to make the training much more intense, with at least 3 years of on-site experience as an apprentice.
Prevention Is Better Than Collapse
Ultimately, we've been in the scaffolding game for a long time and have come across more dodgy scaffold than you can shake a 6m steel rod at and it really is time for change. You don't have to have a Ph.D to know that when it comes to scaffolding, prevention is better than collapse and we really hope that the above points may go some way to help some scaffolders improve their site safety. We'd also hope that it's taken as a rallying cry to the industry at large to demand better standards when it comes to training and safety, scaffolding is not a game. If you have any suggestions or ideas on how we can help influence change within the industry please let us know!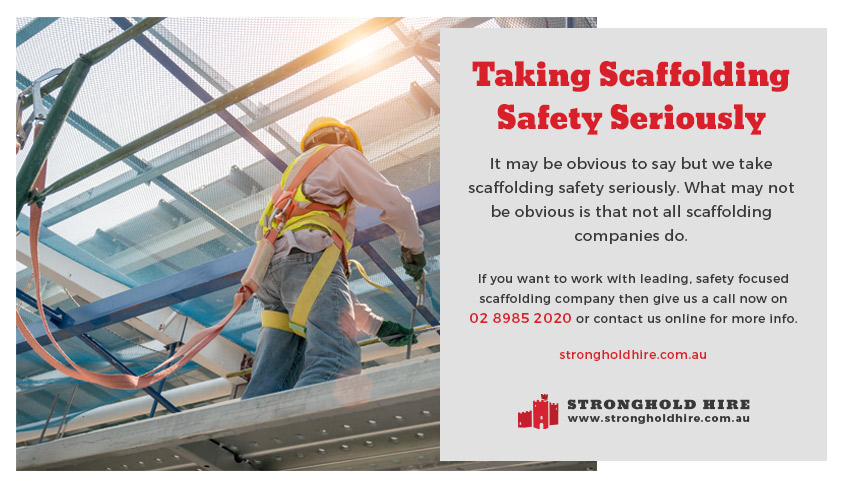 Taking Scaffolding Safety Seriously
It may be obvious to say but we take scaffolding safety seriously. What may not be obvious is that not all scaffolding companies do. If you want to work with leading, safety focused scaffolding company then give us a call now on 02 89852020 or contact us online for more info.