Do you think you may require scaffold? Are you worried about making the right decision when it comes to finding the best scaffolding contractor? Well, fret no more as in this post we'll give you the info you need to choose the right scaffolding contractor in Sydney. Here we will highlight some of the items you need to be aware of to get the best scaffold contractor for your project. A little bit of homework can save you both money and stress. Always remember, the cheapest price isn't often the best one!
Scaffolding Contractors Sydney – What You Should Check

There is no shortage of scaffolding contractors in Sydney but finding a good one can be more challenging. Given the serious nature of scaffolding work – and the risks associated with it – it's imperative that you choose the correct scaffolding for your project. Here are the items you should pay attention to when choosing.
Check The Website: Choosing A Scaffolding Contractor
Check out their website and social media sites. A lot can be said about a company by it's website and the information it provides. Are they very responsive in getting back to you regarding any enquiries? An expert should get back in touch with you within an hour of any online enquiries or telephone calls. If not, then this may suggest that they are too busy to facilitate any other work?
Check The Contractors Past Projects
Scaffolding contractors should be able to show you examples of scaffolding projects similar to yours that they have completed. It isn't possible to have all projects listed on a website, but any reputable company would have photographs stored on file of every project completed, regardless of how big or small.
Testimonials & References
References or testimonials should be supplied on request, check out any reviews that they may have online also to ensure the scaffolding contractor you're dealing with is reputable.
Scaffolding Contractor Experience
Find out how long the scaffolding company has been in business. Generally, you would want to be looking at someone with a minimum of 2-3 years so you have the peace of mind that they know what they are doing. Again, given the risks associated with scaffolding you can never be too careful. Here at Stronghold Hire we have over 20 years experience – and growing!
Service Area
Find out the location of the company you are engaging, do they service your area? Would it be a better option to explore scaffolding contractors closer to the project? The location of the scaffolding contractor can have an impact on project pricing as the longer the scaffolder has to travel, they more they have to charge.
Scaffolding Resources Available
Do they have enough resources to complete your job hassle free? How many staff do they employ? Do they own their scaffold material? Do they have their own transport? Is the company financially stable? Do they provide the scaffolding systems you need for the job? It's important to get answers to all of these questions as they will go a long way to helping you determine whether or not the scaffolding contractor is the right fit for your project.
Insurances, Qualifications & Association Membership
Professional scaffolding contractors should be able to provide copies of valid insurances and confirm qualifications of all of their staff. You should also find out if they belong to any associations such as the Master Builders Association? Happy to report that Stronghold are members of the Master Builders Association and have $20 million public liability insurance for all of our scaffolding projects.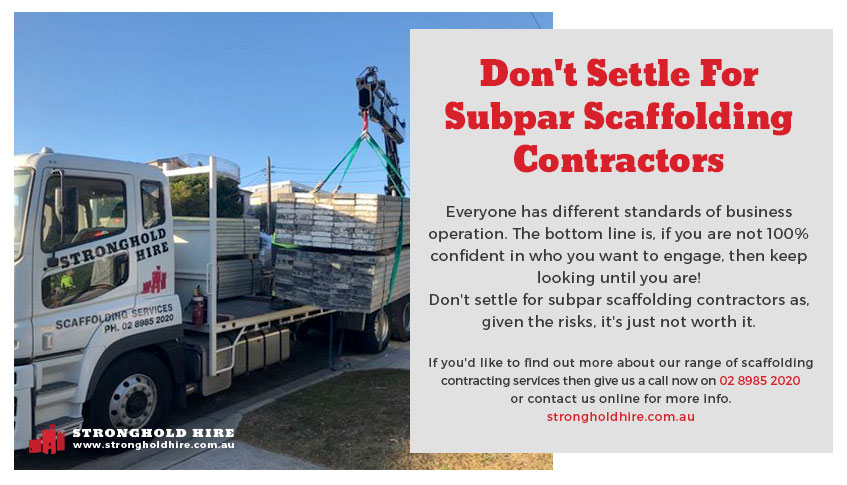 Don't Settle For Subpar Scaffolding Contractors
Researching all of the above points will give you an overall picture of how professional the scaffolding contractor that you wish to engage really are.
Unfortunately, everyone has different standards of business operation. The bottom line is, if you are not 100% confident in who you want to engage, then keep looking until you are! Don't settle for subpar scaffolding contractors as, given the risks, it's just not worth it. If you'd like to find out more about our range of scaffolding contracting services then give us a call now on 02 89852020 or contact us online for more info.