Nearly fifteen years ago back in 2008 was where it all started. Based in Maroubra in the Eastern Suburbs of Sydney, a small crew was created to supply scaffold labour to some of the more established and reputable scaffold companies in Sydney. Moving away from daily rate work and taking on riskier larger projects on a fixed contract price, the number of scaffolders working for us grew very quickly. The knowledge and experience of these scaffolders enabled us to take on industrial shut down work, travelling and working in different parts of the sunny state of NSW.
Whilst this growth in labour supply was taking place, the natural progression was to start supplying scaffold equipment on hire also. You know we supply more than just scaffolding right? Here is a brief overview of all our services:
Steel Scaffolding Hire
This is our main service, the supply of steel modular scaffolding to reputable builders and maintenance facilities across Sydney and beyond. We have access to an unlimited supply of steel scaffolds with the capability of taking on small and large projects in the residential, industrial, and commercial markets. We have multiple sized vehicles that enable us to get the equipment to the site, on time, every time, with the tightest of access. Our main asset, as with all successful enterprises, is our team. Our management, yard staff, drivers and scaffolders are all very experienced and have a great attitude to work. Problems are there to be solved, not created.
Aluminium Scaffold Hire
Around four years ago Stronghold Hire became the main contractor for a very large national insurance builder. This type of work involved a lot of last-minute emergency works and inspection scaffolds. The nature of these jobs suited aluminium scaffold over steel. Our aluminium scaffolding service is advantageous due to quick install times, shorter hire periods, inaccessible areas and erecting scaffolds on occupied property suited to lightweight aluminium scaffolds. The insurance work was a huge part of our business, so we invested in lightweight aluminium modular scaffold and continue to increase our stock year on year.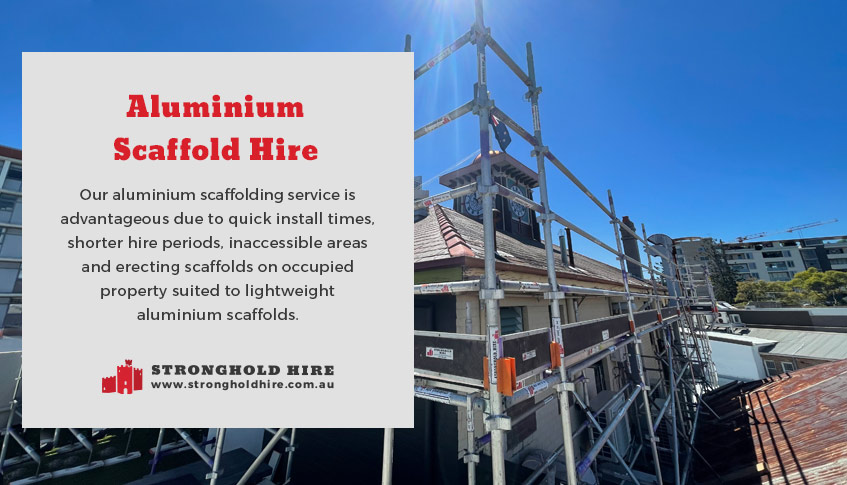 Demolition or Rubbish Chutes
Another popular service we provide is rubbish chutes for construction sites. We decided to explore this idea as one of our management team who is originally from the United Kingdom. He informed us that it's quite common for the scaffold contractors to supply rubbish chutes as part of the scaffold set up there, especially for jobs such as roof restoration or internal fit-outs. Our chutes are high-quality GEDA chutes made in Germany. They are medium-duty and we limit our chutes to 20m high. They are the perfect solution to disposing of rubbish from higher floors of buildings. It will save your team time by not having to struggle to bring rubbish down to the floor level.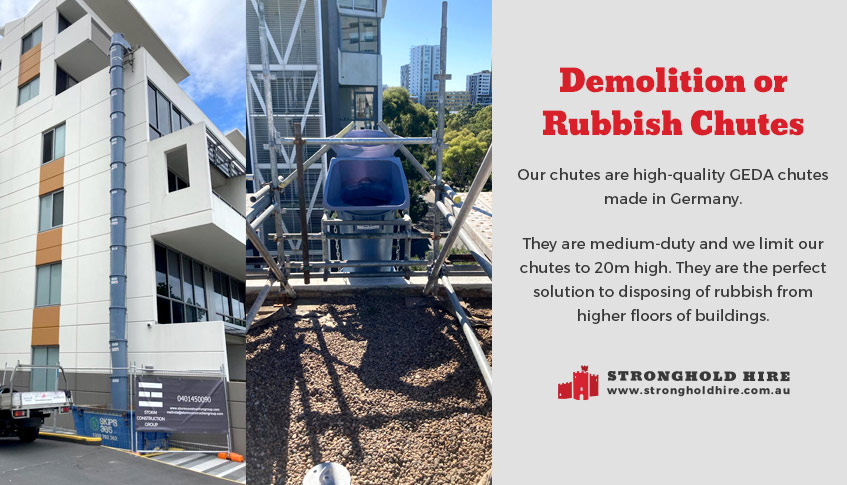 Shrink Wrap Encapsulation
Since 2019 we have been providing a shrink wrap encapsulating service. We have shrink-wrapped boats, scaffolds, and temporary roofs and also worked on more bespoke projects. The wrap has been required for several uses including but not limited to, weather protection, dust suppression, asbestos or paint removal, marine maintenance and aesthetics. The wrapping service has become incredibly popular in the last few months due to the heavy rainfall that the state has received. It does cost that little bit more than steel or aluminium scaffold but it's worth the cost when you're able to work in the rain whilst competitors are forced to shut their site.
Edge Rail or Fall Protection
Edge protection hire is our most recent venture. After a spike in demand for edge protection due to new laws on working on roofs and excellent work from our marketing team, we decided to investigate the different types of edge rail systems that are available in Australia. After a lot of research and a large trial period, we have invested in what we believe to be the strongest system on the market. We supply 4 different types of brackets for multiple installation scenarios, including pole up, bolt-on and parapet clamp. The system is completely non-invasive requiring no patch up of holes, etc. The system also allows the tradesmen to have a clear run at the job at hand. It does not use sacrificial brackets or require some parts of the roof to remain incomplete, unlike some of the more inferior systems being used in Sydney.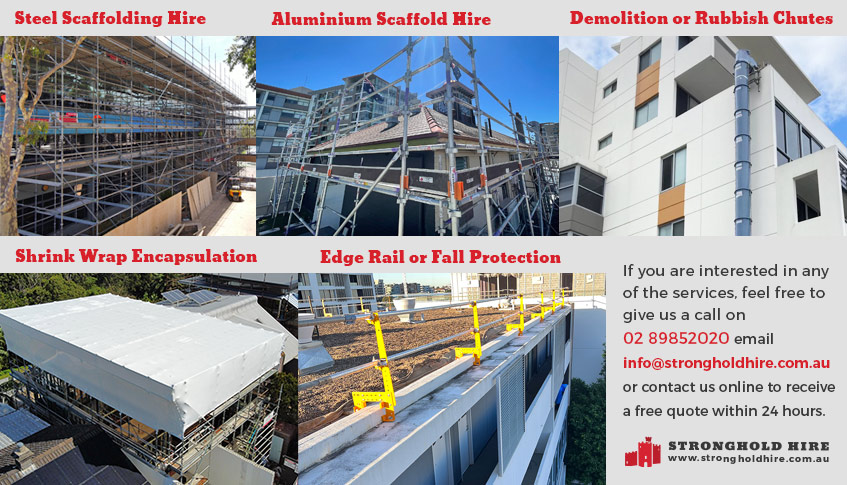 Watch This Space!
We have been known to also provide labour and transport in the past, but with the major shortage of skilled workers in Australia now, this is not something that we can accommodate for now. If you are interested in any of the above services, feel free to give us a call on 02 8985 2020, email info@strongholdhire.com.au or contact us online to receive a free quote within 24 hours. We are looking at expanding our services even further over the next few years with a few ideas being explored, so, watch this space…