Recently we've had more enquiries for scaffolding shrink wrap than ever before, this is largely due to the rain that has hit our Sydney shores, otherwise known as "La Niña". Many people that call up just want to get a very rough indication of the cost. Many are misled into thinking we can simply pop along and throw some wrap over the top of their project and onto their existing scaffold.
Shrink Wrap Requirements
Unfortunately, this is not the case. Adding scaffolding shrink wrap to your project brings with it extra requirements such as additional bracing for the scaffold as well ties and, at times, counterweight to be able to take the extra loads associated with shrink wrap. Façade coverings only usually require a small amount of extra work, but the temporary roofs are way more involved, with more engineering required the larger the span.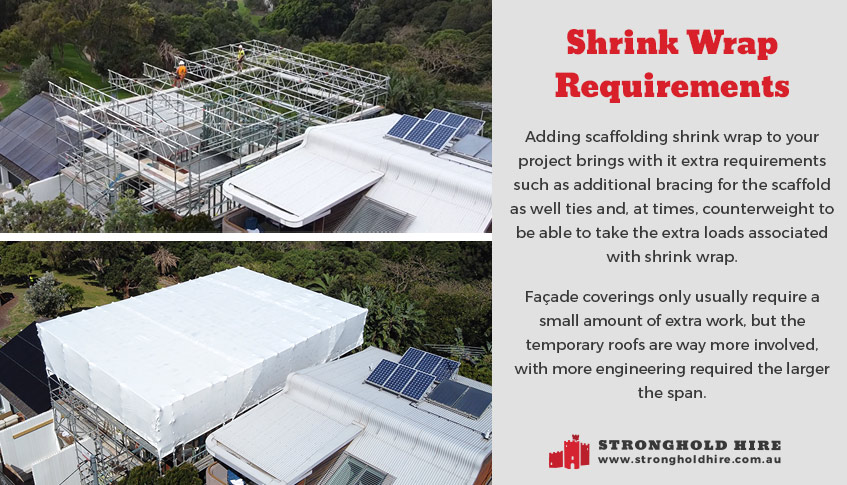 The Value of Scaffolding Shrink Wrap
So, the question we get asked over and over by clients is "is the extra cost of shrink wrap worth it?" Well, unfortunately, no one has a crystal ball and can't predict the weather and there is no one size fits all answer. But, we can give you some of the reasons why our clients choose include scaffolding shrink wrap in their project budget from the start. Whilst we can't say if the price is worth it we can tell you what the value of shrink wrap is.
The main ones are cost and time, and they are associated directly with each other. If for instance, a project was to experience a heavy amount of rainfall, then delays and in turn the extra costs associated with the delays are expected.
After it rains, the knock-on effects are:
Drying Time: The site often needs to be 'dried out' before work, meaning that 3 days of rain is now 5-6 days added to your program.
Contractor Delays: The rain usually affects other parts of the city. This means that if you have a labour hire contractor booked in for a certain date, but the job they are on also gets delayed, then that often means your job is also going to get delayed. This re-organising can also cause the foreman a lot of unwanted extra stress. The big flip side of this is that when you have extended periods of rain, you will have the 'pick of the bunch' to come and work on your shrink-wrapped, dry site whilst everyone else has had to close their sites. Sub-contractors will prioritise your site over others, allowing you to 'jump the queue'.
Equipment Hire: Delays in the project also mean extra hire periods of equipment that is on site including scaffolding, site sheds, portable toilets, temporary fencing, etc.
Council Permits: Are council permits required for the project? If so, get ready to have the fun and cost of trying to extend them due to the rain.
Critical Path Tasks: most of these can be kept within your control if you can eradicate the chance of inclement weather spoiling things.
Client Issues: If it's a residential job, then what about the client? Is it a family? They are often renting accommodation and paying a mortgage whilst the build is taking place, extra costs, and the stress of trying to extend rental contracts aren't ideal for them.
Penalties: many contracts have penalties for not delivering the build on time, heavy penalties!
No Wasted Wages Although most works are contracted out to each trade, every builder will still have permanent staff working on these projects. If does rain, then they still need to be paid. Dead money & no productivity.
Reputation: Do you want to be known as the top builder that delivers on time, every time? Then shrink wrap it up!
Privacy: Do you know want others to see what you are doing? Nosy neighbours? Choosing a full perimeter and roof wrap can give you protection from the rain, wind and 'sticky beaks'.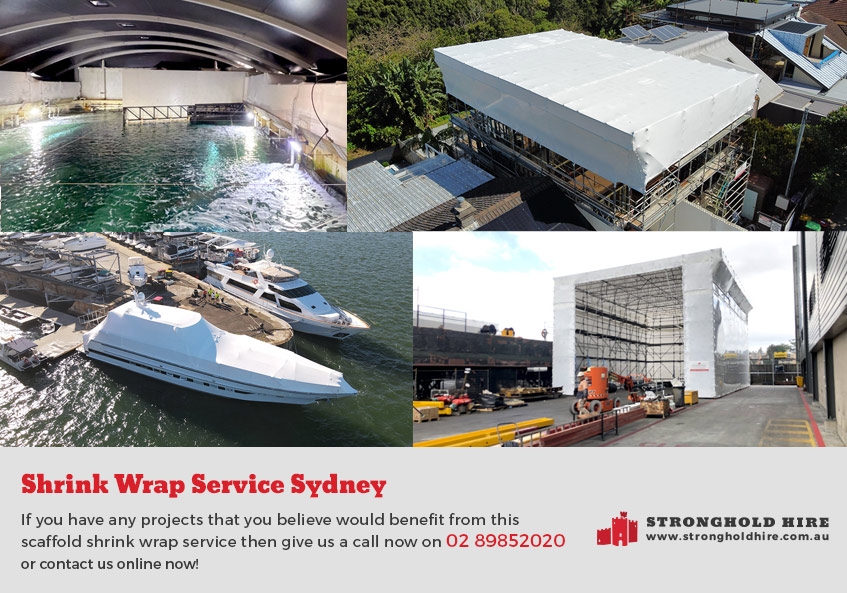 Shrink Wrap Service Sydney
I'm sure there are countless other reasons why shrink wrap encapsulation could benefit your next project, but ultimately, the choice is with you. Just adding up the costs, inconvenience and stress from the things mentioned above should make your decision easier. We know what we would do. If you have any projects that you believe would benefit from this scaffold shrink wrap service then give us a call now on 02 89852020 or contact us online now!