Are your renovating your apartment? Demolishing a structure? Installing a new roof? Have you thought about how you will dispose of your waste, rubble & roof tiles in a safe, clean, efficient and cost-effective manner? We've recently added a new Rubbish Chute service to help with the removal of debris which is proving to be very popular due to it's ease of use and effectiveness.
Rubbish Chutes for Building Sites
We have serviced many different types of people with the installation of our rubbish chutes including homeowners, small builders, kitchen fitters, tilers, flooring specialists, plumbers, water proofers, demolishers and Roof Tilers. As you can tell from the spread of clients we've worked with rubbish chutes can be used any type of construction site where you need to get the rubbish removed – quickly, safely and easily.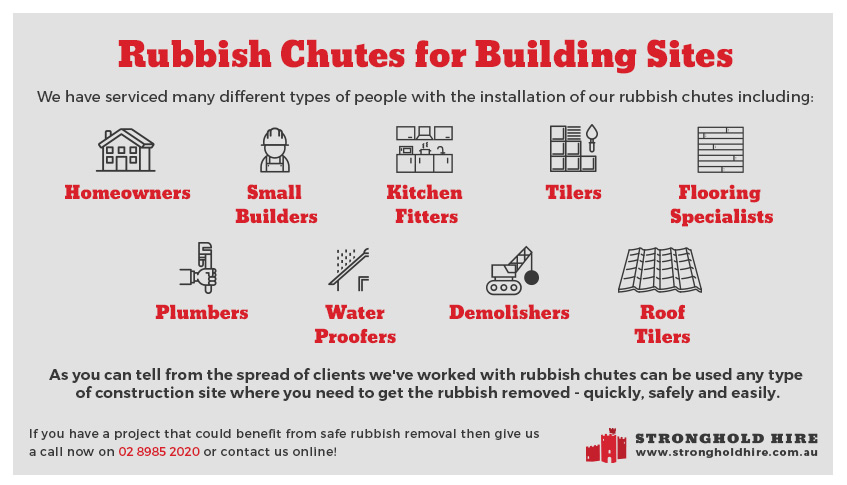 Quality GEDA Rubbish Chutes
For all our rubbish chute hire we use a quality chute from the German manufacturer GEDA.
GEDA rubbish chutes are the perfect helpers on construction sites. They are designed to discharge rubbish from big or small sites, be it a new building or renovation sites, indoor or outdoor. No matter what rubbish you need to remove GEDA waste chutes transport all kinds of materials from the upper levels downwards to a container or truck – silently and without any dust formation. Using the Geda Rubbish chute is here – you simply stack the length of piping needed and assemble them on scaffolds, inclined roofs or flat roofs, walls or window parapets at the desired height. When developing their chutes GEDA focuses on length, thickness and weight which results in durable and shock-resistant rubbish chutes.
The Geda Comfort Rubbish Chute – Silent Rubbish Removal
Here at Stronghold we supply one type of chute, the GEDA comfort. It is made from shock-resistant hard plastic and is ideal for universal purposes. Due to the high-quality hard plastic, the rubbish chutes are quite silent, easy to transport and can be assembled quickly and effortlessly. Depending on the usage, we decide how many chutes we stack together to reach the optimal height at the site. The chute can be mounted on walls, scaffolds and inclined or flat rooftops. Thanks to integrated double hooks, the chutes can easily and quickly be installed for maximum safety.
The rubbish chute comfort is only 1.1 m long. However, it is equipped with 3 mm wear ribbings which guarantee a high durability. In combination with its material – impact-resistant plastics – the chute is perfect for using at construction sites, at homes and apartment blocks.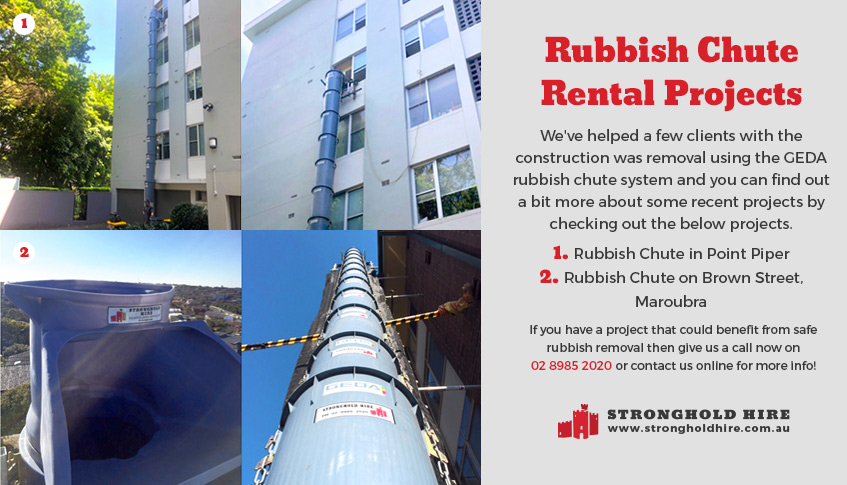 Rubbish Chute Rental Projects
We've helped a few clients with the construction was removal using the GEDA rubbish chute system and you can find out a bit more about some recent projects by checking out the below projects.
Rubbish Chute Hire in Sydney
If you have an upcoming project that could benefit from a rubbish chute for waste removal then please enquire today to see how we can help you make life easier on your current or future projects. Give us a call now on 02 89852020 or contact us online and we'll get back to you asap!