Edge protection is an important safely feature if you are doing any work at heights. We have a variety of edge projection systems that can be used for a variety of different purposes to help keep your employees and workers safe and get the job done efficiently.
Different Uses for Edge Protection
Here at Stronghold Hire we provide four different types of brackets for edge protection.
Residential Bracket: This bracket is also generally known as a pole up system which uses tension and basic geometry to keep it in place. It has a height limit of 6m and requires no anchors.
Commercial Bracket: This is a bolt-on type bracket that simply attaches to timber, masonry or steel.
Parapet/slab Clamp: This is used for parapet walls or slab edges, again using friction with the option to secure.
Surface Mount Bracket: This bracket attaches to the surface of metal sheet or klip-lok roofs.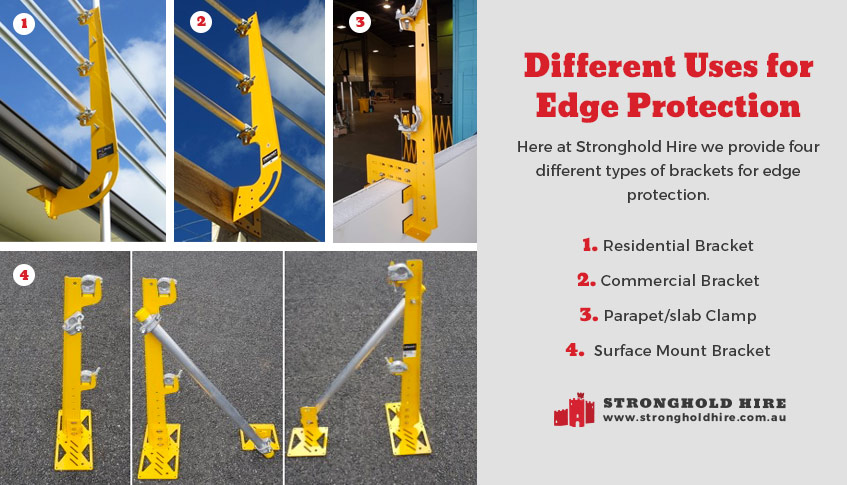 To help make your decision easier when it comes to hiring edge protection we have listed some typical scenarios where it may be needed below.
Edge Protection for Roof Repair
Edge projection can be used for minor roof repairs on a single storey residential homes. We believe the best bracket for this is the residential bracket. Tt's pole up design system ensures no fixings are required and with the use of the rail racers, the handrails can be installed from ground level, eradicating the use of any fall arrest equipment on our scaffolders.
Roof Sheet Replacement with Edge Protection
If you need to replace the roof sheet on a 7m high warehouse with steel panel screwed walls then edge protection with the commercial bracket will be needed. The exposed screws of the sheet walls are removed and then replaced through the bracket holding it into place with no extra penetrations to the steel. We fit them using an EWP or mobile scaffold provided by ourselves.
Edge Protection for Solar Panel Installation
If you have a klip-loc roof on a 12m high office building then we believe the surface mounting bracket would be best suited for this job. We use klip-loc cyclone rated clamps as an interface for our bracket. This system is installed from the roof using fall arrest equipment and is perfect edge protection for solar panel installation.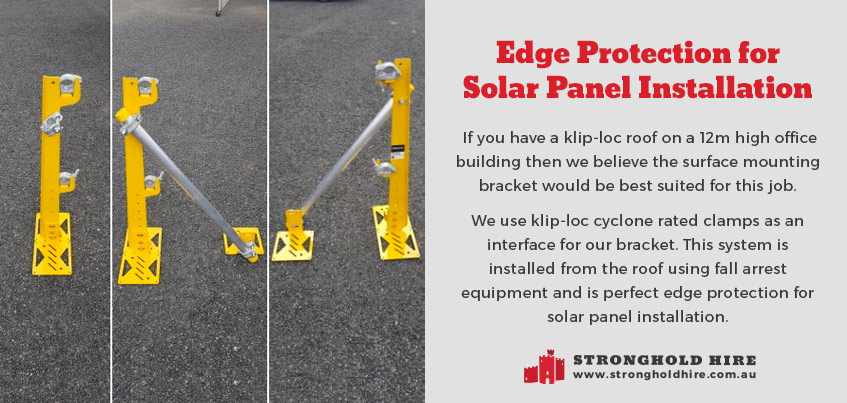 Slate Replacement on Church Roof with Parapet Walls
The parapet clamp is the only bracket for this type of job. The clamp can fix walls up to 400mm thick and provide a further 1m of fall protection on the wall that do not quite meet the safety requirements, typical of older churches and cathedrals.
Metal Roof Install with Edge Protection
If you have a project where you need to install a metal roof on a 12m high factory then the commercial bracket is needed. The commercial bracket will work with the multi attachment to anchor straight into the steel purlins. This attachment will not interfere with the placing of the sheets and we install and remove these working from EWP's.
Fall Protection for Workers
If you have a project where you're fitting concrete slabs on the 10th storey then fall protection for workers will be needed and that is where the parapet clamp comes in. The parapet clamp can be turned 90 degrees to fix to the edges of concrete slabs. It also has the ability to be able to attach a toe board instead of the lower third rail. This makes it the perfect solution for providing slab edge protection. Mesh or netting can be attached to the rails for extra safety.
Edge Protection Sydney
These are just some example ways where our systems can be utilised to provide a safe working area at a fraction of the cost of scaffolding. There are many other ways we can adapt our brackets to suit, if you have a fall protection challenge, feel free to give us a call on 02 89852020 or contact us online and speak with one of our experts.