Calling all Solar panel installers who need scaffolding, we are here to help you! Edge protection for solar panel installation is a service we are providing to more customers as of late. If you answer 'Yes' to any of the questions below then this blog is for you!
Do you require fall protection whilst installing solar panels?
Are you aware of the NSW code of practice for safe work on roofs?
Are you putting your installers and your company at risk?
NSW 2009 Safe Work Code of Practice
The NSW code of practice 2009 states that any roofs that have a pitch greater than 26 degrees must have a platform of at least 450mm at gutter height. The basic handrail or edge rail system often used for this type of work is not acceptable.
This area has been highlighted below and clearly states that a scaffold is the only option.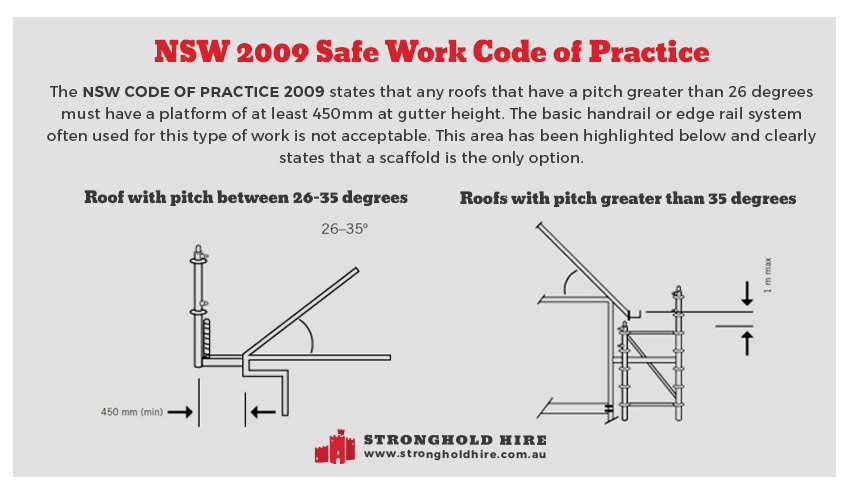 We can design, supply and erect scaffold structures to enable solar panels to be installed in accordance with above code of conduct policies. Our scaffolding can be used in any environment and is an affordable choice for domestic and commercial customers alike.
Certified Lightweight Aluminium Scaffolds for Solar Panel Edge Protection
At Stronghold Hire we supply certified lightweight aluminum scaffolds which provide secure edge protection and a safe access to the working area of the roof. We provide scaffolds to suit all different types of solar panel installs. The scaffolds are installed and dismantled by experienced and qualified personnel. We aim to offer a service which exceeds your expectations; delivering on time and on budget to help your solar panel installation to be a big success. We predominantly offer this service at residential properties, but can also erect scaffolding at churches, schools and warehouses where solar panels are being fitted.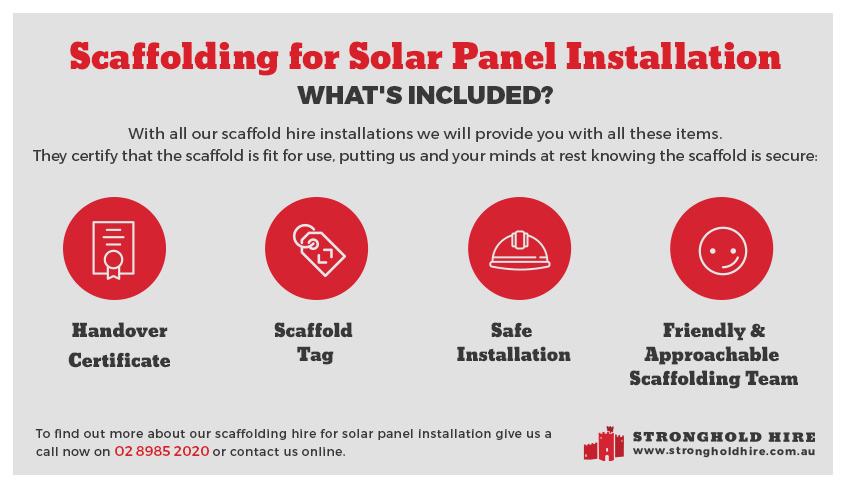 Scaffolding for Solar Panel Installation – What's Included?
With all our scaffold hire installations we will provide you with the following:
Handover certificate
Scaffold tag
Safe installation
Friendly and approachable scaffolding team
All these items will certify that the scaffold is fit for use, putting us and your minds at rest knowing the scaffold is secure.
Solar Panel Installation Scaffold Specialists
Stronghold Hire is a reputable company who prides itself on employee's appearance, work ethic and safety standards. We currently install around 80 scaffolds per week with a large proportion of these for solar panel install. Due to this high volume of small scaffolds we are able to keep our rates extremely competitive with a full install including erection labour, dismantle labour, certification, transport of equipment and the minimum 1 weeks hire period from as little as $590 + gst.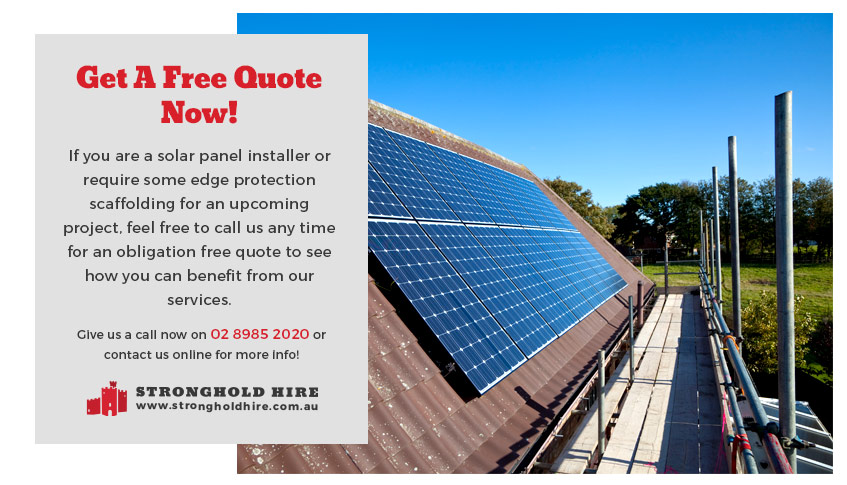 Get A Free Quote Now!
If you are a solar panel installer or require some edge protection scaffolding for an upcoming project, feel free to call us any time for an obligation free quote to see how you can benefit from our services. Give us a call now on 02 8985 2020 or contact us online for more info!