At Stronghold Hire we provide steel and aluminium scaffolds, rubbish chutes, shrink wrap and edge protection hire. We often get asked what's the difference between hiring edge protection handrails or a scaffold system.
So, this article, we would like to highlight FOUR main questions and answers that show the pros and cons between edge protection handrails or a scaffold system. These points should help make your decision easier when deciding between the two systems.
1. What type of work is being carried out?
This is the most important question. Basically, edge protection rails or edge rails as they are often called are better for jobs such as minor roof repairs, solar panel installs, aerial fitting, waterproofing of balconies, etc. The scaffold would be chosen as edge protection for larger jobs such as full roof restorations, balcony handrail fitting, internal glass panel fitting or any jobs that require demolition.
2. What is your budget?
This is another big one. Generally, scaffold costs around 50% more than edge rail. The costs will not only depend on the linear and square meters but also the structure that it is being attached to. We have several different edge protection brackets, to suit different applications but it is not always possible to use them. Sometimes, scaffolding is the only way to do the job properly.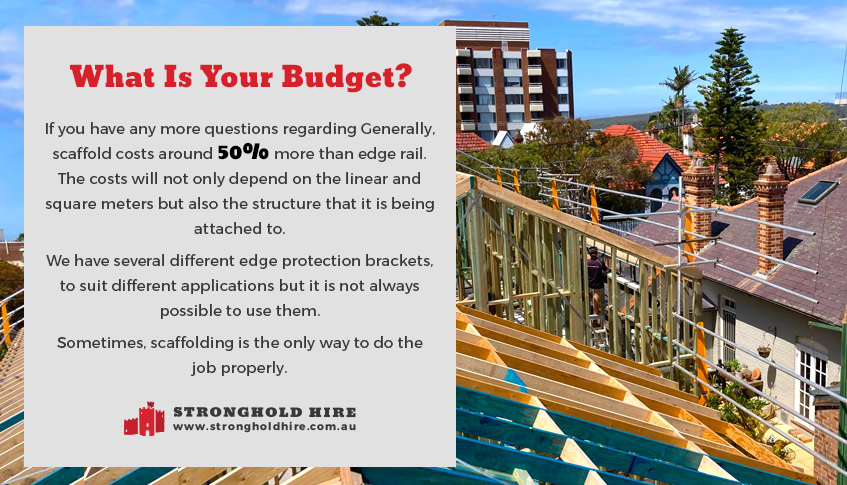 3. Is the pitch of the roof over 26 degrees?
If edge protection is required for roof works, then you must ensure that the pitch of the roof is not more than 26 degrees. If it is, then only a scaffold can legally be installed. You can read more about this in our previous article we wrote about edge projection and the NSW 2009 Safe Work Code.
How are you accessing the work area?
The benefit of scaffold is that you are always supplied with compliant stairs or ladder tower access. With edge protection, we often see that the access is overlooked, and many tradesmen think that a simple ladder, leaning up to the roof or work area will suffice. This may be true, but it isn't safe, and it isn't compliant. Here at Stronghold Hire, we can supply you with both the edge protection rails and the stair/ladder scaffold together. This means one point of contact and is usually more cost-effective than using two contractors.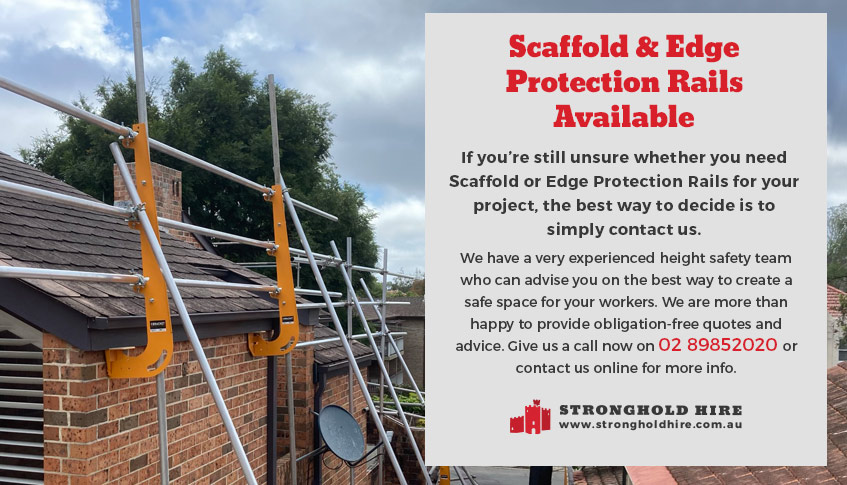 Scaffold & Edge Protection Rails Available
If you're still unsure whether you need Scaffold or Edge Protection Rails for your project, the best way to decide is to simply contact us. We have a very experienced height safety team who can advise you on the best way to create a safe space for your workers. We are more than happy to provide obligation-free quotes and advice. Give us a call now on 02 89852020 or contact us online for more info.