This week we would like to offer advice and explain what is involved with scaffold rental. The thought of renting a scaffold may be a little daunting if you have never done it before and so hopefully this guide to understanding scaffold rental will help.
The following guide may be of interest if:
You are a home or property owner looking to do some minor renovations around the house like painting or cleaning your gutters.
You are an owner builder, about to take the plunge and tackle your first major renovation or build.
You are a tradesman that would not usually require scaffolding but have an unusual task or project that has limited or difficult access.
You have just started your own business or landed a new role in the construction and it is the first time you have had to organize safe access.
Scaffolding Rental
Scaffolding rental is broken into two categories:
Dry Hire:
This is simply hiring the scaffold yourself from a supplier. You would give them a list of components or the dimensions of the scaffold (for them to work out the components) and you will be quoted a daily or weekly scaffolding hire rate. Most of these dry hire businesses will also give you the option of delivery or pick up.
The only advantage of dry hire is the cost, no labour or inspection fees.
Some of the many disadvantages of dry hire are as follows:
Any scaffolds that are over 3.9m are to be erected by a qualified scaffolder under NSW Safe work laws. This limits the height of the scaffold that you can dry hire. Responsible dry hire suppliers will ask for a copy of the scaffolders licence prior to supplying any towers over 4m.
The time taken to erect a scaffold yourself will often take 4-5 times longer than an experienced scaffold crew.
The scaffold will not be certified. Certification gives you peace of mind that it has been erected correctly, secure, safe and within Australian Standards.
There are no insurances with the dry hire of the scaffold. The scaffold becomes your responsibility completely. Any accidents, damage to property or injuries that occur from a scaffold that has been incorrectly installed falls straight onto the person who erected it.
Any excess/surplus material must be returned to the supplier or stored somewhere on site/workplace as the supplier will not arrange the pickup of this.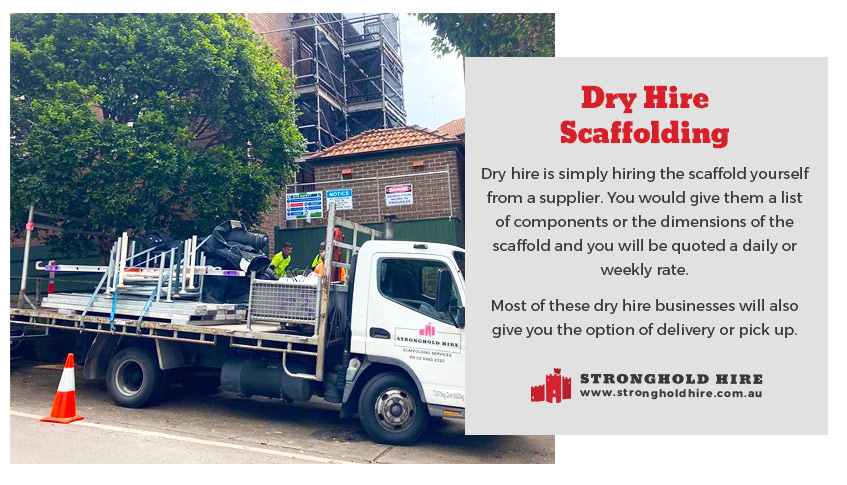 Scaffolidng Service
At Stronghold Hire we only provide the full scaffold rental service, this includes, but is certainly not limited to:
Initial free consultation offering advice and possible solutions to your access problem.
Supply of fixed, obligation free quote which includes everything. With modern technology, using photos and satellite, these first 2 stages can often be done within a few hours of the initial email request or phone call, straight from our office.
The preparation, packing and loading of the material at our yard in Matraville.
The delivery and pick up transport. This may be one of our utility vehicles, our small 3-ton trucks, the 6-ton truck or the 12-ton crane truck (or a combination), depending on the size and the access to the job.
Erection and dismantle labour, including the installation of fire-retardant mesh, shrink wrap, plywood hoarding, temporary fence panels, stairs, ladders or lockable doors that may be required.
The hire of the scaffold. This could be heavy-duty steel modular scaffold or our clean, lightweight aluminium modular scaffold.
Any engineering that may be required, drawings and certs.
Handover certificate which is a legal requirement and gives you peace of mind.
Monthly inspections.
Dry Hire Scaffold Risks
With most scaffolding collapses and accidents associated with falling from a height being under 4m, we hope that the option of scaffold dry hire in NSW stops soon. Scaffold installation and working at height is serious business and should be taken that way.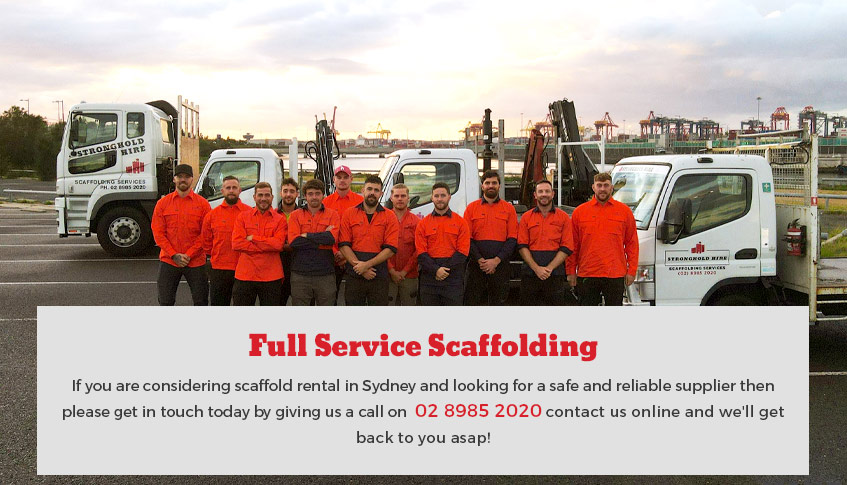 Full Service Scaffolding
If you are considering scaffold rental in Sydney and looking for a safe and reliable supplier then please get in touch today by giving us a call on 02 89852020 or contact us online and we'll get back to you asap!