Are you thinking about hiring scaffold? Or are you wondering if you need scaffold? Curious about what scaffolding hire will cost or the associated scaffolding hire rates? Well, in this post we'll cover all of that and more so you have a good idea of how to budget for scaffolding hire costs and what goes into scaffolding hire rates. Read on!
Scaffolding Hire Factors – Safe Access
If you are planning minor renovation works or even thinking about carrying out a new build then one of the major factors that you have to take into consideration is safe access. This very important factor is often left out when budgeting for your project and so shouldn't be overlooked.
Scaffold Hire Process
The process of hiring scaffold is pretty straight forward with the first step being to approach a reputable scaffolding company who should be able to supply you with a fixed quote with no nasty "hidden surprises". It is often advisable to get 2-3 quotes with different scaffold hire rates but remember, the cheapest quote doesn't necessarily mean the best!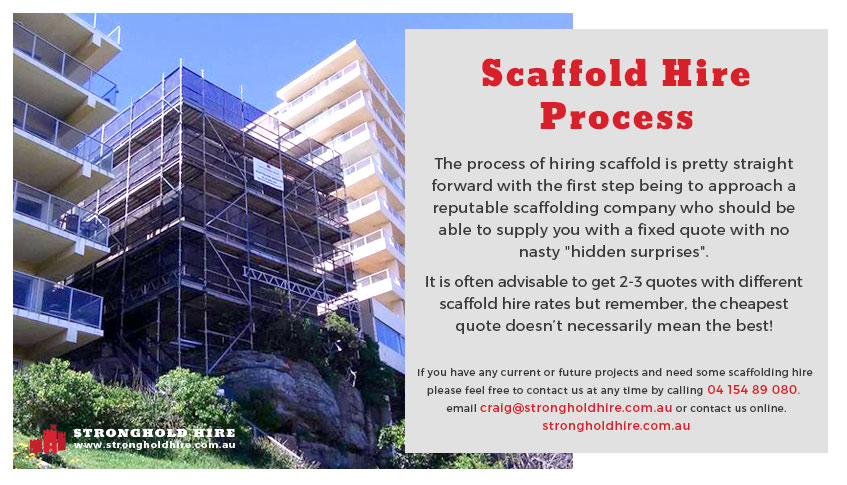 The Scaffolding Estimator
Once you have done your homework and have found a scaffold company that you're comfortable with then the next step is to simply make contact via telephone call or email and you should get a response the same day. The scaffolding estimator from that company may ask you for any project plans or photographs you have of the area as well as the address of the project. Nowadays estimators are often able to give you a verbal quote just from the plans, photos and/or satellite images within a couple of hours of making contact. Depending on the type of project you're undertaking and at what stage the project is at then a site visit may be also be required before a fixed quote is given.

Scaffolding Hire Rates – Understanding the Quote
Once you've found a scaffolding company and provided the estimator with the info needed you should then receive a quote for the scaffolding project. The quote should include all the basic components outlined below and can sometimes itemised separately.
Labour Costs: This is the cost of the labour to erect, modify (if required) and dismantle the scaffold.
Transport: This is the cost to deliver and pick up the scaffold.
Hire of Scaffold: This is the cost of the hire of the scaffold, often a lump sum for the specified hire period and then a weekly over/under hire incase the project is completed earlier or later than projected.
Fire Retardant Mesh Supply: This is the cost of the safety barrier mesh that has to be installed.
Engineers Fees: Not usually required for residential type scaffolds, normally these are for more complex projects.
Sundries: Any materials that may only be used once and discarded such as wall anchors, plywood, etc if required.
This quote should clearly state what is included and will generally be valid for 30 days. Once you have decided on which company you would like to go with you simply accept the quote and book in the install date.
Quick Turnaround Scaffolding Hire Sydney
At Stronghold Hire when dealing with clients we provide them with full scaffolding hire rates as per the above. We are often given last minute requests for scaffolding hire projects in the Sydney area whereby we have turned around the whole process from initial contact to install within 24 hours and have done this on numerous occasions.
If you have any current or future projects and need some scaffolding hire or you need some questions answered on safe access please feel free to contact us at any time by calling 0415489080, email craig@strongholdhire.com.au or contact us online.