The definition of a scaffold has changed in over the decades. For instance, if you go back and read a dictionary from a century ago, you may find it described as 'a flat raised structure on which criminals are punished by having their heads cut off or by being hanged with a rope around their neck until they die'.
Luckily, things are a little different nowadays and you should find something closer to 'a temporary framework for holding workers and materials during the erection, repair or decoration of a building or structure'. And, for us here at Stronghold Hire, that's the definition we're more familiar with!
Basically, scaffolding is a platform made of steel, timber or bamboo to allow workers to work safely at height, over water or underground. In Australia, we don't use bamboo as steel or some form of metal tends to be the safest and most practical. Most of the scaffolds in Australia are modular with a small number of tubes and couplers scattered around.
Scaffolding Systems We Provide
At Stronghold Hire we can provide you with 4 different types of scaffold systems:
Galvanised Steel Kwik stage
Aluminium – Modular or Mobile
Steel Cuplok
Steel Tube and Coupler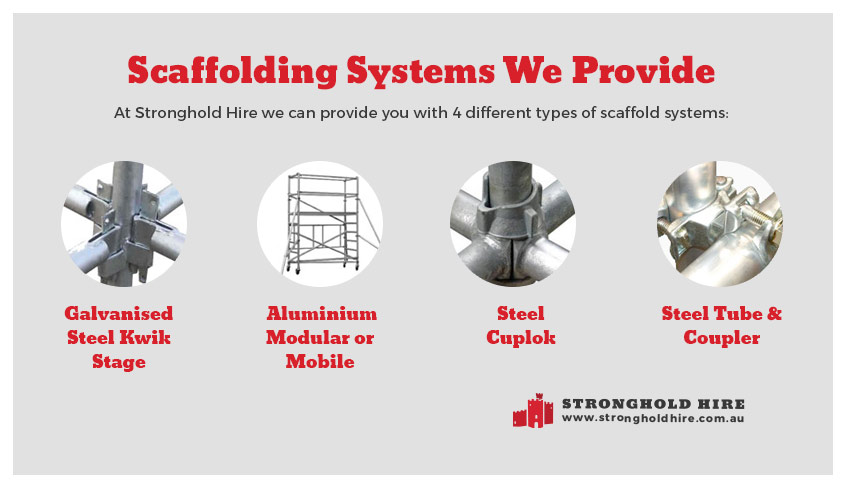 Galvanised Steel Kwik Stage
Galvanised steel kwik stage is the most common scaffold that we provide. It's rated at 675kg per bay and is very quick to erect and dismantle. Galvanised Steel Kwik Stage is ideal for residential and small commercial projects. We are slowly eradicating our painted stock and replacing it with galvanised. The galvanised material requires less maintenance and is more suited to the coastal conditions of Sydney. This type of system is advantageous as it is the least expensive system to hire in Australia.
An example of a project completed using the Galvanised Steel Kwik Stage system can be seen here in the job we did for the Shore School House.
Aluminium Scaffolding – Modular or Mobile
This is the second most popular scaffolding system that we provide to our projects in NSW. Aluminium mobile scaffold is excellent for interior works, areas of limited access or short-term work. It's extremely quick to assemble and easy to transport. It is only rated to 225kg and in some configurations, 450kg per bay and is the most expensive system to hire, hence this is preferred for short term work. It's also perfect for erecting on top of structures that have low load-bearing strength like lower roofs or awnings. An example of a project completed using an Aluminium scaffolding system can be seen at the job we did for St. Patrick's Cathedral in Parramatta.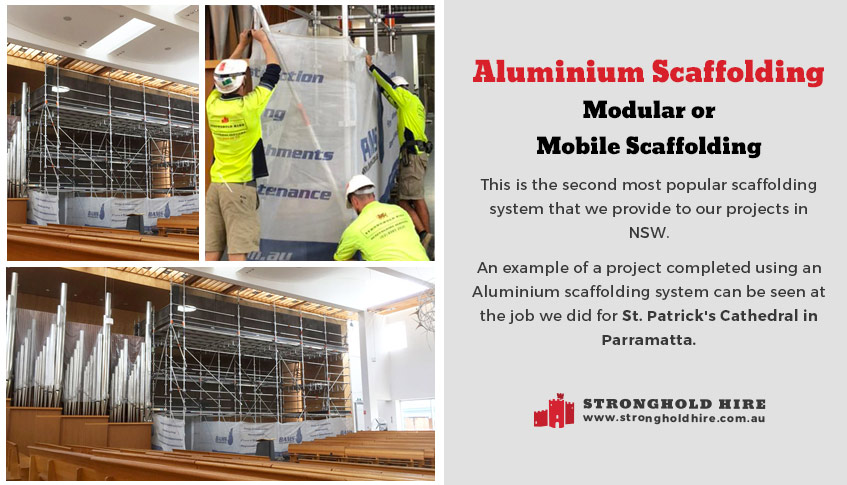 Steel Cuplok
Steek Cuplok is ideal for a wide range of applications including continuous façade, circular scaffold, birdcage scaffold access and staircase access. It is often used for renovation scaffolding, façade scaffolding, masonry scaffolding, support or staircase towers, as well as being used in more specialised applications, such as shipbuilding. This is the strongest scaffold that Stronghold Hire can supply. We do not own this system but have access to it at a very competitive rate from a trusted supplier. It is excellent for Sydney's coastal conditions and where heavy loads are anticipated. An example of a project completed using a Steel Cuplok system can be seen here at the work we did for the Catalina Restaurant in Rose Bay.
Steel Tube & Coupler:
A steel tube & coupler system is the most versatile scaffold we can provide. It is perfect for inaccessible areas and industrial environments. It's probably the least common type of system here in Australia but is extremely popular in New Zealand and the United Kingdom. Fewer tools are required to use this system and it can also be designed to withstand very heavy loads. An example of a project completed using a Steel Tube & Coupler system can be seen here at the project we did for the Visy Paper Mill in Tumut.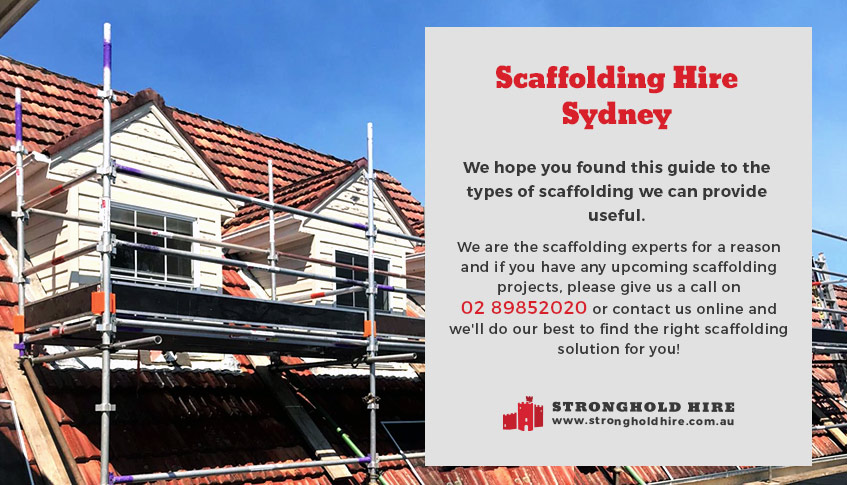 Scaffolding Hire Sydney
We hope you found this guide to the types of scaffolding we can provide useful. We are the scaffolding experts for a reason and if you have any upcoming scaffolding projects, please give us a call on 02 89852020 or contact us online and we'll do our best to find the right scaffolding solution for you!