Over the years Stronghold Hire has provided several scaffolds for insurance repair contractors. With more reports of scaffolding collapses and accidents across the country due to unsafe practices when working at heights, insurance contractors are understanding the importance of putting the correct safety measures in place.
Safe Working Platforms for Insurance Repair Work
Stronghold Hire provides safe working platforms to carry out small repairs to gutters, windows, fascia, eaves, and chimneys. We also provide safe access and edge protection scaffolding for roof and balcony repairs.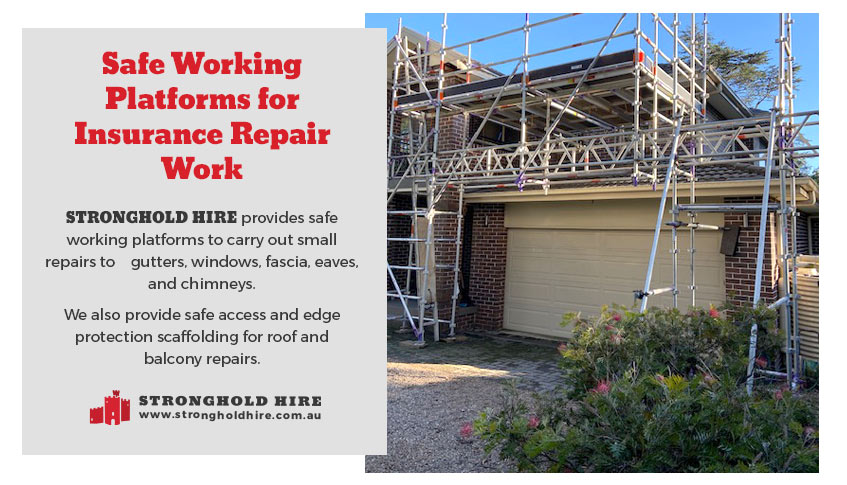 Understanding Scaffolding Safety
We understand the importance of meeting deadlines and adhering to health and safety policies. Many companies, especially if it's scaffolding for insurance repair work, often require us to record all of our work on online portals or phone apps. JSA's, SWMS, pre-start photos etc are all par for the course and part of the comprehensive scaffolding service we provide you.
Scaffolding for Insurance Repair Work
Emergency works or make safes can often be turned around on the same day or within 24 hours of us receiving the work instruction/order. It is not only external works that we provide safe certified working platforms or edge protection for. Around 20% or our works are internal. Using our clean, lightweight mobile aluminium scaffolding systems we can provide scaffolds for internal ceiling repairs, scaffolding for painters or electrical works in internal voids or on staircases. We often have to work in very closely with the other trades to ensure there is minimum interruption to the homeowners/claimant's normal daily routine and this may often mean working unusual days or hours.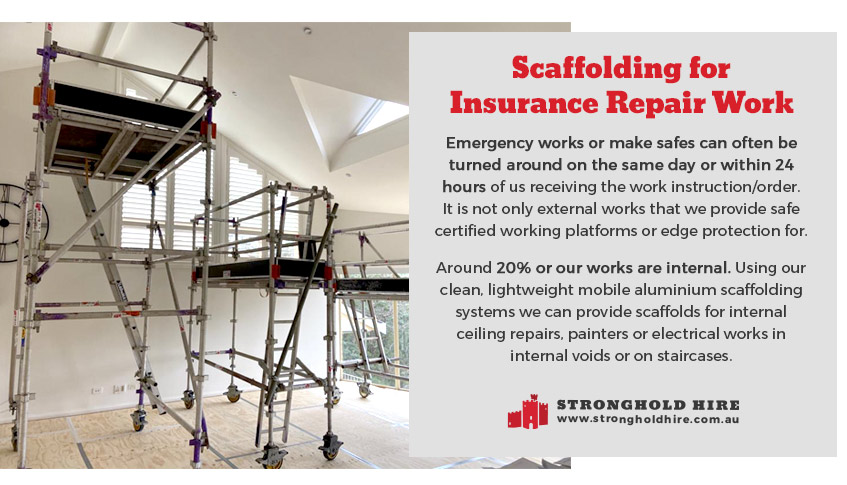 Scaffolding Solutions Above The Rest
We try to design the scaffold or use other methods to safely anchor or stabilize the scaffold without the use of power drills and wall anchors as this minimises the disruption which is key if it is a scaffolding project for insurance repair work. Sometimes it is inevitable and we have to use wall anchors but the majority of the time we find a solution that works. Given the area and requirements of insurance repair work We believe that insurance repair scaffold installers need to be a 'cut above the rest'.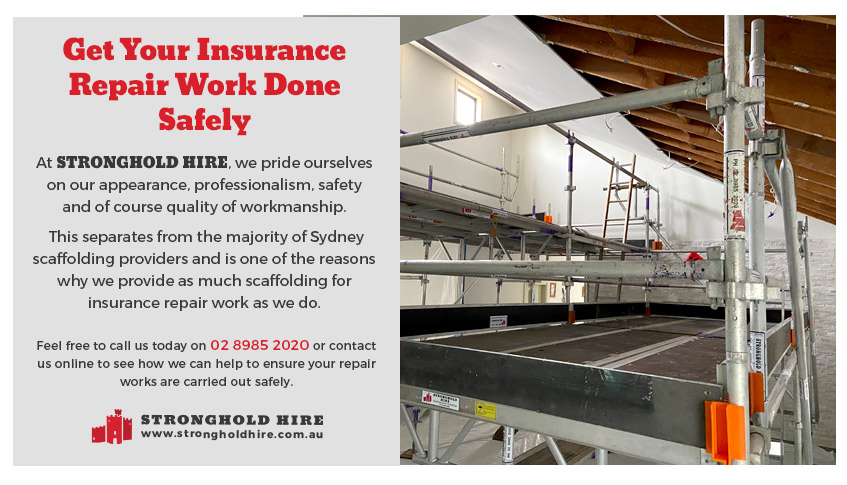 Get Your Insurance Repair Work Done Safely
At Stronghold Hire, we pride ourselves on our appearance, professionalism, safety and of course quality of workmanship. This separates from the majority of Sydney scaffolding providers and is one of the reasons why we provide as much scaffolding for insurance repair work as we do. Feel free to call us today on 02 89852020 or contact us online to see how we can help to ensure your repair works are carried out safely.