We often see tradesmen working from step ladders or makeshift platforms consisting of A-frames and planks on site, but is this legal? It is generally considered that a scaffold is required when there is a risk of falling more than 2 metres. This is something that you would see as one of the 18 listed high-risk work activities that are used on most SWMS templates in NSW. Most of the time, a fall from a height of under 2 metres would not be fatal, however, falls that occur under 2 metres are very common and can result in serious injuries. In this post we'll take a look at indoor scaffolding, when it's required and how you should use it to avoid falls.
Safe Working Platforms & Snap-Type Scaffolds
We advise that any works that cannot be reached from standing height should require a safe working platform of some type, whether that be a scissor lift or scaffold. Nowadays, small snap-type scaffolds allow tradesmen to erect their own platforms, can be purchased or hired for a small cost. By law, only scaffolds over 4m high require a certified scaffolder to erect them, although, again, we would not recommend this.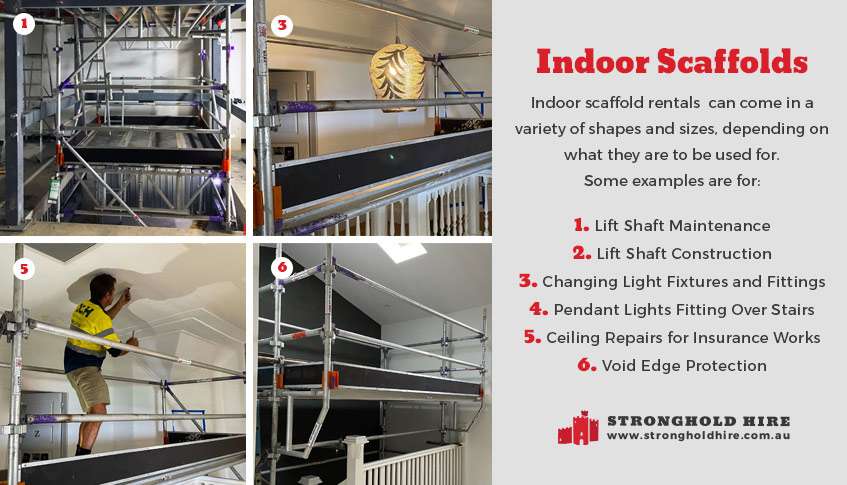 Indoor Scaffolds
Indoor scaffold rentals can come in a variety of shapes and sizes, depending on what they are to be used for. Some examples are here:
Lift Shaft Maintenance Scaffold
We would normally use lightweight aluminium scaffold for this as the buildings are often fully completed with immaculate foyers, etc. However, the lift shaft maintenance scaffolds are often short hire times and erected and dismantled out of hours with strict shutdown time frames. Aluminium scaffolds are much easier and quicker to erect than their steel counterparts.
Lift Shaft Construction
As these scaffolds are usually a longer hire period, steel scaffolds are often used. The steel scaffold is sometimes used to take the weight of winches and pulleys during this process and engineered to suit.
Changing Light Fixtures and Fittings
Scaffolding for light fixtures and fittings are usually lightweight aluminium mobile towers. With works done out of hours and again, very tight deadlines to set them up and take them down, they are the perfect solution. We have installed aluminium mobile towers as high as 11m in the past.
Pendant Lights Fitting Over Stairs
These can be done in finished or unfinished properties and are usually carried out during normal working hours. With installations only taking 1-2 hours our scaffolders often erect the scaffold, assist the electrician with his works and then dismantle the scaffold in one shift. A fixed aluminium lightweight scaffold is often the best solution for these works.
Ceiling Repairs for Insurance Works
We often use a mixture of mobile scaffold and fixed scaffold for ceiling repairs for insurance builders. The mobiles cover the rooms and the fixed suit the stair voids. Lightweight aluminium is the way forward again, with floor protection often having to be installed prior.
Void Edge Protection
Here at Stronghold, we have several different scaffold systems and solutions for void edge protection. Whether it be one of our edge protection brackets, tube and fitting scaffold or simply fixed aluminium scaffold, we will find the most cost-effective application.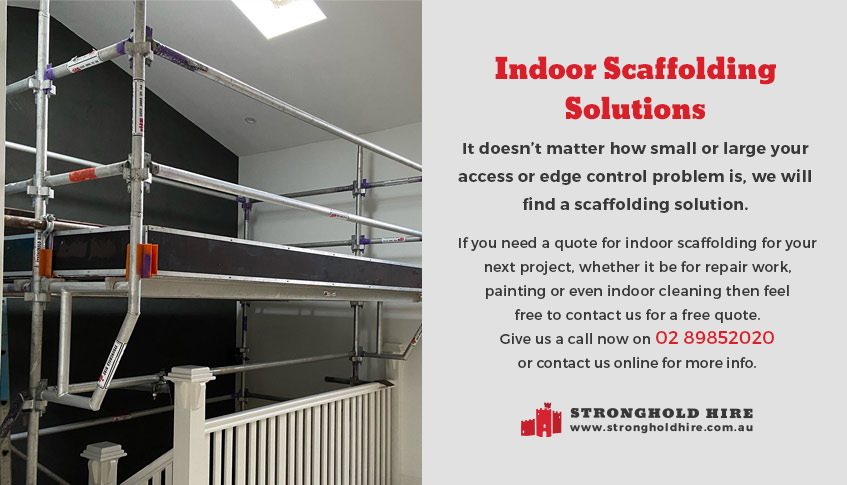 Indoor Scaffolding Solutions
These are just a small handful of jobs that we are regularly asked to help with. It doesn't matter how small or large your access or edge control problem is, we will find a scaffolding solution. If you need a quote for indoor scaffolding for your next project, whether it be for repair work, painting or even indoor cleaning then feel free to contact us for a free quote. Give us a call now on 02 8985 2020 or contact us online for more info.