A fair part of our indoor scaffolding services includes providing access for electricians to areas that are very difficult to reach with step ladders, mobile scaffolds or mobile plant.
These areas consist of large voids, light wells or most often, over stairs. The difficulty with scaffolding for stair voids is that you cannot set up mobile scaffolds or step ladders due to the uneven base. The balustrades also create problems as they are only 1m apart.
Steel scaffolds are often seen as too bulky or messy (especially as lots of these jobs are carried out on completed projects or towards the tail end with finished paint and surfaces). A lightweight aluminium scaffold, modular type system suits this work perfectly.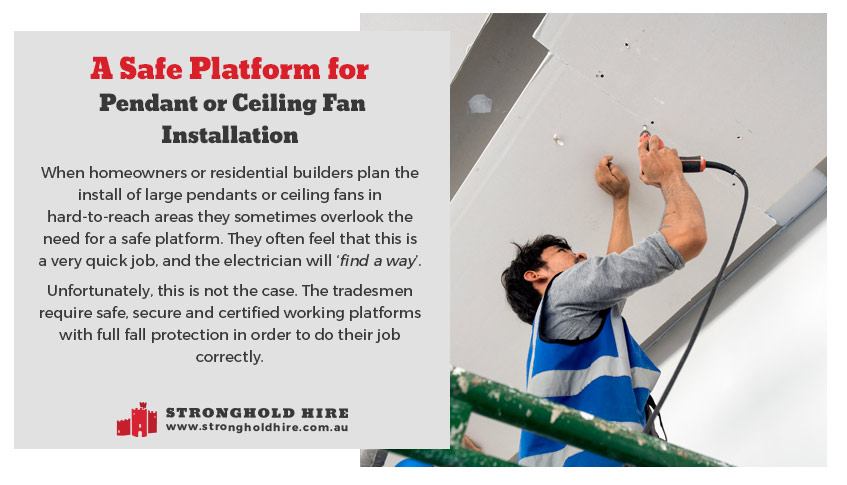 A Safe Platform for Pendant or Ceiling Fan Installation
When homeowners or residential builders plan the install of large pendants or ceiling fans in hard-to-reach areas they sometimes overlook the need for a safe platform. They often feel that this is a very quick job, and the electrician will 'find a way'. Unfortunately, especially in this day and age, this is not the case. The tradesmen require safe, secure and certified working platforms with full fall protection in order to do their job correctly. Even if the scaffold has been accounted for, the length of the pendants and the methodology of how it will be fitted using the scaffold is sometimes vague or underestimated.
Inflated Scaffolding Prices
Other scaffolding companies often inflate the price for these type of scaffolding designs, for the following reasons:
Concerned that the installers will scratch or mark walls during the materials handling stage.
Concerned that any ties or push tubes will mark the balustrades or walls due to no protection.
No room for error on the material selection due to the width of the stairs, the heights of the steps and getting the best height for the electrician to work comfortably.
That the job may only take 2-3 hours, but they then have to either find another job for these scaffolders or pay them the full day anyway.
Complete Scaffolding Package for Pendant Lights, Spotlights And Ceiling Fans
We can safely say we are not here to steal our clients' money and aim to deliver a cost-effective solution for both parties. Here at Stronghold Hire, we have enough experience and volume of projects that we do not have to inflate the prices of small indoor jobs. Not only this, but we also have the advantage of working in conjunction with HLH Electrical Pty Ltd to provide the full package!
We cut costs by working closely together with the licenced electrician supplied by HLH Electrical to ensure that the scaffold is set up correctly the first time, the scaffolders are also on site assisting with the install of the fan or pendant light and make any modifications necessary during the works (especially with the larger pendants) which saves time and money.
It is basically a very streamlined, hassle-free service, in and out in one day, no scaffolds left overnight no miscommunications between trades and, of course, huge savings to be made!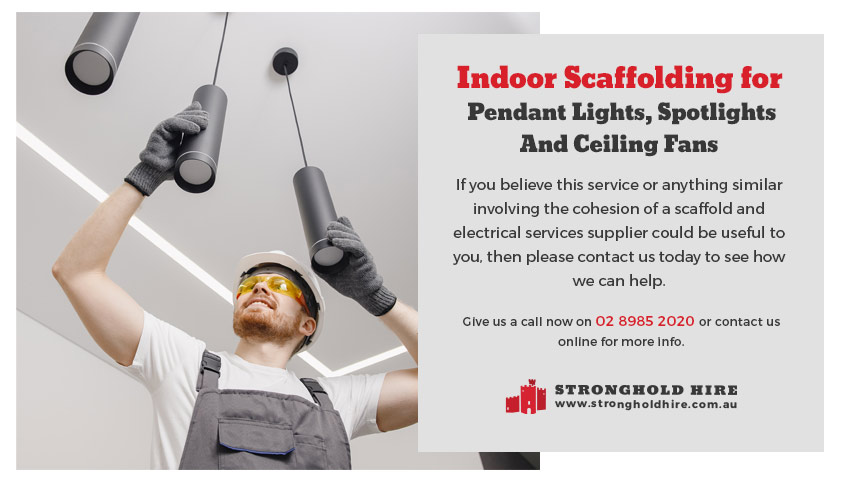 Indoor Scaffolding for Pendant Lights, Spotlights And Ceiling Fans
If you believe this service or anything similar involving the cohesion of a scaffold and electrical services supplier could be useful to you, then please contact us today to see how we can help. Give us a call now on 02 89852020 or contact us online for more info!