Is the weather interrupting your construction project? Is the rain stopping work? We may be the solution to your problem that fits just right, shrink wrap encapsulation!
Shrink Wrap Encapsulation for Construction
Have you ever considered containment or temporary shelters for your construction works? In the UK and New Zealand a large percentage of projects use shrink wrap containment to keep the work area dry and ensure deadlines are met. Just one day of rain can knock back your job 3 to 4 days which means that 4 days of rain can knock back the project almost 3 weeks? We can encapsulate the entire scaffold or parts of the scaffold to ensure that this never happens again!
Here at Stronghold Hire we provide a shrink wrap containment service that compliments with the supply of our scaffolding hire quite nicely. We have provided temporary shelters (or tents) as small as a garden shed as well as shrink wrapping building facades that are 9 stories high!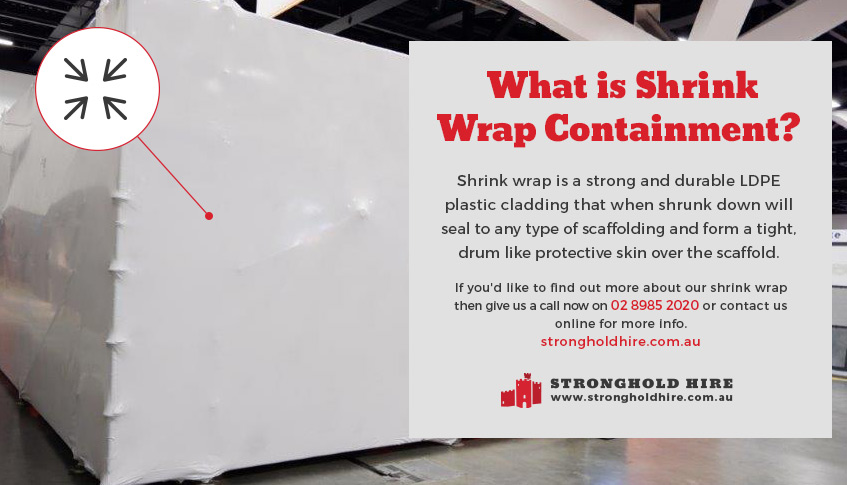 What is Shrink Wrap Containment?
Often, shrink wrap sheeting is used as an alternative to conventional sheeting to encapsulate scaffold to provide temporary protection from the weather or other construction works. But, what exactly is shrink wrap and how is shrink wrap different to 'traditional' scaffold sheeting? Shrink wrap is a strong and durable LDPE plastic cladding that when shrunk down will seal to any type of scaffolding and form a tight, drum like protective skin over the scaffold.
Advantage of Scaffold Shrink Wrap
There are two main features of scaffold wrap for construction that give it the performance advantage over other types of scaffold sheeting.
When the shrink wrap sheets are exposed to heat the sheeting undergoes a 'biaxial' shrink process – meaning that it shrinks in every direction – which results in a very tight seal capable of surviving the worst of weather conditions.
Sheets of scaffold shrink wrap are joined by heat welding them together and because of this a 'continuously bonded skin' of whatever shape or size can be formed that will be cover any shape without any holes or gaps that are associated with traditional scaffold sheeting.
Scaffold Wrap for Construction Industry – Benefits
Low Maintenance Scaffold Wrap
By utilising the biaxial shrink process the drum tight results produced by the shrink wrap give you a very robust cladding and material that doesn't "self destruct" in high winds. These resilient material results in less time spent doing repair work and more time spent on the project.
The 'shrink to fit' and 'heat sealed joints' characteristics of shrink wrap cladding make it useful for scaffolding projects where full encapsulation is required or where the detachment of scaffold sheets could have serious consequences.
UV inhibitors ethylene-vinyl acetate (EVA) are used in the manufacture of scaffold shrink wrap which prevents it from becoming brittle at low temperatures and after long term use.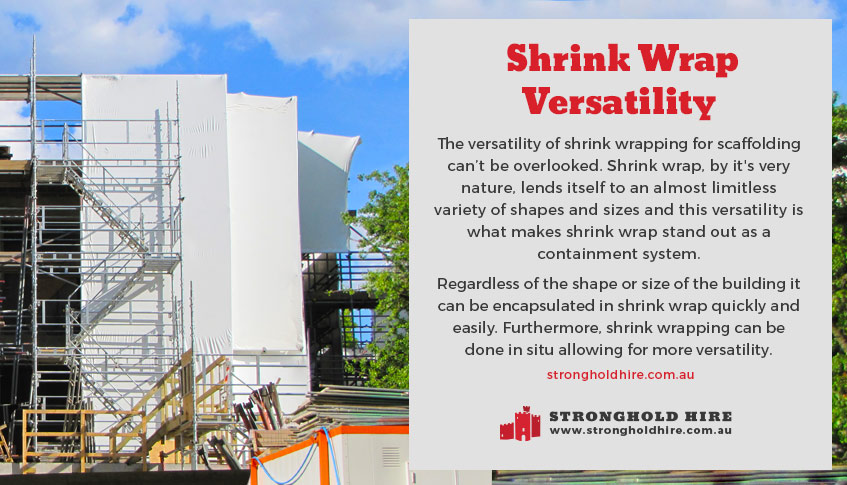 Shrink Wrap Versatility
The versatility of shrink wrapping for scaffolding can't be overlooked. Shrink wrap, by it's very nature, lends itself to an almost limitless variety of shapes and sizes and this versatility is what makes shrink wrap stand out as a containment system. Regardless of the shape or size of the building it can be encapsulated in shrink wrap quickly and easily. Furthermore, shrink wrapping can be done in situ allowing for more versatility.
If it's a case that access is required through the sheeting, be it for craneage or similar, the scaffold sheeting can be cut and then resealed to maintain the 100% containment. For easier access through the shrink wrapping zipped access doors can be installed though the sheeting.
Shrink Wrap Scaffolding Project in Sydney
Some examples of the versatility of shrink wrap can be seen in the following projects which we have completed for clients using shrink wrap encapsulation in Sydney.
As you can see, the projects shown are very different to each other but we can also provide the shrink wrap service to wrap goods that need to be transported to keep them safe from the elements.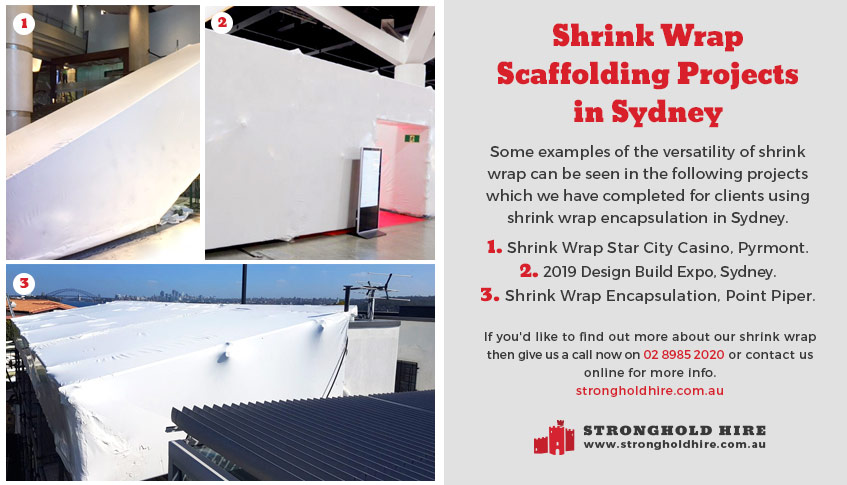 Shrink Wrap Encapsulation for Transportation
Protecting equipment from dirt, debris and other environmental factors such as dust and rain is crucial when storing or transporting large, expensive machinery. It's something that can be overlooked and can result in costly damage. The list is endless to what we can wrap, our shrinkwrap can be adapted and fitted to cover any item and can be anything from small boats to trains of any shape or size. Shrink wrap encapsulation ensures that the load arrives to the destination in the condition it left.
Shrink Wrap Encapsulation Services Sydney
If you think you could benefit from our shrink wrap services, or have any questions about how the system works then give us a call now on 02 89852020 or contact us online for more info!