Here at Stronghold Hire, we undertake several commercial scaffolding projects each year. Many people ask, what is the difference between commercial, domestic, and residential scaffolding? Well, in this post we'll outline and give you the complete guide to commercial scaffolding.
Difference Between Residential & Commercial Scaffolding
Basically, residential or domestic scaffold as it is more commonly known are smaller type scaffolds. They would be erected around houses or small apartment blocks. The scaffolds may be full perimeter or just for certain areas depending on the tasks required. They may be used for new builds, first-floor additions or simply scaffolding for painting. Our clients for this type of scaffold are insurance builders, painters, roofers, plumbers or homeowners.
Commercial scaffolding covers buildings that are used for commercial purposes. Although we have sometimes accommodated tier 1 builders on large commercial projects our forte is the small to mid-size range, covering unit block renovation and new builds, schools, hospitals, event, stadium and showground scaffolds, emergency scaffolds, lift shaft maintenance and all types of scaffold for insurance work. The scaffolds are generally much larger than domestic and require more planning and preparation.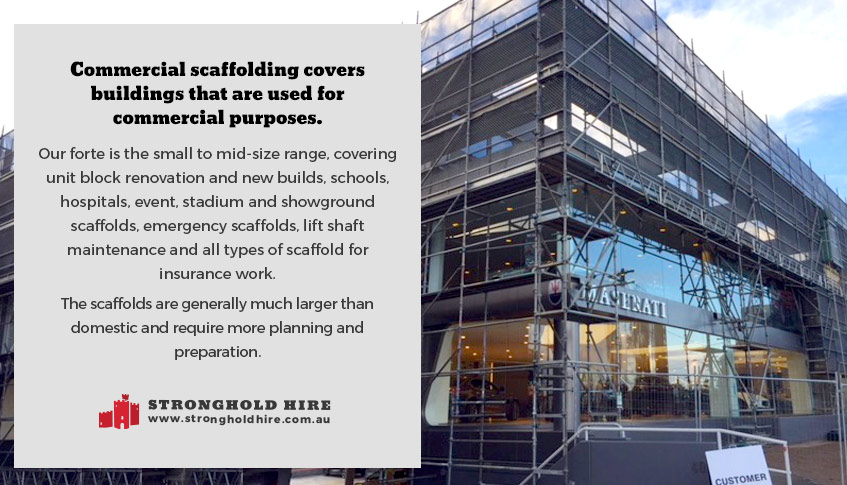 Types of Commercial Scaffold Projects
Commercial scaffold projects are not all the same and can even be a new build, involving cranes or material hoists or remediation work to existing buildings. Some of this work could involve a roof replacement or major render repairs. One of our most popular quote requests we receive is for the supply of scaffold to replace cladding on apartment buildings in Sydney. The reason is that these buildings have cladding that does not pass the new combustible cladding regulation set in 2017 after major fires in London and Melbourne.
We cannot turn around commercial scaffold projects within 24 hours the way that we can with domestic scaffolds due to the amount of preparation required. As you probably know by now, some of the designs can be complex and require mass planning.
Requirements for Commercial Scaffolding Projects
Many commercial projects will require the majority of the following:
Certified scaffold drawings
Engineers sign off
Council permits
Traffic control
Pedestrian control
Permanent onsite scaffold supervisors
Highly experienced scaffolders
Weekly scaffold inspections and certification
Daily pre-start meetings
Weekly toolbox and safety meetings
Anchor pull tests
We do not undertake large commercial projects as we are not set up for this type of work. A large part of being successful is knowing your capabilities and working to your strengths. We focus on what we know and what we are good at.
These larger projects require a large amount of resources such as:
Ownership of a very large quantity of scaffold material
Ownership of lots of transport vehicles
In house engineering and design team
Project managers
Large storage premises
In-house repair and maintenance of scaffold components facility
Access to a large supply of experienced and qualified scaffolders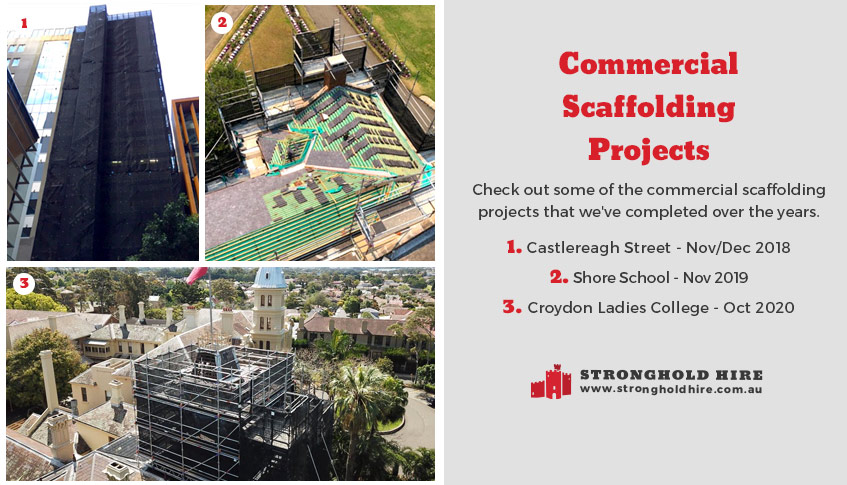 Commercial Scaffolding Projects
Check out some of the commercial scaffolding projects that we've completed over the years.
1. Castlereagh Street
Project: 155 Castlereagh Street, Sydney
Scaffolding System: Super Cuplock
Client: Remedial Services
Period: Nov/Dec 2018

2. Shore School

Project: Shore School House Re-roof
Scaffolding System: Commercial Scaffolding
Client: Shore School House, COE Grammar School, North Sydney
Period: Nov 2019

Project: Croydon Presbyterian Ladies College
Scaffolding System: Commercial Scaffolding
Client: Building Owner
Period: October 2020

Commercial Scaffolding Services Sydney

If you have any upcoming projects that could benefit from an experienced team of commercial scaffolders then get in touch with us by calling 02 89852020 or contact us online for more info!