Doom and gloom in 2021? We don't think so. Many have written 2021 off as a year to forget but here at Stronghold we always try to encourage a 'cup half full' mentality. Yes, Covid-19 affected everyone here in Australia last year, unlike 2020, but we kept our chins held high and battled through! In this post we'll have a look back at the year that was 2021.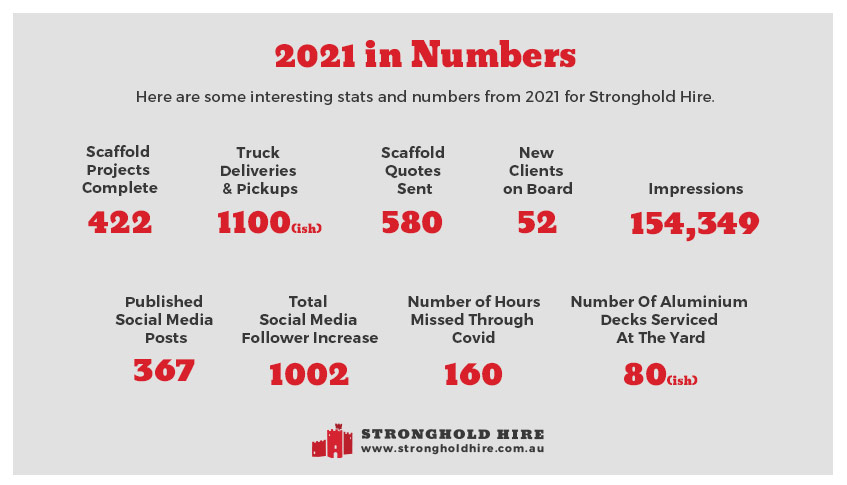 2021 in Numbers
To start us off, here are some interesting stats and numbers from 2021 for Stronghold Hire.
Scaffold projects complete: 422
Truck deliveries and pickups: 1100 (ish)
Scaffold quotes sent: 580
New clients on board: 52
Impressions: 154,349
Published Social Media Posts: 367
Total Social Media Follower Increase: 1002
Number of hours missed through Covid: 160
Number of aluminium decks serviced at the yard: 80 (ish)
Social Media Highlights 2021
Social media played an important role in our success for 2021 and you can see some of the highlights below.
Top Post of the Year:
Best Project of the Year
Milestones of 2021
Some of the milestones of 2021 have been:
Edge Protection System: The introduction of our edge protection rail system has been an additional string to our bow. We put the residential and commercial brackets on a trial period with great success.
New Storage Premises: Once again, Stronghold Hire has outgrown its storage facility. In December we decided to move to a larger storage facility. This was a major move and very costly, but we feel that the extra room will allow us to become more efficient with returns and deliveries.
New Clients & Interesting Projects: Last year we acquired over 52 new clients, with many re-using us on multiple occasions. Some of the more interesting projects brought to us include:
Plans for 2022
We are excited for what 2022 brings us and our main plans for the year are as follows:
Edge Protection System: After a 4-month trial period, using the different Edge protection systems in various applications our main aim is to really push this service. There is a lot of demand for this service, especially with the new changes to Solar panel installations in NSW.
Increase Stock Levels: Now that we have a larger storage facility, there is no reason why we cannot increase our steel scaffold, aluminium scaffold, and edge rail system stock levels. Although we rarely cross hire material, it is something that we would like to eradicate completely, giving us maximum control and efficiency.
Focus on Safety: We've always been safety conscious but now with the introduction of a new safety officer in January, we are going to strive to create an extremely safe working environment for our employees and sub-contractors. This also gives our clients peace of mind that we are not cutting corners and doing the right thing. We aim to tighten up on all our existing procedures and introduce a few new ones along the way. As we all know, safety is an ongoing concern and the most important part of operating a business in construction.
New Vehicles: 2022 must be the year that we finally wave goodbye to the oldest member of our fleet. The 'small old Mitzy crane truck' as it's known here is on its last legs and is due to be replaced. This trusty, loyal servant has been with us since 2010 and has racked up nearly 400,000 kms. In over a decade it has only let us down fewer times than you can count on one hand. We believe 2022 will see the appearance of a younger, fresher model who will be just as reliable.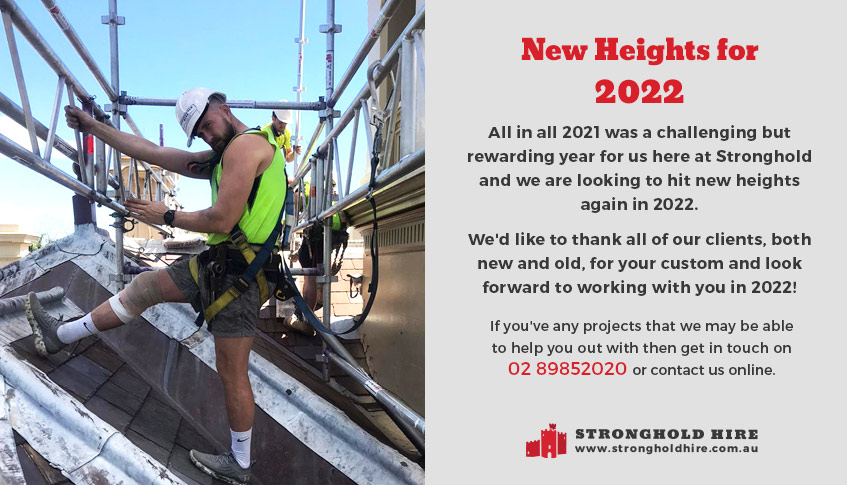 New Heights for 2022
All in all 2021 was a challenging but rewarding year for us here at Stronghold and we are looking to hit new heights again in 2022. We'd like to thank all of our clients, both new and old, for your custom and look forward to working with you in 2022! If you've any projects that we may be able to help you out with then get in touch.