2019 was another fantastic year for Stronghold Hire, settling into our new larger premises in Matraville where we can operate everything from under one roof. The new premises have enabled us to work more efficiently cutting costs and passing these savings onto our clients to remain competitive.
2019 – A Year of Growth
All in 2019 was a year of growth. As well as moving into our larger premises we also acquired another 3-ton tray truck and increased our aluminium scaffolding and steel kwikstage stock to keep up with the demands of the Sydney construction industry.
2019 – Year in Numbers

Here are some interesting stats and numbers from 2019:
Scaffold Projects Completed: 319
Truck Deliveries & Pickups: 760
Scaffold Quotes Sent: 614
New Clients on Board: 69
Google Reviews: 8
FB Page Likes: 119
Instagram Posts: 113 Posts
Total Social Media Follower Increase: 302
Number of Mesh Clips Never Returned: 6000
Cups of Coffees Consumed in the Office: 1300
Emotional breakdowns by Ryan: Infinite
Most Liked Photo of 2019
As well as the stats above we have our most liked photo of 2019, the classic "Glamarama Beach" shot from October which you can see below.
Plans for 2020
We are excited about what 2020 brings us and our plans for the year are as follows:
Insurance work: Stronghold Hire has recently started undertaking insurance work across Sydney. Although initially, it was a little challenging to pass strict audits, safety inspections, police checks etc we have high hopes of this being a major part of our works this year.
Shrinkwrap Installation: We are getting more and more enquiries and requests each week with regards to our scaffold shrink wrap service as more companies are starting to see the benefits of using this system. Shrinkwrap of scaffolds has always been very popular in the UK and more recently in New Zealand due to the adverse weather conditions in these countries. We do not doubt that installing temporary shelters and weatherproof encapsulated scaffolds will play a huge part in Stronghold Hire in 2020.
Rubbish Chutes: Stronghold Hire has several clients who specialize in internal re-fits and roof replacements. These clients have noticed how much easier their project can be with the installation of rubbish chutes. We will be aiming to install at least 150 chutes this year!
Industrial Shut Down Work: Currently, Stronghold Hire supply men for industrial shut down work 2-3 times per year but will be exploring further afield to see where our services can be of use. With a large pool of experienced, qualified scaffolder hire we believe that this is an area we can easily expand.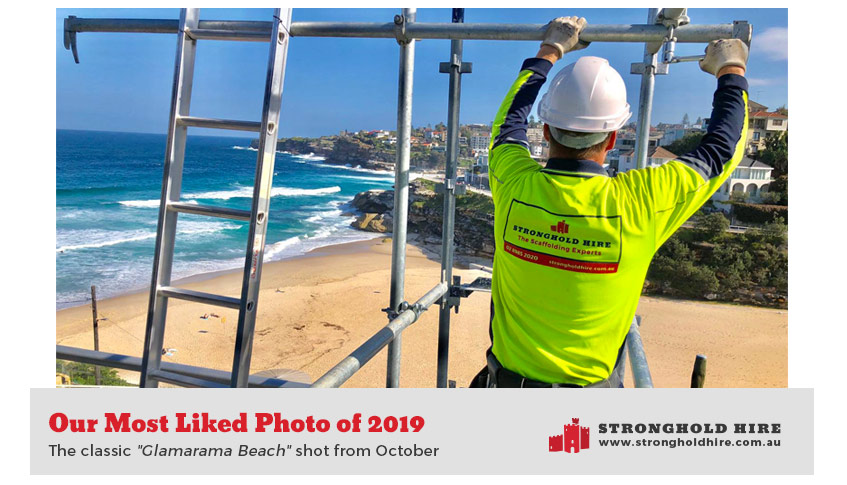 Safety Training: We intend to increase the amount of safety training given to our employees and contractors to ensure that we do our best to keep everyone safe at work.
New Equipment & Vehicles: We will be swapping our old small 3-ton crane trucks for a shinier younger model and adding a new ute to the fleet in the early months of this year. We also aim to purchase more aluminium and steel kwik stage stock to reduce cross hire and increase efficiency.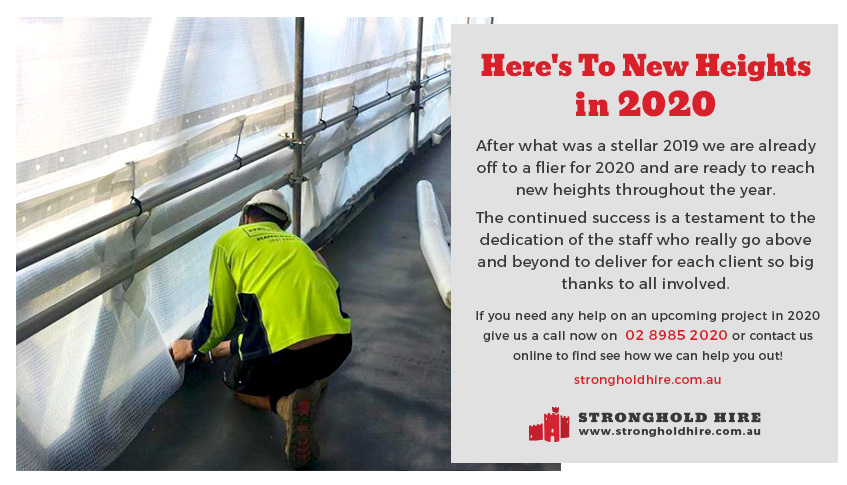 Here's To New Heights in 2020
After what was a stellar 2019 we are already off to a flier for 2020 and are ready to reach new heights throughout the year. The continued success is a testament to the dedication of the staff who really go above and beyond to deliver for each client so big thanks to all involved. If you need any help on an upcoming project in 2020 give us a call now on 02 89852020 or contact us online to find see how we can help you out!