The last 12 months have been somewhat of a roller coaster with lots of twists and turns but thankfully more highs than lows. As the year has progressed, we have seen a shift in the type of work that we engage in. We are slowly moving further away from the flooded residential scaffolding market and into a space that is more suited to our set up and capabilities. In this post, as the end of the financial year is upon us, we'll recap the financial year that was 2019-2020.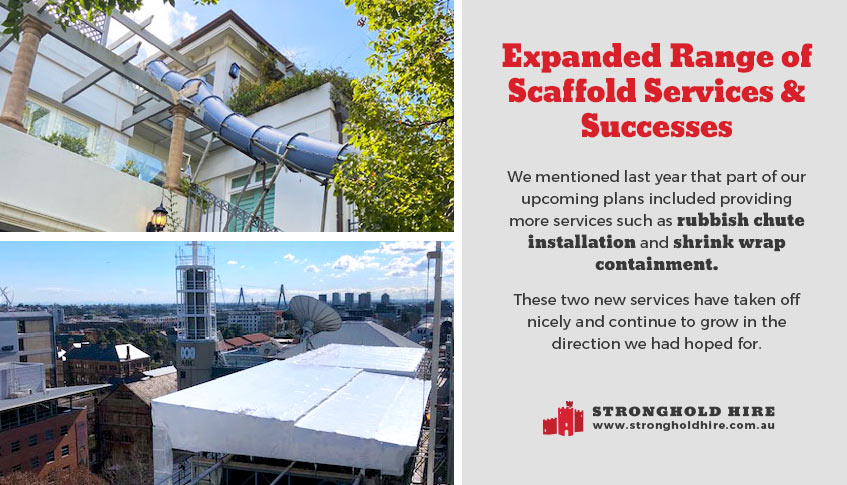 Expanded Range of Scaffold Services and Successes
We mentioned last year that part of our upcoming plans included providing more services such as rubbish chute installation and shrink wrap containment. These two new services have taken off nicely and continue to grow in the direction we had hoped for. We also mentioned that we had just purchased a new small truck in June 2019 so that we could provide a more streamlined service and accommodate smaller jobs. This investment has paid off and has been a big part in moving closer towards the type of niche market we are targeting.
A Memorable Christmas
As we moved through September and October, we completed another successful industrial shutdown, providing high-quality labour and supervision to strengthen a 10-year business relationship with our client that continues to grow. Christmas time was a little different this year. Usually, there is a huge demand for scaffolds to be dismantled and taken off hire before the Christmas break but strangely this was not the case for Christmas 2019, we installed more scaffolds than we dismantled, the first time this has happened in 13 years.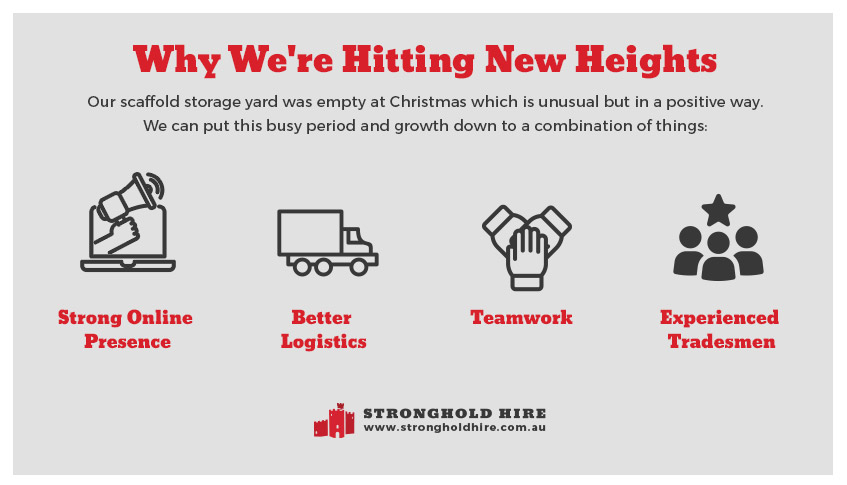 Why We're Hitting New Heights
Coming into January after the festive season was over, our scaffold storage yard was empty and not overflowing as it usually would be at this time of year. As mentioned, this is unusual but in a positive way. We can put this growth down to a combination of things:
Strong Online Presence – Our relatively new marketing team use very clever and creative ways of putting us out there for the world to see. A nice balance of youth and experience, with each person playing to their strengths. The team has played a huge part in where we are today.
Better Logistics – Owning more of our material and investing in more ways to transport our material gives us the edge. Not having to cross-hire material or use sub-contractors for transportation gives us complete control of our operations resulting in a smoother more cost-effective service.
Teamwork – Admin, supervisors, yard staff, scaffolders and drivers all working from under the one roof and taking advantage of basic modern technology such as apps, video calls, instantly marked up photos/sketches, messenger groups, etc.
Experienced Tradesmen – Holding onto our strongest scaffolders ensures that we continue to produce quality scaffolds on time and budget. This can only be pleasing for the client and encourage them to continually engage us.
And Then Came COVID…
Everything continued to move along nicely until March, this is when the world started to turn a little crazy. COVID-19 started to make its presence felt in Australia and life as we knew it changed. A huge degree of uncertainty came in and some defensive plans were put into place by our management. Fortunately for us, the construction industry was able to stay open and, although we were still heavily affected, we were able to keep most of our workers employed. Since May we have started to come back and continue to grow stronger each month and would like to feel that we finished the financial year in a positive place considering the circumstances.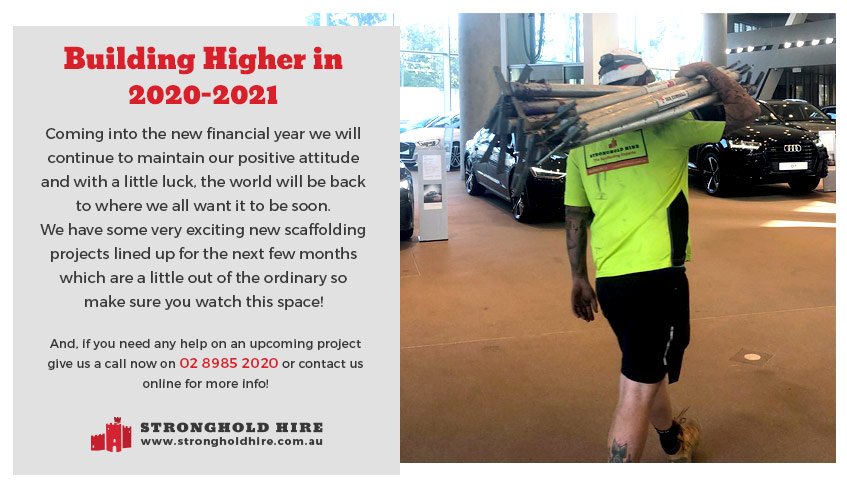 Building Higher in 2020-2021
Coming into the new financial year we will continue to maintain our positive attitude and with a little luck, the world will be back to where we all want it to be soon. We have some very exciting new scaffolding projects lined up for the next few months which are a little out of the ordinary so make sure you watch this space! And, if you need any help on an upcoming project give us a call now on 02 89852020 or contact us online for more info!