Are you selling your home? Are you a real estate agent looking to get the best price for your client? Stronghold Hire may be able to assist you via our scaffolding services which allow potential buyers to really experience what their potential views will be like with a safe and secure viewing platform.
The Property Market and Scaffolding Viewing Platforms
With property prices in Sydney slowly starting to rise again we see more properties getting listed for sale every week. Many properties have the potential to have an extra storey added, loft conversion or even a roof top garden. Some properties will have DA approval to be knocked down and a larger, taller property rebuilt such as a block of units. With so much happening in the property market real estate agents are looking to differentiate themselves and so we've been engaged to provide viewing platforms for numerous projects.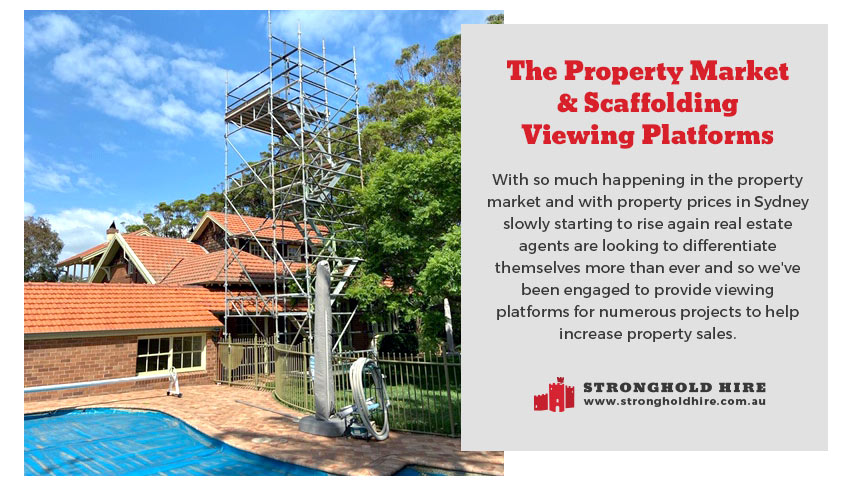 See The Sights – Scaffolding Viewing Platforms
Nowadays we can use drones to get shots of the 'actual view' that the new buyer will experience when the work is complete. This is wonderful for the campaign, but nothing will beat allowing the potential buyer the opportunity of seeing it and feeling it for themselves. This is where Stronghold Hire step in. We can install a viewing platform, with multiple levels if required to match the exact heights of the new floor plans. Potential buyers can see and feel for themselves what their view from their new balcony or bedroom is going to be like.
A Scaffold Balcony In The Sky
We can also custom make the platforms to replicate the shape and dimensions of the new balcony (L-shape for instance) to make it as realistic as possible. They are extremely quick for us to install (less than one day) and can be hired from as little as 1 week to 1 year (with better scaffolding hire rates given for longer periods), helping you with property sales.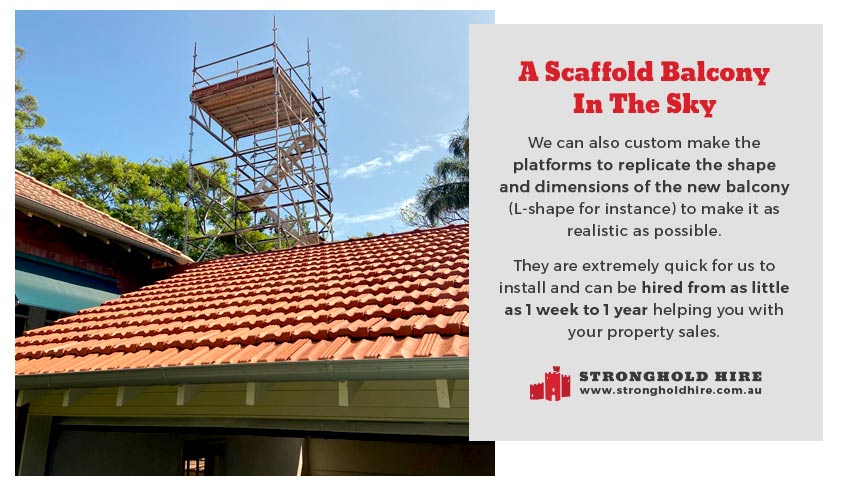 Scaffold Viewing Platform Rates
Due to the high volume of viewing platform installs that we already do for our existing clients we can give extremely competitive rates. We believe that such a small cost addition to the advertising campaign can pay huge dividends come auction time!
Scaffolders That Understand
In the same way that we have an understanding of the challenges of providing scaffolding for schools we understand that you are in the business of selling property and our brief is to help you in that goal. As such, all scaffolds are certified and we have public liability insurance for $20,000,000. When it comes to providing viewing platforms for real estate and property sellers we pride ourselves on:
Competitive Rates
Quick Turnaround Time
Professional Service
Presentable Installers
Realistic Viewing Experience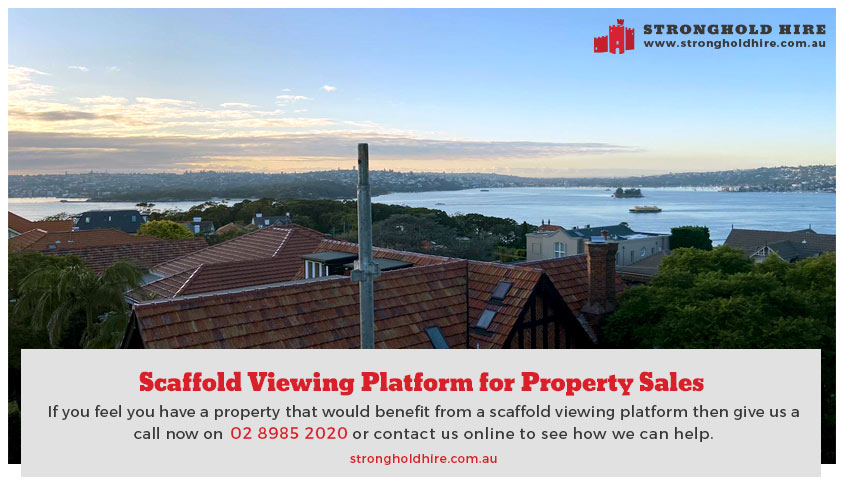 Scaffold Viewing Platform for Property Sales
If you feel you have a property that would benefit from a scaffold viewing platform then give us a call now on 02 89852020 or contact us online to see how we can help.