Stronghold Hire have been involved with countless restoration projects that include heritage listed buildings around Sydney. In this post we'll talk about some recent projects we've been involved in as well as outlining the particular scaffolding requirements when working on a heritage listed building – read on!
What are Heritage Listed Buildings?
New South Wales has two main types of heritage listings known as heritage items and conservation areas. Heritage listings flag that a place or object has heritage significance. Four main statutory lists contain heritage listings for places that are significant locally, state-wide, Australia-wide and/or world-wide. Locally significant heritage places are listed on local council Local Environmental Plans.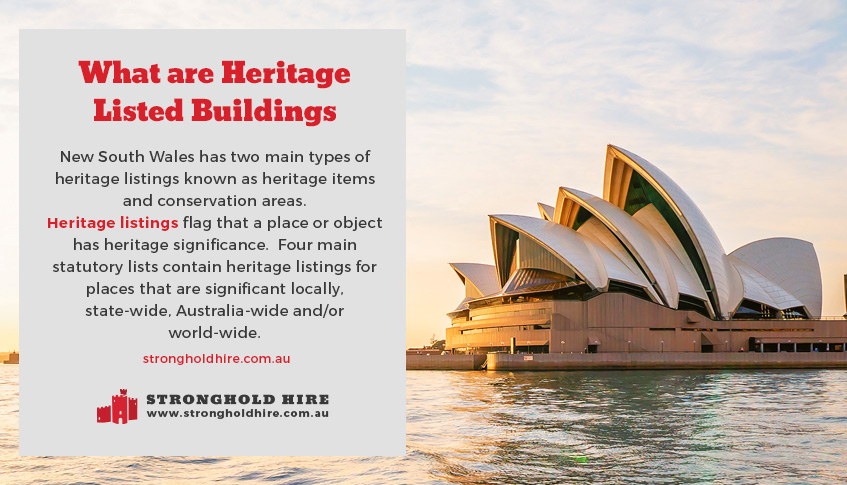 Heritage Buildings in Sydney – Unique History & Achievements
The State Heritage Register lists our State's most significant heritage places and objects known as items of state heritage significance. Nationally significant places are listed on the National Heritage List. Places of world-wide significance like the Sydney Opera House are inscribed on the World Heritage List. Heritage places from all four lists collectively demonstrate the unique history and achievements of the people of NSW and Australia. As physical links to Australia's past, heritage places trace the transition of Australia from its ancient indigenous origins to a penal outpost of Great Britain to the advanced culture of today's developed nation.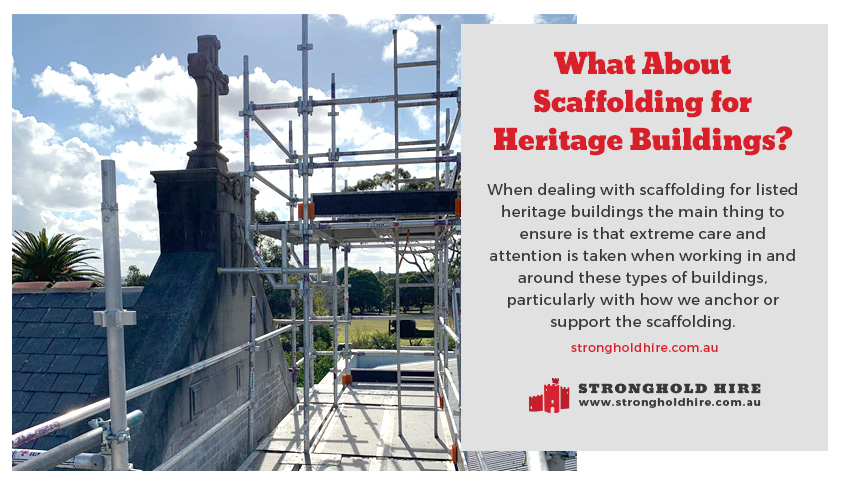 What About Scaffolding for Heritage Buildings?
Well, basically, when dealing with scaffolding for listed heritage buildings the main thing to ensure is that extreme care and attention is taken when working in and around these types of buildings, particularly with how we anchor or support the scaffolding hire. We often use buttress bays to produce a self-standing scaffold or will work out an approved system of tying through windows. If this is not possible then special permission needs to be granted to anchor into the brickwork. The architect will often propose areas that would not affect the aesthetics or integrity of the building. They may for instance suggest the tops of windowsills that are not visible from street level with an anchor system that can be permanently installed that will not corrode or collect water for future maintenance work.
Scaffolding Materials When Working On Heritage Buildings
The selection of materials is also important, just simple things like using new sole boards for instance. New sole boards can leach and stain the sandstone, we always use weathered sole boards on these projects and only galvanized steel or aluminum tube to eliminate the chance of paint or rust stains. All designs need to be passed by a heritage architect prior to install and any other works that your client may find (unforeseen works) that require extra scaffold or a modification to the existing scaffold all must be submitted and approved.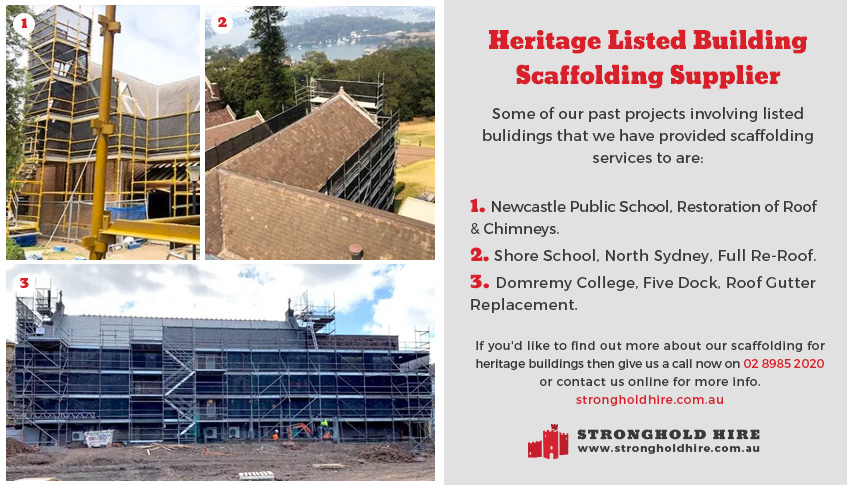 Heritage Listed Building Scaffolding Supplier – Example Projects
Some of our past projects involving listed bulidings that we have provided scaffolding services to are:
Scaffolding for Heritage Listed Buildings
If you ave an upcoming project that requires some expert scaffolding with an understanding of the exacting requirements of Heritage Listing Buildings then give us a call now on 02 89852020 or contact us online and our team will be happy to discuss the project with you.