We often get asked the question "Is scaffolding a good trade?" We think the answer depends on a multitude of things and so in this post we'll delve into a bit to give you the skinny on scaffolding as a trade. Firstly, it depends on which part of the world you are working in. For this article, we will only concentrate on how scaffolding is in Sydney, Australia and so we that out caveat out of the way, read on!
We All Dream Of Being On A Scaffolding Team
With any place of work, a major contributing factor to deciding if you feel that scaffolding is a good trade is who you work with and who you work for. You may have the best trade in the world but if your colleagues and employer are not up to scratch then it's always going to be an uphill struggle.
If you are considering becoming a scaffolder then you may need to ask yourself the following:
Are you a good team player?
Can you think outside the box when required?
Do you have a 'can do' attitude?
Are you relatively fit and healthy?
Do you like working outdoors?
Are you willing to travel to different locations?
Are you willing to change with the times and keep up to date with new systems and safety processes?
These are just some of the questions you need to answer. The first part of becoming a scaffolder labourer is to get qualified. Unfortunately, in Australia, we believe they have the qualification and training process completely wrong!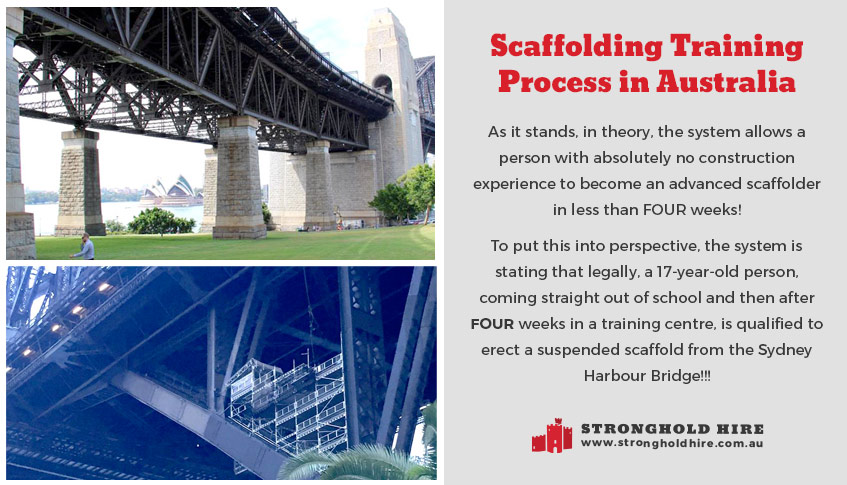 Scaffolding Training Process in Australia
As it stands, in theory, the system allows a person with absolutely no construction experience to become an advanced scaffolder in less than FOUR weeks! To put this into perspective, the system is stating that legally, a 17-year-old person, coming straight out of school and then after FOUR weeks in a training centre, is qualified to erect a suspended scaffold from the Sydney Harbour Bridge!!!
Most countries have a much better training system in place. More like an apprenticeship whereby you gain experience working with and assisting qualified scaffolders for set periods of time before you are allowed to get your basic scaffolding ticket. On-site experience, sometimes with logbooks ensure that scaffolders have at least three to four years in the industry before they can become qualified as advanced scaffolders.
Is Scaffolding A Trade in Australia?
Unknown to many, scaffolding is not even classed as a trade in Australia. A high-risk job, that, if not done correctly can have catastrophic results, is only classed as a 'skilled labourer'. It is mind-boggling but unless the training and certification systems change, then neither will the description/class of the job title.
The Interesting Characters of the Scaffolding World
The average scaffolder in Sydney has a bit of a 'rough around the edges' reputation. Again, we believe that this stems down from the fact that it is extremely easy to obtain the scaffold qualification. The fact that you can obtain a job that pays very well with very minimal training cost, personal time and effort can sometimes attract what we like to call 'interesting characters'.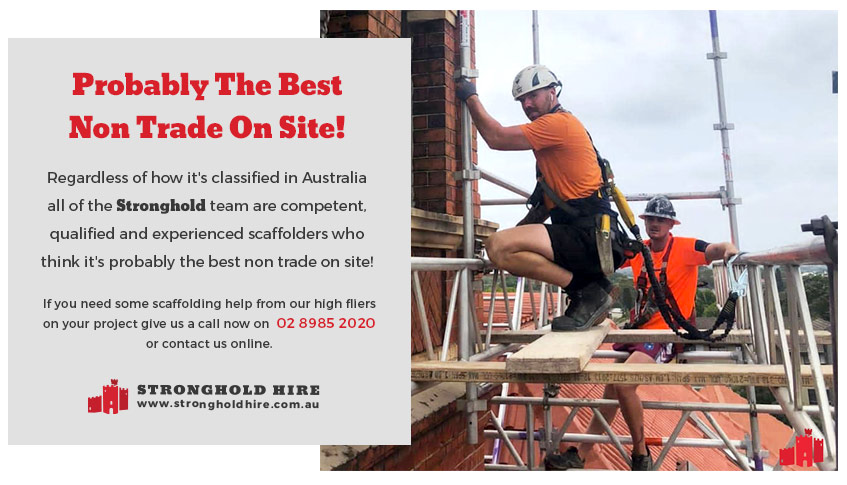 Is Scaffolding A Good Trade?
We believe that if the training and certification process is changed in Australia, then we may be able to answer the question of 'Is scaffolding a good trade?'. As it stands, unfortunately, scaffolding is not even recognised as a trade – even though it is one of the more high risk activities on a construction site! Regardless of how it's classified in Australia all of the Stronghold team are competent, qualified and experienced scaffolders who think it's probably the best trade on site! If you need some scaffolding help from our high fliers on your project give us a call now on 02 89852020 or contact us online.