This week we would like to speak about the synergy between scaffolding services and labour hire. We know that every scaffold company needs its core group of workers that are experienced and loyal – the scaffolds won't put themselves up and so a good team is vital.
Solid Scaffolders from Stronghold
At Stronghold Hire, we have a solid group of scaffolders, truck drivers, and yard staff that we employ direct and strive to keep busy 52 weeks of the year. Most of the time this group can handle the workload because of the following reasons:
Being flexible with their working hours and days.
Working smart to save time and remain productive.
Being able to move from job to job in the least amount of time.
Thinking ahead, forecasting labour and material quantities with plenty of notice.
Use of our own material and transport.
Prioritising projects to ensure all clients remain satisfied.
Having the full operation from the client request to install under one roof.
These reasons above are just some of the ways that we can meet deadlines set by our clients just using the resources we have. However, it is inevitable that during busy periods or for reasons outside of our control we need help from external sources. This could be the cross hire of material when our stocks are low, or the use of a truck and driver service who have something different to offer (such as a truck-mounted forklift for instance).
Call In The Labour Hire Pros
Most of our outside help comes in the form of labour hire. The synergy between scaffolding and labour hire cannot be underestimated. The labour hire industry is extremely competitive so choosing the right supplier can be difficult and you must weed out the good from the bad. Stronghold Hire uses several scaffold labour hire services but the majority of our help comes from HLH Group www.hunterlabourhire.com.au who provide an outstanding service with reliable and quality workers.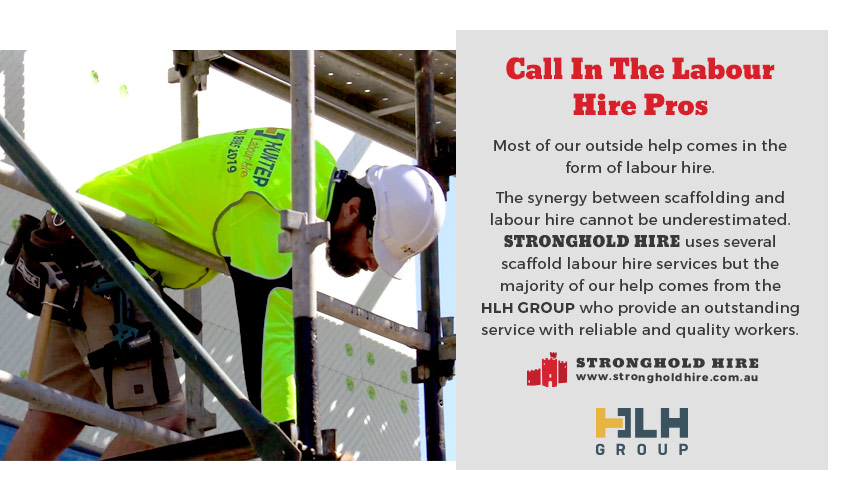 Benefits of Labour Hire for Scaffolding Projects
The benefits of using labour hire in synergy with our scaffold are as follows:
Skilled and experienced labourers and certified scaffolders can often be supplied at very short notice.
We only have one point of contact who can be reached 7 days a week, 24 hours a day.
The labour only needs to be organised for busy periods so you do not have to worry about keeping them busy in between these times.
The labour hire supplied comes with their own worker's comp and public liability insurance.
Admin costs are cut down as the hourly rates include wages, PAYG, long service leave, allowances, superannuation, and payroll tax. One detailed invoice sent once a week makes life so much easier.
The labour hire provider we use has a standby system whereby if the allocated worker is unable to make it for whatever reason then a replacement will be sent, this ensures you are never let down.
Protecting The Main Asset
The main asset of any successful business is the employees, we build strong relationships with our labour hire providers who become very loyal to us. Their employees are treated like Stronghold Hire workers for their duration on the project, this is very important for us. There have also been times where we wouldn't have completed a project if it wasn't for labour hire and their hardworking candidate pool.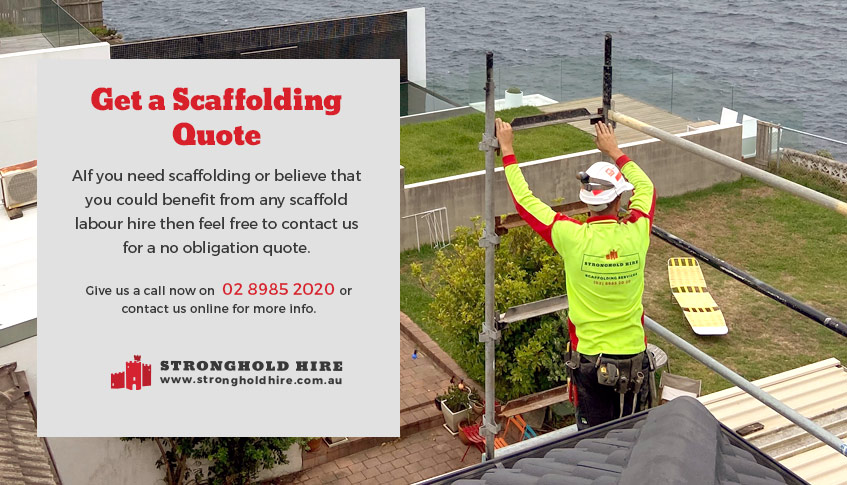 Get a Scaffolding Quote
If you need scaffolding or believe that you could benefit from any scaffold labour hire then feel free to contact us for a no obligation quote. Give us a call now on 02 8985 2020 or contact us online for more info.