The scaffold industry in Sydney is currently booming! Every time you turn a corner you will see scaffolds erected of various shapes and sizes. In this post we will give you a quick overview of the scaffolding hire industry in Sydney, let you know which scaffold systems are most sought after and thoughts on the future of the scaffolding hire business.
Scaffolding Hire Sydney – Popular System Types

Large commercial and small residential projects are in abundance in most suburbs in Sydney. At these projects you will see many ways of providing safe access including the use of elevated work platforms (EWP's), roof rail systems, swing stage set-ups and small mobile scaffold towers. The most common form of providing safe and efficient access on these sites is however, with fixed scaffold systems. The main types of fixed scaffold systems you will see at the moment around Sydney and can all be supplied by Stronghold Hire are as follows.
Painted Kwik Stage Modular Scaffold
This is arguably the most common scaffold system that you will see, this is rated heavy duty (675kg) and can be used on all types of projects for all trades in residential, commercial and industrial sectors. This system is probably the least expensive to hire and is used on all longer-term projects.
Galvanised Cup-lock Scaffold
The galvanised cup-lock scaffold system is extremely strong and robust. It is very versatile and can be used for scaffolding or formwork. It is galvanised so perfect for any projects near the coastline. It is also rated heavy duty (675kg).
Tube and Coupler Scaffold
This system is generally used for more complex scaffolds in places such as industrial plants, on bridges and sometimes on residential jobs for chimney repair work or very tight access between adjoining properties. The scaffolds can be built heavy duty (675kg) if required and can accommodate all types of trades.
Aluminium Fixed Modular Scaffold
This system is rated medium duty (450kg) and is generally used on projects that require a short length of hire (painting, gutter replacement, small render repairs, etc.) or in areas where access is very difficult. It is especially good for any internal works where protecting finishes is of the utmost importance. Clients may use this type of scaffold where aluminium mobile towers are deemed unsuitable (uneven ground for instance).
Aluminium Mobile Scaffold Towers
These scaffolds generally range from 1m to 6m in height. These are rated for light duty work (225kg) and come in a range of sizes. These are generally used on projects where there is level ground and the works are very minor. Transport of these scaffolds is usually done just with utility vehicles and can be very cost effective.
The Future of Sydney Scaffolding Hire
It's very hard to see the scaffold industry here in Sydney getting quiet anytime soon. Looking to the future in Sydney, it's extremely important that everyone puts the safety of their workers and the public to the top of their list, especially when working at heights. The number of falls from heights incidents has actually tripled between 2012 and 2017 which then prompted a blitz from Safe Work NSW resulting in on the spot fines being issued across the state.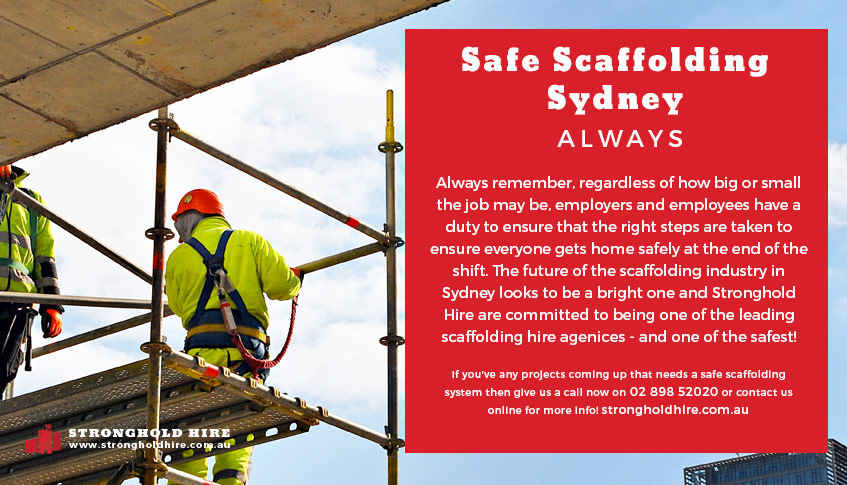 Safe Scaffolding Sydney – Always
Always remember, regardless of how big or small the job may be, employers and employees have a duty to ensure that the right steps are taken to ensure everyone gets home safely at the end of the shift. The future of the scaffolding industry in Sydney looks to be a bright one and Stronghold Hire are committed to being one of the leading scaffolding hire agenices – and one of the safest!
If you've any projects coming up that needs a safe scaffolding system then give us a call now on 02 89852020 or contact us online for more info!