Here at Stronghold hire we have employees who are huge fans of the show House Rules on Channel 7. For those of you that are not familiar with the show it's basically a home renovation competition between partnership teams from different states across Australia.
About House Rules on Channel 7
They focus on a different renovation project each week which is actually one of the other team's own homes. The home owners will also set out a list of specific rules that the renovating teams must adhere to. The other teams are then given a section of the house (say team 1 gets the kitchen, team 2 gets the bathrooms etc) and their work is then judged by 3 experts. The show attracts an average of 1.5 million per episode and are so successful that they are into their 7th series.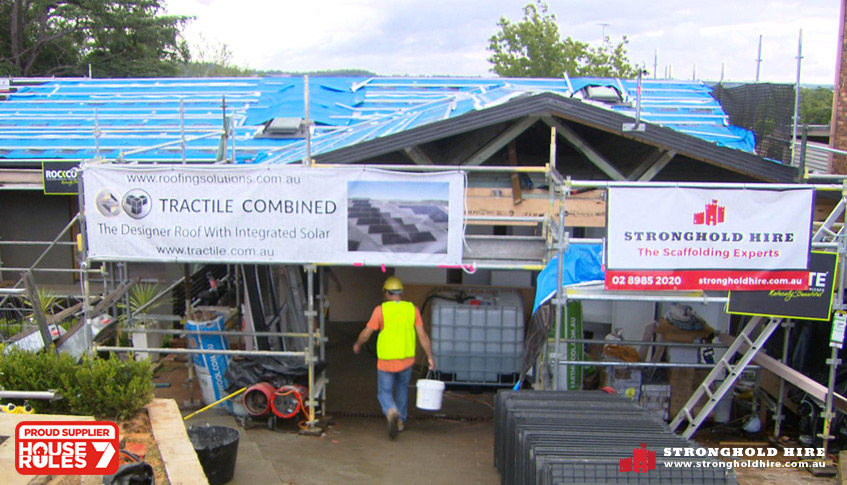 Scaffolding Supplier for The "Give Back" House
One of the episodes that they air is called the 'give back' house. This is where they choose a random family who isn't associated with the show who has recently fallen upon sad and difficult times.
The suppliers and sub-contractors then come together to see if they can help out and be part of this wonderful gift that House Rules provides. We were lucky to be given the opportunity to step in and provide our scaffolding services to this very worthy cause.
Scaffolding Challenges
The scaffold design and layout were very straight forward however the House Rules project did come with some challenges. The main challenge was the extremely tight time frames that everyone had to work to. The filming crew and other tradesmen all had to work to a meticulously planned program with no room for error. Issues such as inclement weather had to be dealt with.
Another challenge is the number of other tradesmen on site. Communication with the site foreman and other trades was a huge part of the install and removal of the scaffold. Safety as always was top of the list so exclusion zones, pre-starts and toolbox talks would be set up and held numerous times throughout the day.
Space for deliveries was also a challenge, due to the time constraints there would be deliveries of different materials and components all through the day. Again, it was imperative that your delivery or pick up was on time and materials moved from the loading areas and into position ASAP.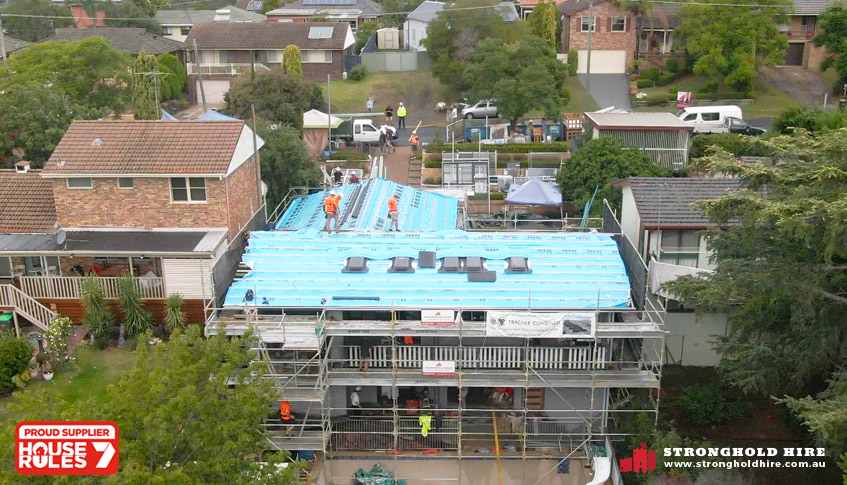 Scaffolding Design for House Rules
Lastly, the design of the scaffold was important, we wanted to try to accommodate all trades with the minimum amount of deck movements and scaffold adjustments so that the project ran as smoothly as possible. This was the first scaffold that we supplied to this incredibly successful TV show but we hope it won't be the last. Channel 7 were very happy with our scaffolding service and to be able to give back to a family in need felt very special.
Scaffolding Hire Sydney
A lot of the scaffolding projects we work on are big commercial or industrial scaffolding projects like St. Patricks Cathedral in Parramatta or Sydney Harbour Bridge and so being involved with House Rules – and being able to help make a tangible difference to a family – is good for the soul and we hope to take part again next year! In the meantime, if you need help with a scaffolding project give us a call now on 02 89852020 or contact us online for more info!