Do you have a boat that you love and care about? Do you only use your boat in the warmer months of the year? Do you need to protect it from the elements through those harsh winter months? You may have a large yacht that requires major maintenance in a controlled environment whilst leaving it out in the water? If the answer to any of the above questions is yes, then maybe we can help with our specialised boat shrink wrap service. Whilst we usually use our heat shrink wrap for scaffolding related projects we also get requests from sea-dogs who need to keep there boats safe during winter. And so, tt this time of year, leading into the colder winter months we get lots of requests to install our shrink wrap product to boats of all shapes and sizes.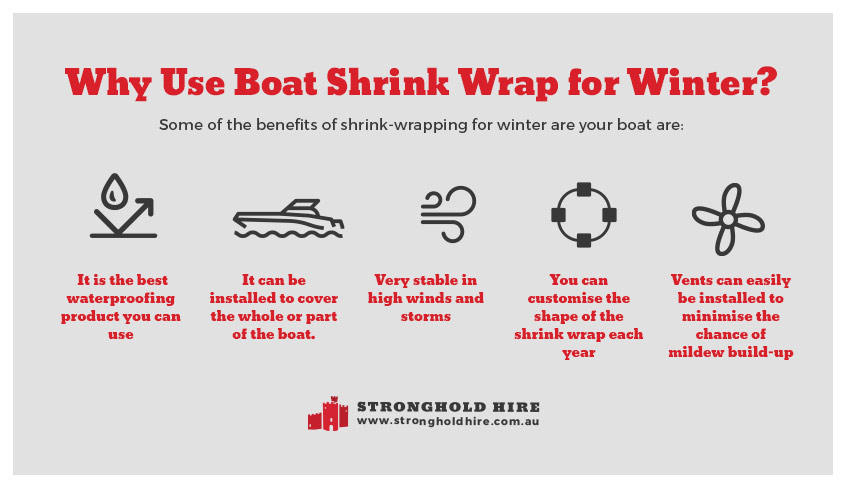 Why Use Boat Shrink Wrap for Winter?
Some of the benefits of shrink-wrapping for winter are your boat are:
It is the best waterproofing product you can use, much better than any canvas cover or tarp system.
It can be installed to cover the whole or part of the boat.
Very stable in high winds and storms, will not blow off and flap around.
You can customise the shape of the shrink wrap each year, for instance, if you would like to carry out some works during the winter, we can build the framing to give head clearance and attach zipper doors.
Vents can easily be installed on request to minimise the chance of any mildew build-up due to a lack of airflow.
The cost of the product and labour to install may seem a little expensive at first but when you realise how much the product preserves the life span of your vessel, it's a small price to pay!
Yacht Shrink Wrap
Most of the boats we do are fairly small but we recently completed a larger project over at Cockatoo Island in Sydney Harbour which involved the containment of a 30m yacht for major maintenance and renovation works. You can read a little more about that yacht shrink wrap project here.
Boat Shrink Wrap Services Sydney
If you feel that we can be of assistance with any of your boat shrink wrap needs then then contact by calling 02 89852020 or online for an obligation free quote. In most circumstances, we just require some images of the vessel sent through and can supply you with an estimate then.