Ok, so we all know that 2020, in general, is a year to write off due to the floods, bush fires and of course the dreaded C word. And whilst we do want to forget it it is important to remember some of the highlights from the last year as we hurtle forward into February (already!?!) of 2021..
Covid-19 and Lucky Australia
Covid-19 has affected people in different ways across the globe, but most will agree that we have been extremely lucky here, down under and geographically isolated in Australia. Many businesses and lives have still been heavily affected but as a nation, we remain positive. For Stronghold Hire, 2020 has been full of ups and downs. Admittedly, the first part of the year was a struggle as we took a significant drop in quote requests as, understandably, investors became jittery. We managed to keep our heads above water during this period and feel that the latter part of the year we finished strong.
2020 Stats
Here are some interesting stats and numbers from 2020, they are, as expected lower numbers than what we achieved in 2019 but we are still very proud of our efforts.
Scaffold projects complete: 210
Truck deliveries and pickups: 480
Scaffold quotes sent: 430
New clients on board: 41
Instagram Posts: 184 photos/videos
Total Social Media Follower Increase: 350 increase
Number of masks purchased for workers: 200
Number of hand sanitiser bottles used: 40
Number of scaffold fittings serviced in the yard: 1400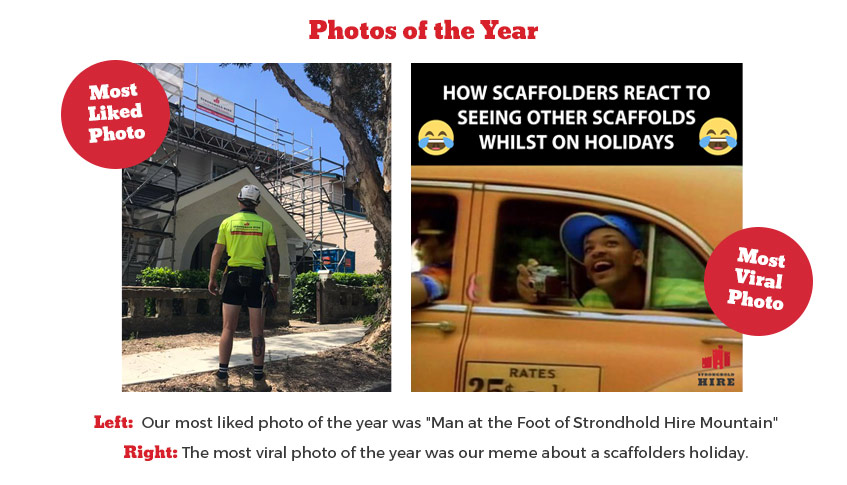 Most Liked Photo of 2020
As well as the stats above we have our most liked photo of 2020, the classic "Man at the Foot of a Stronghold Hire mountain" shot from March which you can see below.
Most Viral Photo of 2020
The most viral photo we posted in 2020 was none other than our funny meme of scaffolders on holidays which you can see below.

Stronghold Hire Plans for 2021
We are excited about what 2021 brings us and our plans for the year are as follows:
Insurance work: We intend to continue to provide scaffolds for insurance work which is a relatively new area for us only coming into play in 2019. So far this part of the operation has been hugely successful with us adapting to this type of work easily.
Shrinkwrap Installation: We recently completed our first yacht shrink wrap at Cockatoo Island on Sydney Harbour which was a huge success. In 2021 we want to pursue shrink wrap services much further and get more involved with marine maintenance.
Rubbish Chutes: We did not quite hit our target of installing 150 rubbish chutes in 2020 (we installed 68), but that does not mean we cannot do it this year. We purchased a further 100 vertical metres of chute in December, ready to get out on hire ASAP!
Industrial Shut Down Work: Our annual industrial shut down was another success with us supplying more scaffolders this year than ever before. These numbers were requested by our client which is a true testament to the quality of workers we have provided over the last 7 years.
Heavy Rigid Truck Training: We intend to increase the amount of training given to our employees, in particular, helping them obtain their heavy rigid truck licences. With 4 heavy rigid and medium rigid trucks now at our disposal, this will give us a lot more flexibility with the transport of material.
New Equipment and Vehicles: We recently purchased a new 5-ton tray truck with a crane and a ute to further streamline our operation. These vehicles give us a lot more flexibility to achieve the install and dismantle date requests from clients. As usual, we will also hope to continue growing our steel and aluminium modular scaffold stock.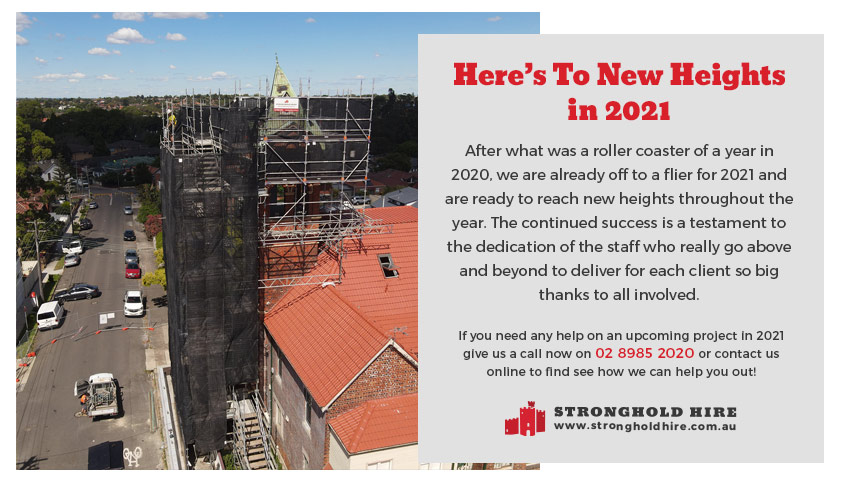 Here's To New Heights in 2021
After what was a roller coaster of a year in 2020, we are already off to a flier for 2021 and are ready to reach new heights throughout the year. The continued success is a testament to the dedication of the staff who really go above and beyond to deliver for each client so big thanks to all involved. If you need any help on an upcoming project in 2021 give us a call now on 02 89852020 or contact us online to find see how we can help you out!