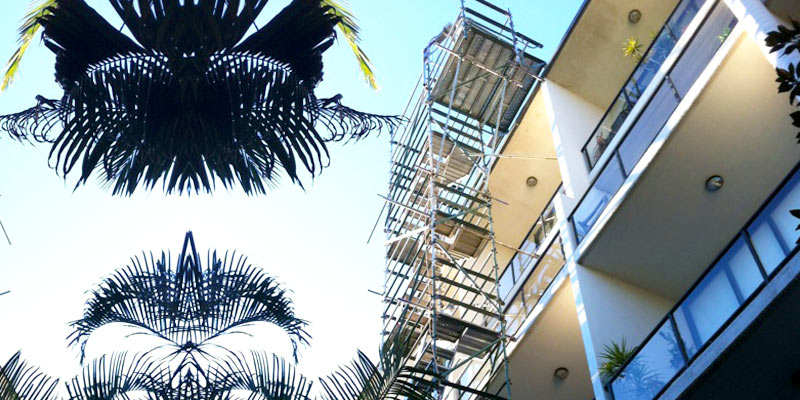 PROJECT DETAILS
Project:
Broadway, Ultimo
Scaffolding System:
Residential Scaffolding

Client:
LT Group

Period:
April 2016
Residential Scaffolding at Broadway, Ultimo
The original request for this project was to supply a simple stairway for inspection of the roof to a 5 storey unit block in the inner-city suburb of Ultimo. However, after the initial inspection it was deemed that immediate works were to be carried to some areas of the roof to prevent water egress.
Cost Effective Scaffolding Solutions
Our client requested us to erect an extra bay of scaffold to store lightweight materials and tools away from the rooftop itself. The access to this project was very limited, scaffold had to be delivered in small trucks, between the hours of 10am and 2pm with material being walked straight from the truck, through the building, up 2 sets of stairs and then into the courtyard area.
It was because of this tight access that we suggested that a more cost-effective method would be to cantilever the top of the scaffold out instead of erecting from the ground upwards. This reduced the amount of material that had to be brought to site reducing materials handling costs significantly.
Supplier of Electrical Winches
We also supplied our client one of our electrical winches with accessories to move material easily up and down from the roof. Our winches fit easily to the scaffold and are rated at 150kg SWL. The winches we provide are fitted in such a way that it can swing material inwards and outwards up over the handrails enabling the operator to be safe at all times. This also allows an easier, safer way to secure and unsecure the loads being moved.
Residential Scaffolding With Dyna-Mesh
The scaffold is incomplete in this photo, before the handover of the scaffold, we fitted Dyna-mesh to 4 all faces of the scaffold to ensure that nothing could accidentally be knocked out into the gardens or inwards to the resident's balconies. The scaffold was tied using anchors to the underside of the balconies so that the patching of the anchor holes was easily achieved and less conspicuous.