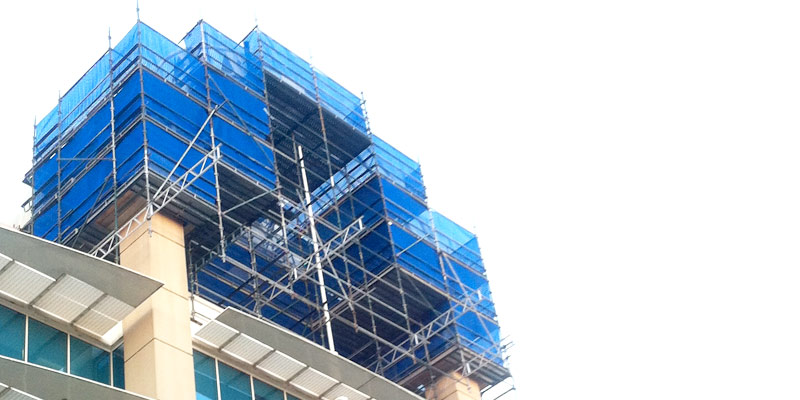 PROJECT DETAILS
Project:
Mort Street, Canberra
Scaffolding System:
Commercial Scaffolding

Client:
Sydney Construction Group

Period:
Jan 2016 – Mar 2016
Commercial Scaffolding at Canberra
Stronghold Hire does not usually undertake scaffold projects outside the Sydney Metro area. However, one of our very good Sydney based clients asked us to help them out with a few small projects in Canberra.
Fixed Price Quote Scaffolding Project
We explained that costs would be considerably higher than usual as we need to consider the transport of the material to and from Sydney, plus accommodating and paying travel time to our scaffolders, overtime rates, etc. However, the fixed price quote that we provided was well within their budget, so we decided that we would help them out down there.
Weekend Scaffold Setup
One of the projects was in Mort Street, this was particularly challenging for many reasons. The first reason was that the scaffold had to be erected within a very small timeframe, we only had Saturday and Sunday to complete the works for stage 1, this is the only time that local council would allow the street to be blocked off for the cranage and the work clearance zone below.
As this project was in Canberra and we only had Saturday and Sunday, we had to be very careful with our material selection, it had to be 100% correct as there was no room for error and no where to store excess material.
Scaffolding Challenges
Another challenge was that all material had to be craned up to the exact area that we were to erect the scaffold, this was a very small terrace, so we strategically placed the packs in such a way that it would not foul our designed set up. Our engineer ensured that the loads did not exceed those given by the client and it was anchored and boards secured to withstand high up winds.
This first scaffold was to be replicated to the rear of the project by dismantling and recycling the same material and walking through the building. The rear scaffold was very similar except that more standards were to be suspended, hence the long ladder beams used in the above photograph of stage 1.