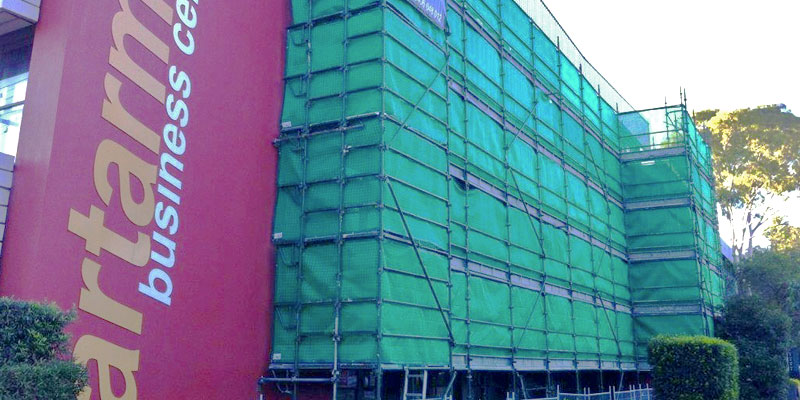 PROJECT DETAILS
Project:
Campbell Street, Artarmon
Scaffolding System:
Commercial Scaffolding

Client:
Building Owner

Period:
Nov 2015 – Jan 2016
Commercial Scaffolding at Artarmon
Stronghold Hire were approached to supply Scaffold and possibly remove some steel structures from a large commercial building in Artarmon. We are versatile in what types of scaffolding jobs we can cover as our Scaffolders have a range of qualifications to diversify.
Scaffolding Supply & Steel Removal
Our client asked if we could supply the Scaffold and give them an optional price to remove the old steel louvre blinds that were attached to the building and dispose of them. These blinds were heavy duty, approximately 6m in length and weighing around 120kg each.
Scaffolders With Rigging & Dogman Tickets
Some of our Scaffolders have rigging and dog man tickets so we knew that we were qualified to carry out the operation. We also have electrical winches, chains, slings and power tools so, after confirmation from our insurance company that we were covered to carry out these works, we went ahead.
The scaffold erection and dismantle ran very smoothly, moving and recycling material 6 times around the building, installing 'A class' hoarding and plywood electrical insulation to 3 of the elevations.
Non Standard Scaffolding Projects – No Problem!
The steel removal was easier than anticipated and our team worked well to get the job done safely and efficiently. With the use of our Utes, 3-ton truck and 10-ton truck we were able to dispose of the steel easily. Part of the deal was that we kept the scrap price of the material also which was a bonus!
If you have any jobs that diverge slightly from straight forward Scaffold erection, please contact us and we will do our best to help you.